5 Things To Look For At The Oscars This Year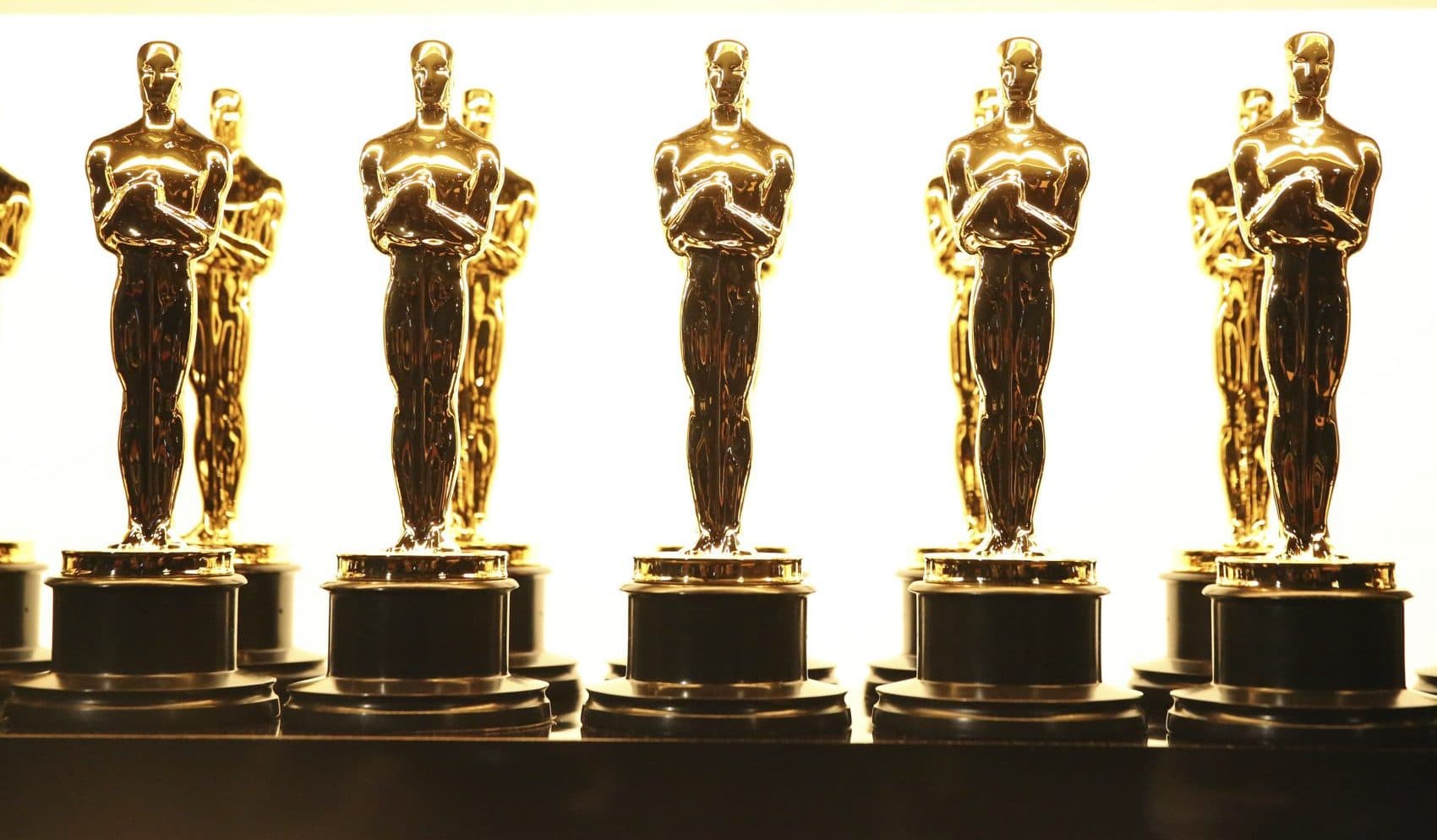 This article is more than 4 years old.
You can count on the Oscars to deliver glitz and glam (yawn). But in recent years that hasn't been enough. Academy Award ceremony viewership is on the decline and producers still don't seem to be interested in changing up the formula to encourage new audiences. Even controversy over #OscarsSoWhite failed to keep numbers up.
But Sunday night's award ceremony is the most prestigious in the entertainment industry since the Weinstein avalanche began, and the world will be watching. Now that #MeToo and #TimesUp are in the mix, can the evening deliver something less rote than floor-length gowns and speeches that simply reel off first names?
The 90th annual Academy Awards, hosted again by Jimmy Kimmel, air on Sunday, March 4 beginning at 8 p.m. EST. The red carpet begins at 6:30 p.m. You could watch on ABC, which is WCVB Channel 5 in Boston, online at abc.com/watch-live or on the ABC app. (A countdown to the red carpet begins on E! at 1 p.m.)
I'll be watching this year with a few questions in mind:
Who (Or What) Will Dominate The Red Carpet?
Forget designer name dropping, JLaw shaming and tweeting @AngiesRightLeg. Now that we know what the Times Up leaders are capable of -- organizing a black attire fashion standoff, handing the mic to activist dates and raising $21 million for legal defense against workplace sexual misconduct — aren't we wishing for, even salivating over the prospect of a far more radical departure from red carpet norms?
At press time, Times Up had no announced plans for the Oscars. I deadpanned during the Golden Globes that I wanted to see a red carpet protest in sweats (those tabloid grocery store shots aren't enough). But what I really want is for entertainment's elite to deliver a message the way no one else can. A gifted entertainer can bring unexpected humor and humility to topics that affect us all.
It wouldn't take much to shake up the most uptight of awards shows, especially while the momentum's on Times Up's side.
But Will Women Win? 
Despite the realities that Times Up has laid bare, there are already a few victories for women this year. Rachel Morrison is the first woman nominee for Best Cinematography (and a Cambridge native) for "Mudbound." Mary J. Blige is the first person nominated for both an acting performance and original song in the same year ("Mudbound"). Daniela Vega ("A Fantastic Woman") is the first transgender presenter of an award. "Lady Bird" is a victory because it exists. The Best Picture nominee about a young woman's coming of age also features a nuanced mother-daughter relationship. If writer and director Greta Gerwig wins Best Director, she'd be the second woman in Oscar history.
Whether women win or present awards, time at the podium is a hot commodity. Natalie Portman ruled Twitter after her slight edit to a Golden Globe Best Director presentation. ("And here are the all-male nominees.") Laura Dern delivered a heartfelt acceptance speech against a "culture of silence" at the Globes and will present an Oscar. Maybe she'll veer off formula again.
Will The Politics Be Awkward Or Inspiring?
There are some situations that practically necessitate political commentary. Last year saw an impassioned acceptance speech read on behalf of Iranian director Asghar Farhadi. His film, "The Salesman," won Best Foreign Language Film but he did not attend the Oscars in protest of President Trump's intentions to limit travel from a number of countries. This year, listen up if the documentary team behind "Last Men in Aleppo" wins. Syrian producer Kareem Abeed was denied a visa to travel to the U.S. for the awards show because of the travel ban.
And then of course, there's the long-brewing Weinstein fallout. Given that a recent USA Today survey found that 94 percent of women in the entertainment industry say they've experienced some form of harassment or assault and 77 percent of the non-acting nominees are male, the room is bound to be tense. (Good luck, Kimmel.) But if the format goes the way of the Globes, he'll phase out after his monologue and the awkwardness will be left to the winners.
But lest we forget, this is the Oscars, madam, and the producers have standards to maintain and advertisers to satisfy. A recent story in the New York Times suggested a desire on behalf of ABC to corral the politics. The article reasons that "Whenever stars use the platform to support progressive causes and make political statements, large numbers of viewers turn the channel."
Some awkwardness has been nipped in the bud. Casey Affleck (last year's Best Actor, who settled sexual harassment suits out of court) will not attend. After James Franco wore a Times Up pin to the Golden Globes, five women accused him of sexual harassment and he did not receive an Oscar nomination for "The Disaster Artist." (Plus, his strange decision to not let Tommy Wiseau speak at the Globes?) The always awkward Woody Allen has built not attending awards shows into his persona. Maybe he saw Times Up coming a few decades away.
The problem is one of perception. A stat on the Times Up website reads: "Nearly 50 percent of men think women are well-represented in leadership in companies where only one in ten senior leaders is a woman." In other words, just a few too feminist or too racially-charged references might tip the scales and tune viewers out or against a particular cause.
Along those lines, despite last year's wins for "Moonlight" and this year's "Get Out" nominations, the work of #OscarsSoWhite is far from over. In just one of what could be many examples, the National Hispanic Media Coalition launched a protest of the under-representation of Latinos in Hollywood on the day Oscar nominations were announced. Another rally is planned for Saturday, March 3. Their rally cry is that Latinos in lead roles hardly approaches the 18 percent Latino population in the United States.
At minimum, what #MeToo and #OscarsSoWhite has shown over and over and over is that naming the problem can tip the scales in both directions. And with that, failing to mention either would make for the most awkward Oscar night of all.
Will The Home Team Win?
Well, there's no movie named, set, and shot in a North Shore town this year… The Boston Globe has lamented Boston's absence in nominations, such as Jake Gyllenhaal's portrayal of Jeff Bauman in "Stronger." "I, Tonya," about the events surrounding Stoneham native Nancy Kerrigan's knee-bashing, got ripped off in general. But hey, there's Cambridge's Rachel Morrison (well-deserved Best Cinematography nomination for "Mudbound") and Emerson College alumna Elaine McMillion Sheldon is up for Best Documentary Short (for "Heroin(e)").
Boston can't claim Sufjan Stevens (Best Song, "Call Me By Your Name"), nor can I, really, but I do because we both grew up in Michigan around the same time. Plus he's so non-Oscar-ish he's like a man with no country.
Where To Put Your Money?
Playing the odds may be one reason to watch. But with all the percentages, predictions and prognostications, doesn't the contest almost feel over before it begins? Let me guess, "The Shape Of Water" for all 13 of its nominations? Probably not. To me it's a child's story told in beautiful colors. But that team will undoubtedly grace the podium. As for "Three Billboards Outside Ebbing, Missouri," I like McDonagh as a playwright and its ensemble cast soars (Sam Rockwell equals awesome). But as a film, it just went too far in all directions. Please don't make me talk about "Dunkirk." "The Florida Project" is a stealthy underdog and I'll admit I think Bria Vinaite got snubbed for Best Actress.
I talk a big game but ultimately it's a decent pool this year. The Best Picture nominees are all worth watching.
I'll never grasp why it's interesting to guess who will win almost anything in advance, let alone the last awards show in a several month cycle. I like my awards unpredictable, thanks. So my money's on off-script streakers who get a laugh while making a statement louder than a pin. By all means, people, go rouge. Give us something to talk about.