Forecast: Major Nor'easter To Affect The Region Friday
Play
This article is more than 5 years old.
Today is the final day of spring-like weather for a while. While meteorological winter is now over and meteorological spring has begun, temperatures are actually going to run quite a bit colder than we've been used to over the past week or so.
But before the cold sets in, a strong nor'easter will bring a variety of weather conditions to all of southern New England.
This is a very strong storm. For those of you along the coast, this storm will be similar in intensity to the Blizzard of 1978 and the Halloween Blizzard back in 1991. This doesn't mean a repeat of the same type of damage, but the potential exists for some structural damage along the coast.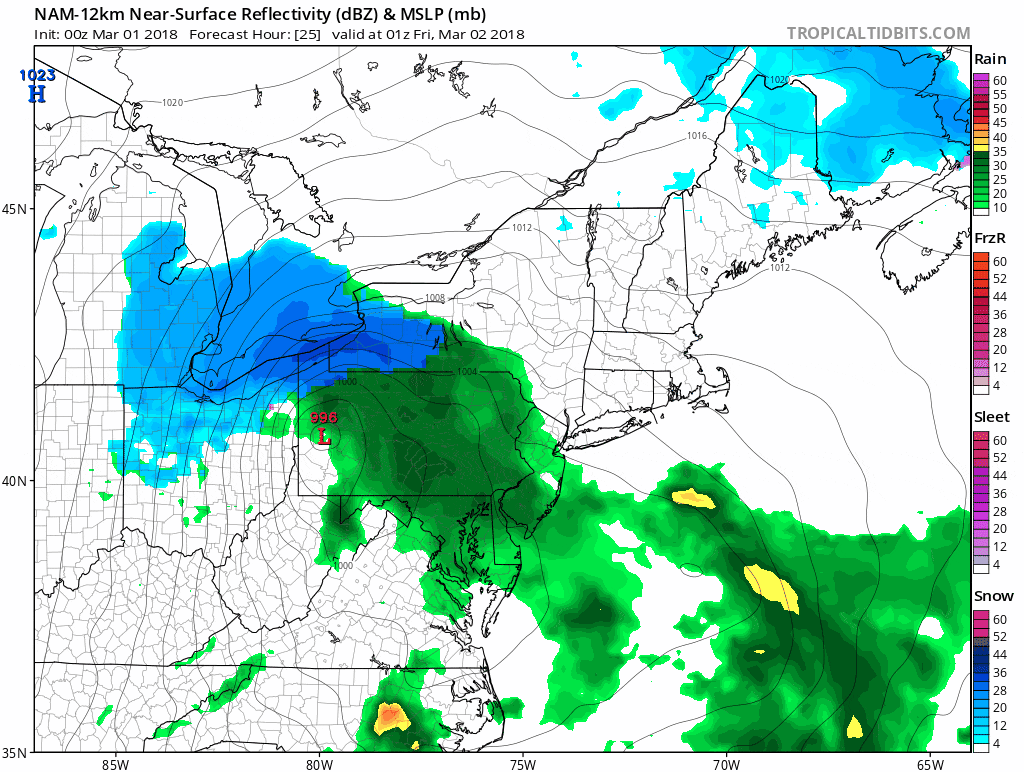 There are four elements to the storm and not everybody will be affected by each of them — but everyone will be affected by at least one of them.
The storm begins in the early morning hours of Friday and continues through Saturday morning with the heaviest rainfall during the day Friday and the strongest winds also during the day.
Let me break down the different components of this upcoming storm:
Heavy Snowfall
Snow from the storm is likely to have the least impact in the Boston area. Inland areas and higher elevations may see significant snow. Because temperatures are marginal, any snow that does fall will be heavy and wet, and it only takes a couple of inches to bring down trees and power lines.
The greatest chance of accumulating snow will be north of Route 2 and I-495, the Berkshires and Worcester County. All the precipitation will begin as rain, but it will trend toward snow overnight Friday and into early Saturday morning before coming to an end.
My confidence with the snow is very low, because a difference of one or two degrees will make the difference between all rain or the heavy, wet snow. It may be that we'll have to keep an eye on this hour by hour Friday night.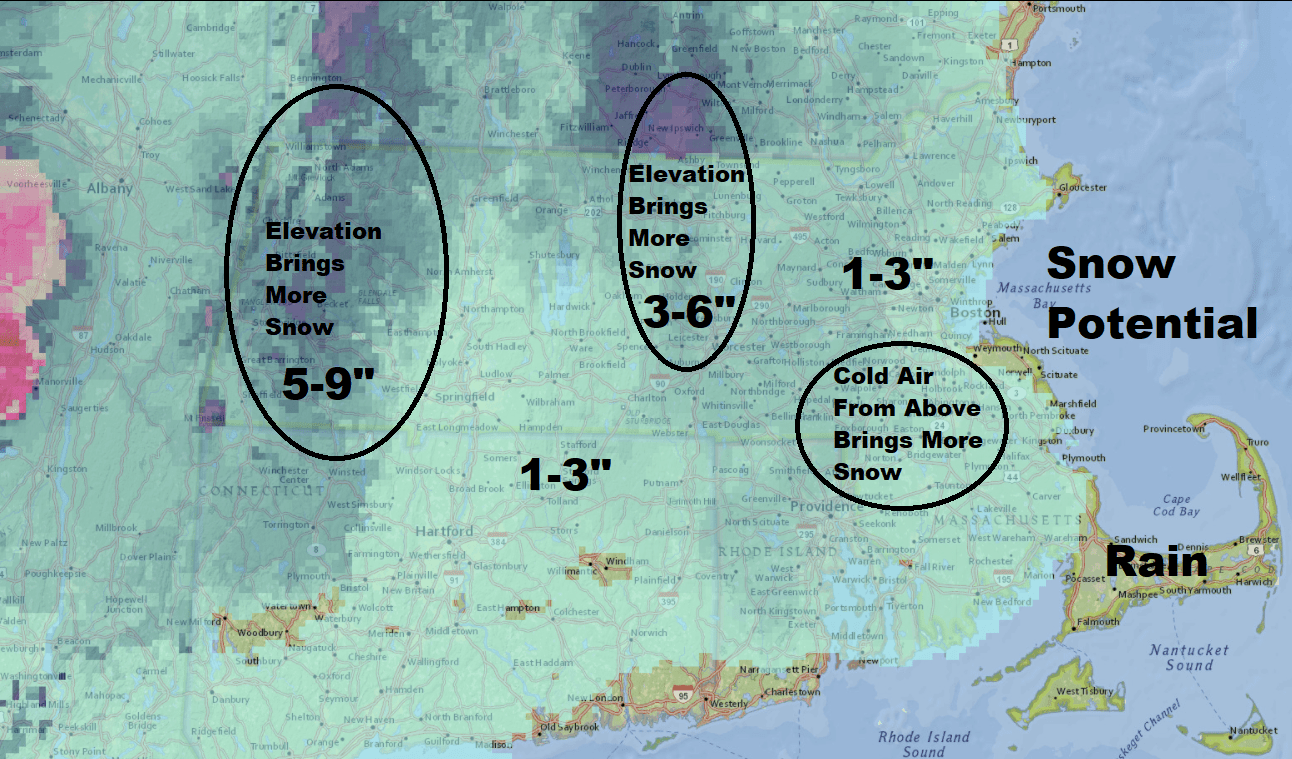 Inland Rain
Rainfall will be heavy, especially Friday afternoon, on the order of 1 to 3 inches, with some places seeing more. This is enough to cause small stream, street and basement flooding. I recommend checking your sump pumps as well as downspouts. As tempting as it may be to put down fertilizer on your lawn today don't do it because the rain will wash it all away.
Damaging Winds
Winds will be strong and gusty during the day Friday and into Friday night. Along the immediate coast there will be gusts of more that 60 miles per hour — strong enough to bring down trees and power lines.
For inland areas, the wind will not be quite as strong but still damaging and where there's snow, the combination of snow and wind can bring about more potential power issues. The winds will tend to subside later Friday night and on Saturday continue to diminish.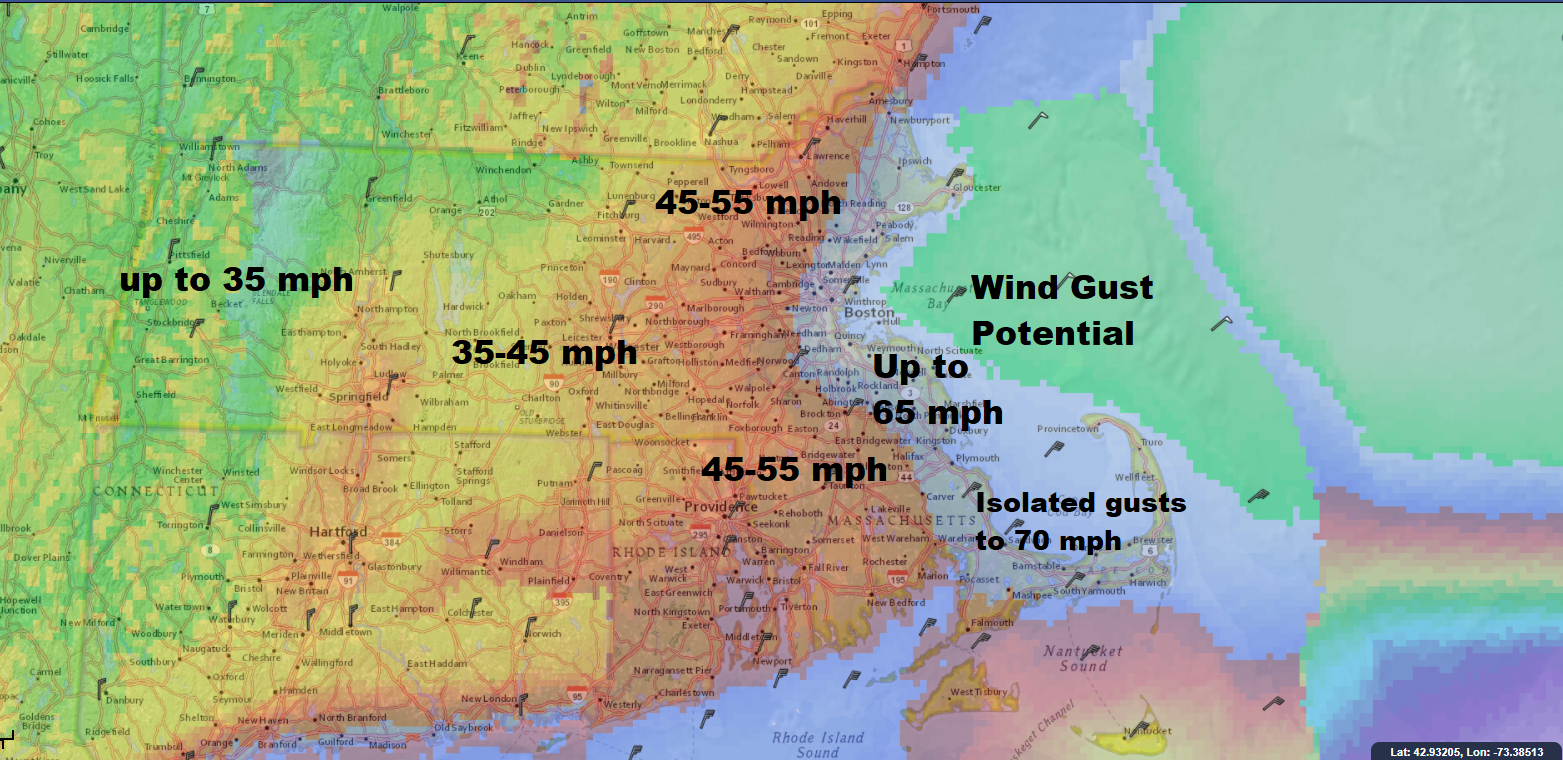 Coastal Flooding
This is the most potentially damaging part of the storm. Because the storm will be moving very slowly and becoming quite intense, the coast will endure cycles of high tides which will have some flooding. The worst flooding will be Friday and Friday night.
I do expect some areas to see major erosion and parts of downtown Boston will have water in the streets similar to what we saw in January. If you are asked to evacuate an area you should listen to authorities, as this is not a typical nor'easter.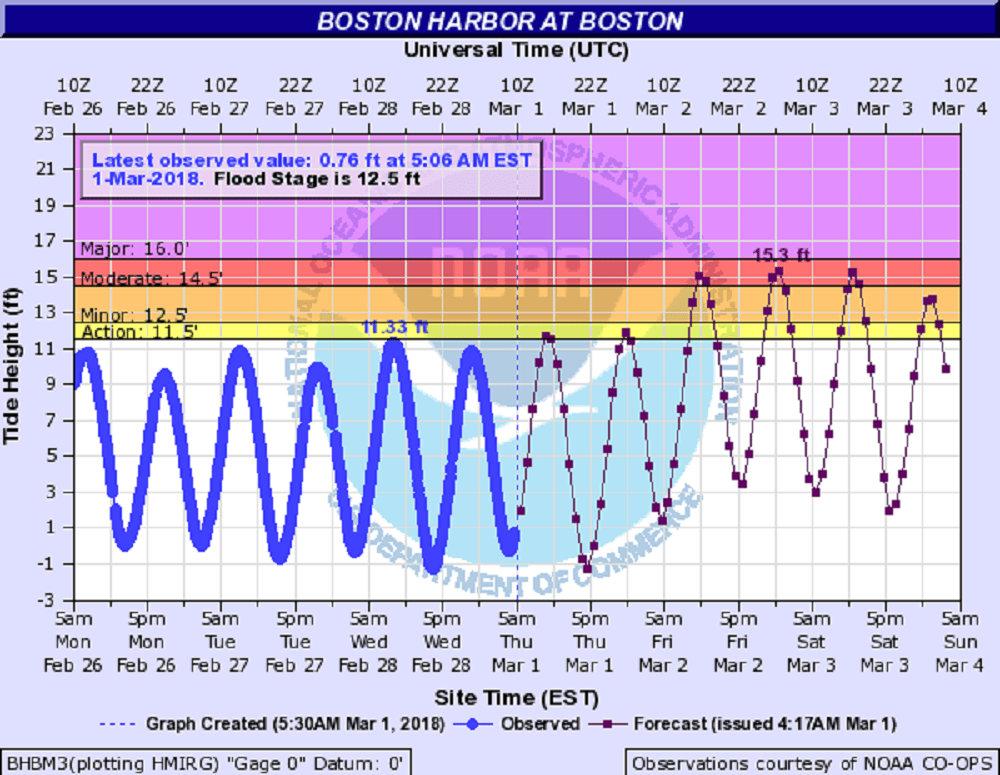 The storm winds down Saturday night and it becomes partly cloudy for Sunday. Plan on it being much colder, with temperatures only around 40 degrees. The chilly weather continues into next week.
You can follow my updates here and on Twitter @growingwisdom.
---
Thursday: Mild. Sunshine dominates, with some clouds rolling in later. Highs 55-60.
Thursday Night: More clouds, may shower late at night. Lows 37-41.
Friday: Rain and wind. Highs in the mid-40s. Snow is possible at night over inland areas.
Saturday: Cloudy, some early showers or some wet snow. Highs 38-43, windy.
Sunday: Partly cloudy, chilly. Highs around 40.
This segment aired on March 1, 2018.