Forecast: Storm Winds Down Overnight With More Coastal Flooding
Resume
The large nor'easter continues to hammer the coastline Friday afternoon.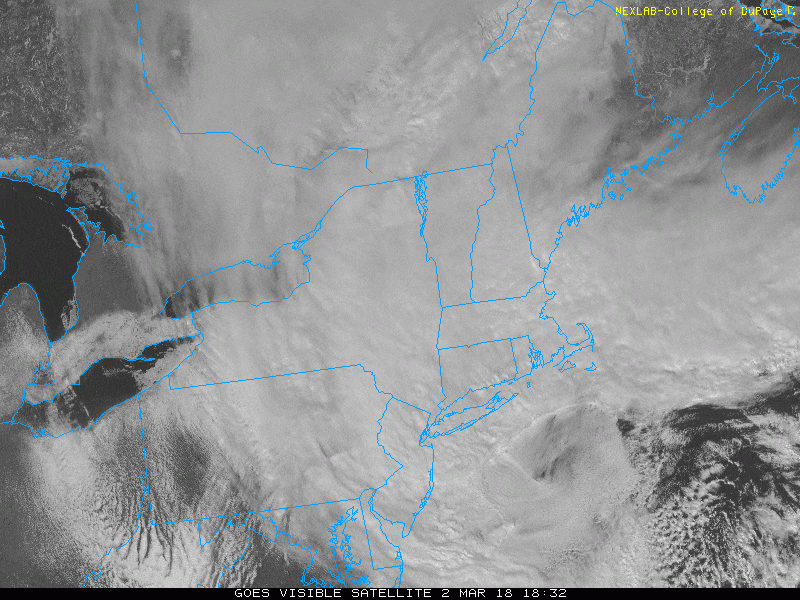 As we head toward the evening commute, you can expect windy and wet conditions to continue.
The core of the strongest winds will be over by about 6 p.m. but it continues to be windy thereafter. I am expecting the rain to mix with and eventually change over to snow in many locations, including Boston. The exact timing of the changeover will determine how much snow you end up seeing on the ground. The roads should stay mainly wet because the pavement is still warm from the past several days.
All the precipitation will be ending between 11 p.m. and 2 a.m. across the region and by the time you awake tomorrow morning just cloudy skies and breezy conditions will be left.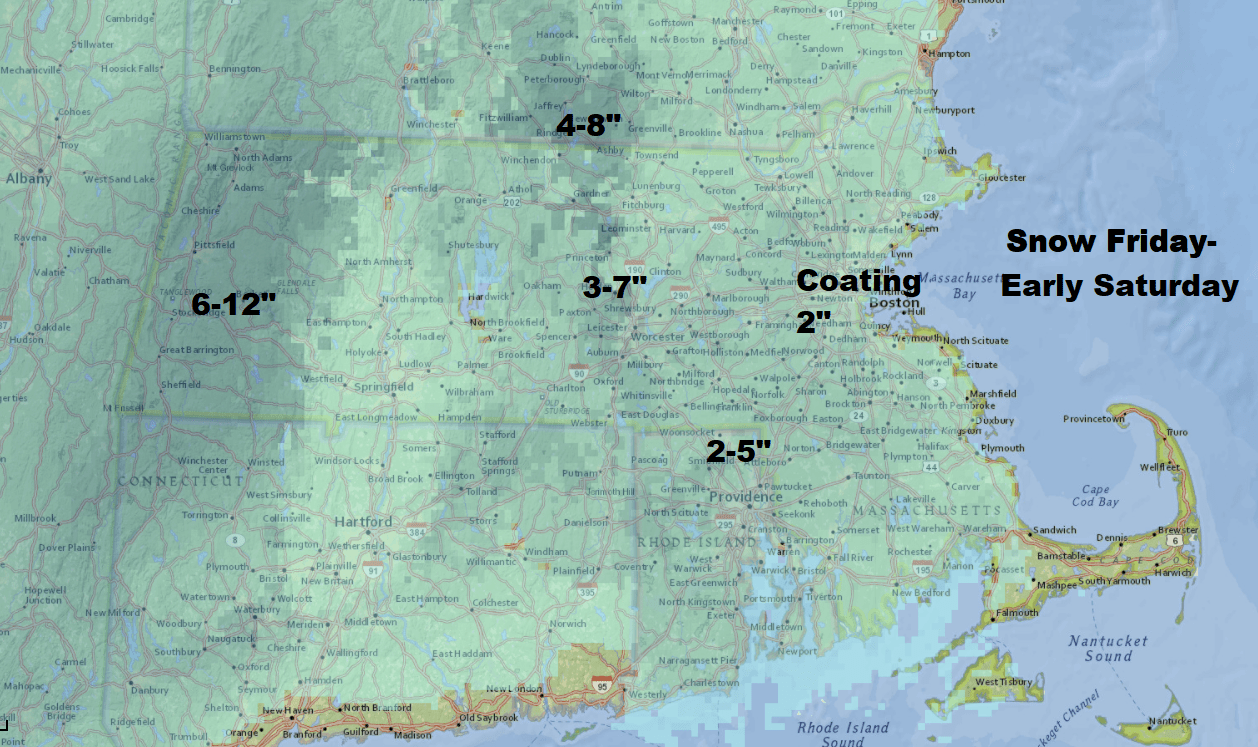 Along the coast we have a couple of more tide cycles in which there will be flooding.
Tonight at midnight the tide is expected to reach near 15 feet in Boston, for one of the top three or four highest tides ever recorded. This will produce more coastal flooding, similar to what we saw this afternoon, but likely not extensively worse.
We will have to go through one more tide, similar but likely a little bit less intense, tomorrow around noon.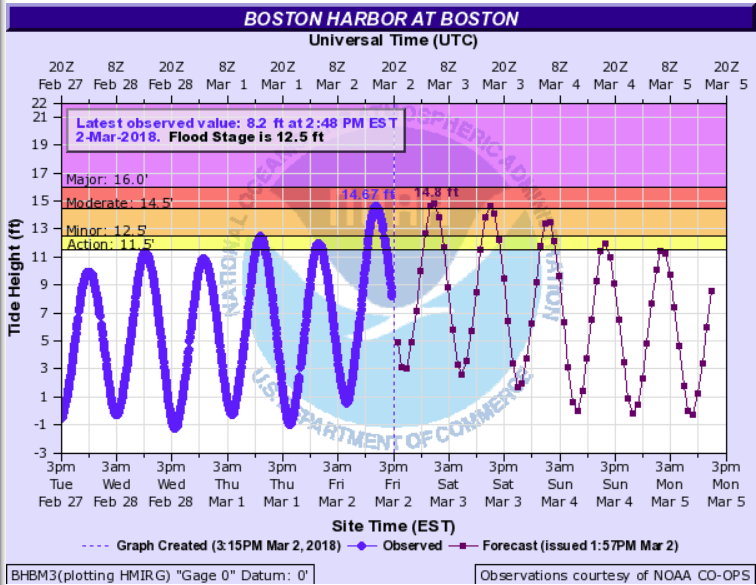 Temperatures over the next couple of days will be mainly in the lower 40s, so for folks who lost power it will be chilly but we're not looking a dangerous conditions.
---
MORNING POST:
A major nor'easter is now underway, and it's going to affect all residents across Massachusetts to some extent — with severe flooding for some, especially those at the coast — over the next 24 hours.
For those of you who have homes on the water, this will likely be a high impact storm. From Salisbury to Plymouth, as well as the Cape and the Islands, a coastal flood warning remains in effect from 9 a.m. Friday until 3 a.m. Sunday.
There will be some structural damage along the immediate coast and quite a bit of beach erosion over the next couple of days. I suspect that there will be areas where the landscape is dramatically changed.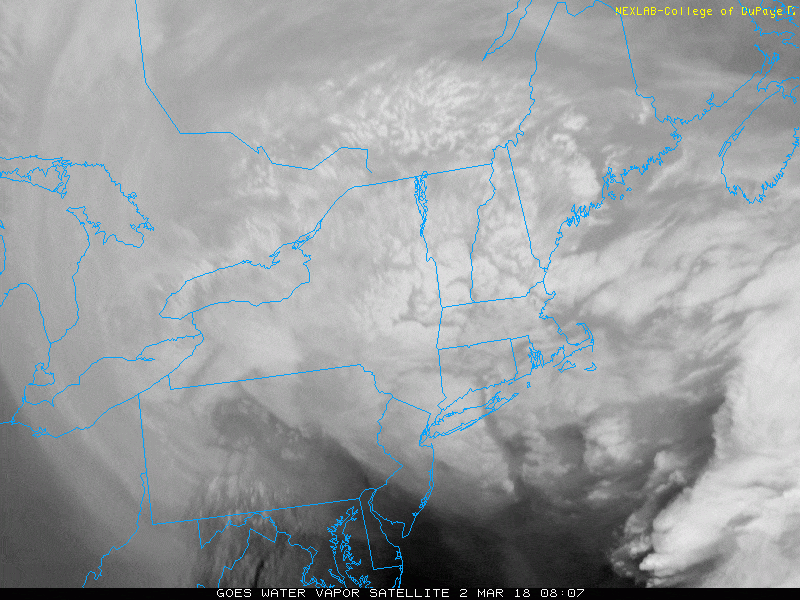 What Will The Storm Be Like?
That said, the majority of us are just going to experience a very windy and very wet nor'easter with a period of snow coming along with it. When the storm is over you may or may not have lost power, and you may or may not have had some trees come down in your yard, but most of us will just be inconvenienced for the day.
If temperatures today were 10 degrees colder we would be looking at a crippling snowstorm that would shut down all of southern New England. However, the lack of cold air will keep this a major wet nor'easter.
Major Coastal Flooding
Along the coastline the next three and possibly four high tides are going to bring flooding. There will be neighborhoods cut off by floodwaters. Because of the strong winds and wave action, even during low tide, the water may not recede enough to allow for travel.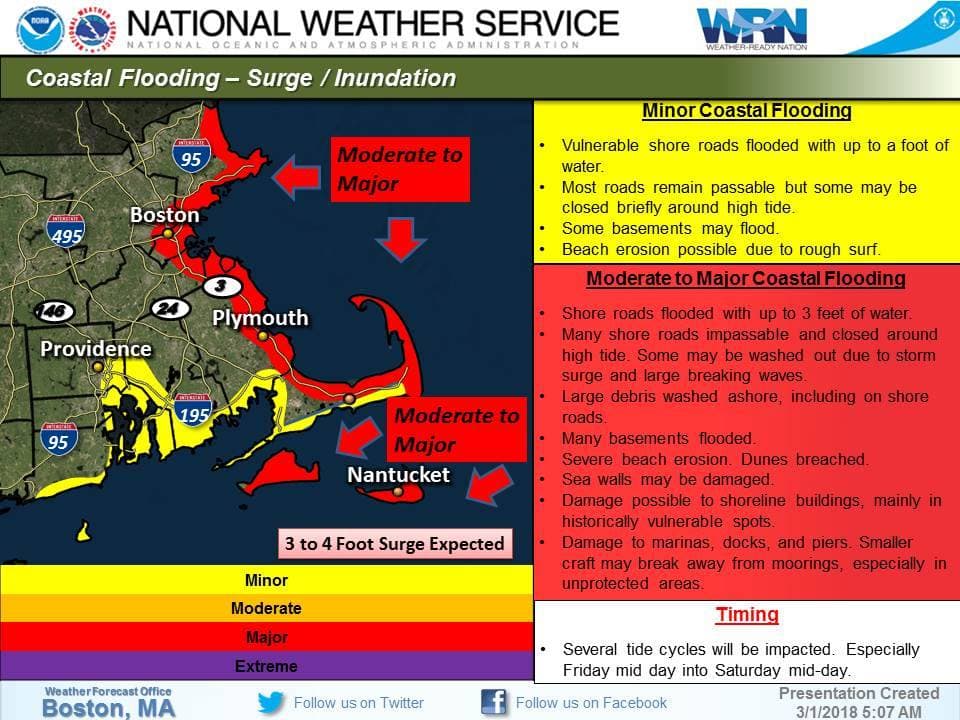 Strong Winds, Even Inland
Winds are going to be quite strong along the coastline, especially over Cape Cod and the Islands where it's highly likely we will see hurricane force winds. Even in Boston winds will likely gust over 60 mph. Inland areas will see gusts up to 50 mph. Those wind speeds are all strong enough to create power outages.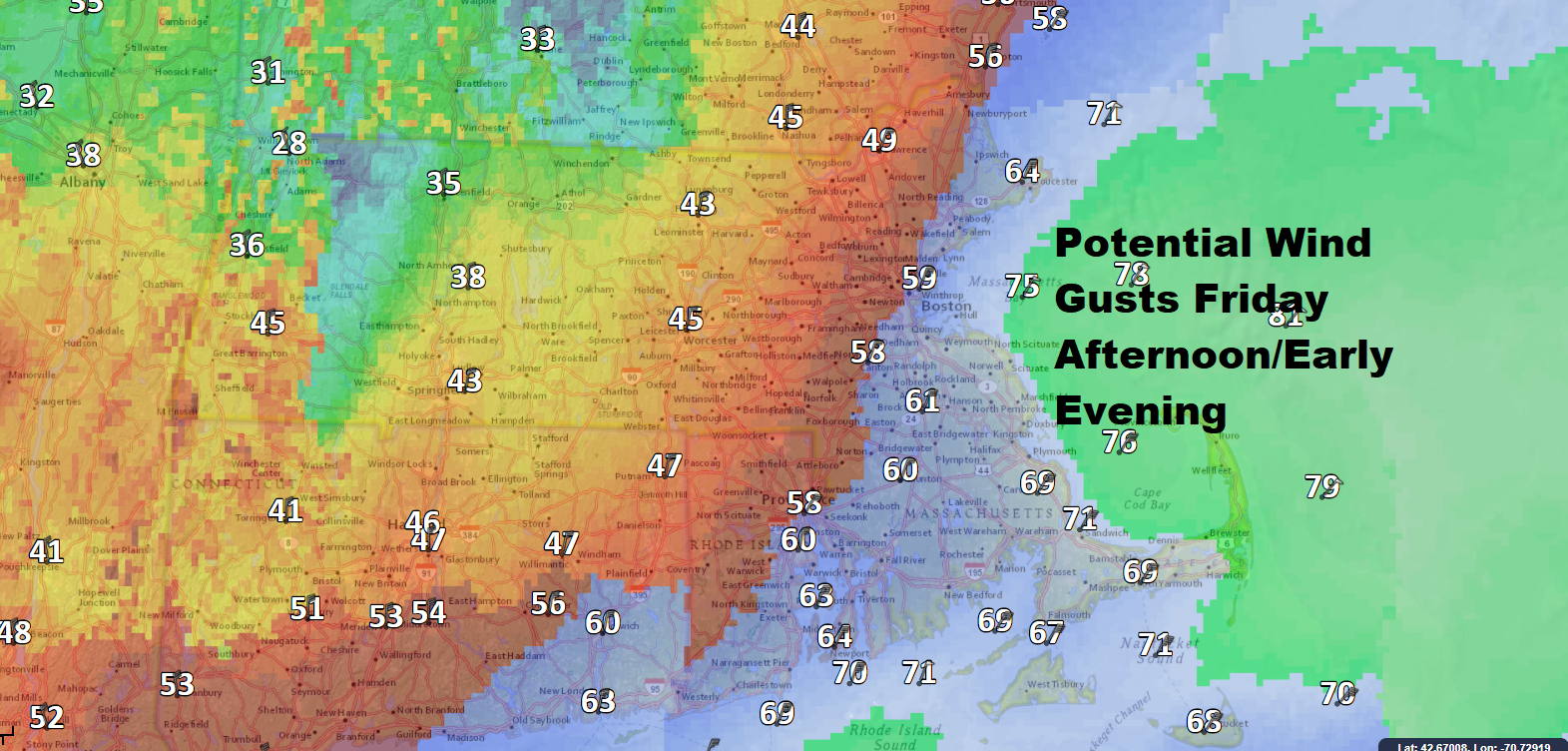 I'm expecting 1 to 3 inches of rain with some areas seeing up to 4 inches. There's been a lot of rain over southern New England this month, and the ground is softening up. This can increase the likelihood of felled trees in places where the ground becomes saturated.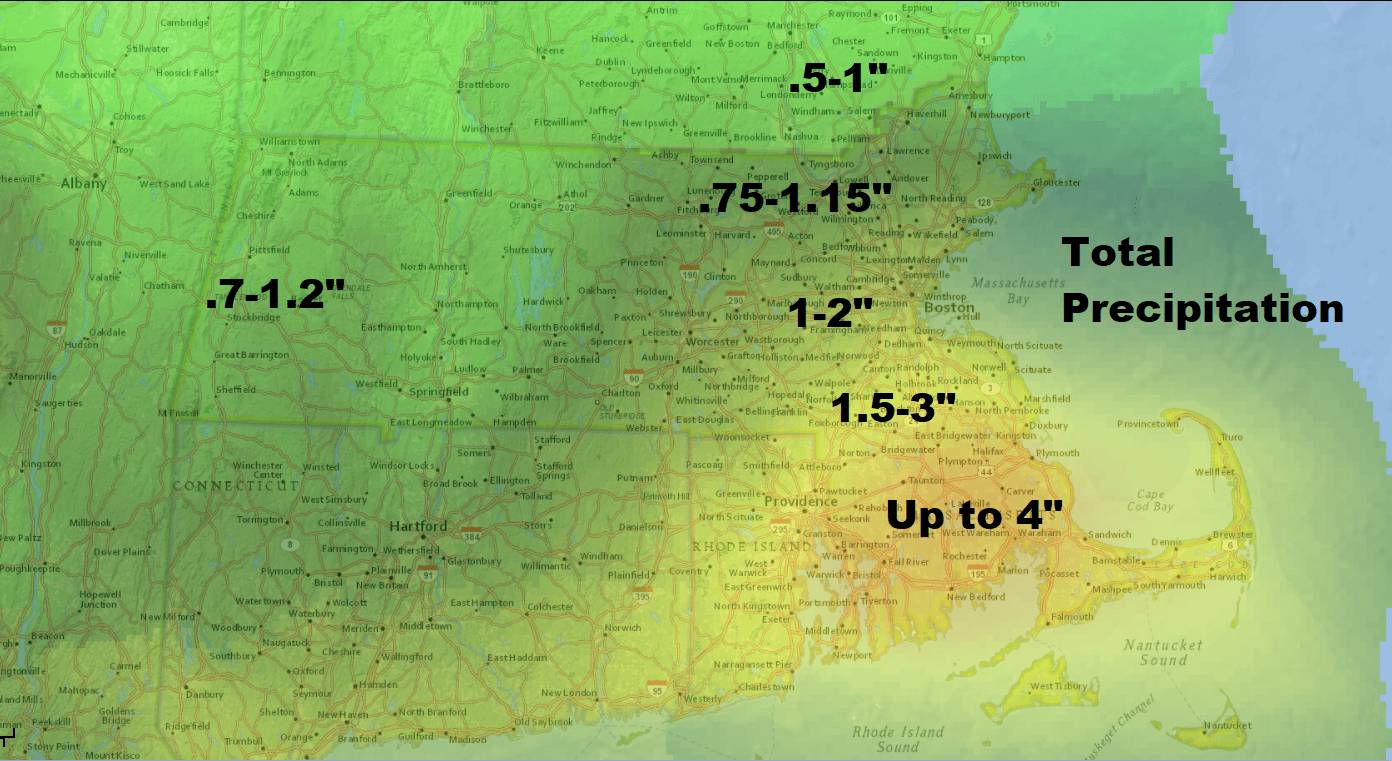 There's likely going to be delays and cancellations at Logan Airport in Boston, because wind gusts at the predicted speeds will make it impossible for planes to take off and land safely. If you need to travel today, with the exception of those road closures along the coastline, it will be possible. However, you should expect that roadways and traffic will be slower due to the storm.
When Might We See Snow?
Snow may begin falling late this afternoon and evening when colder air will work its way into the storm. The nor'easter should start to change the rain to snow first across Worcester County, and then even into Boston. It's likely most areas see a coating to a few inches, but in the highest of elevations across Worcester County, the Berkshires and parts of New Hampshire and Vermont, there could be 6 to 12 inches of heavy wet snow.  I am also concerned about an area south of Boston including perhaps even the upper Cape which could see a burst of snow as this storm begins to pull east.  I circled the general area on the map.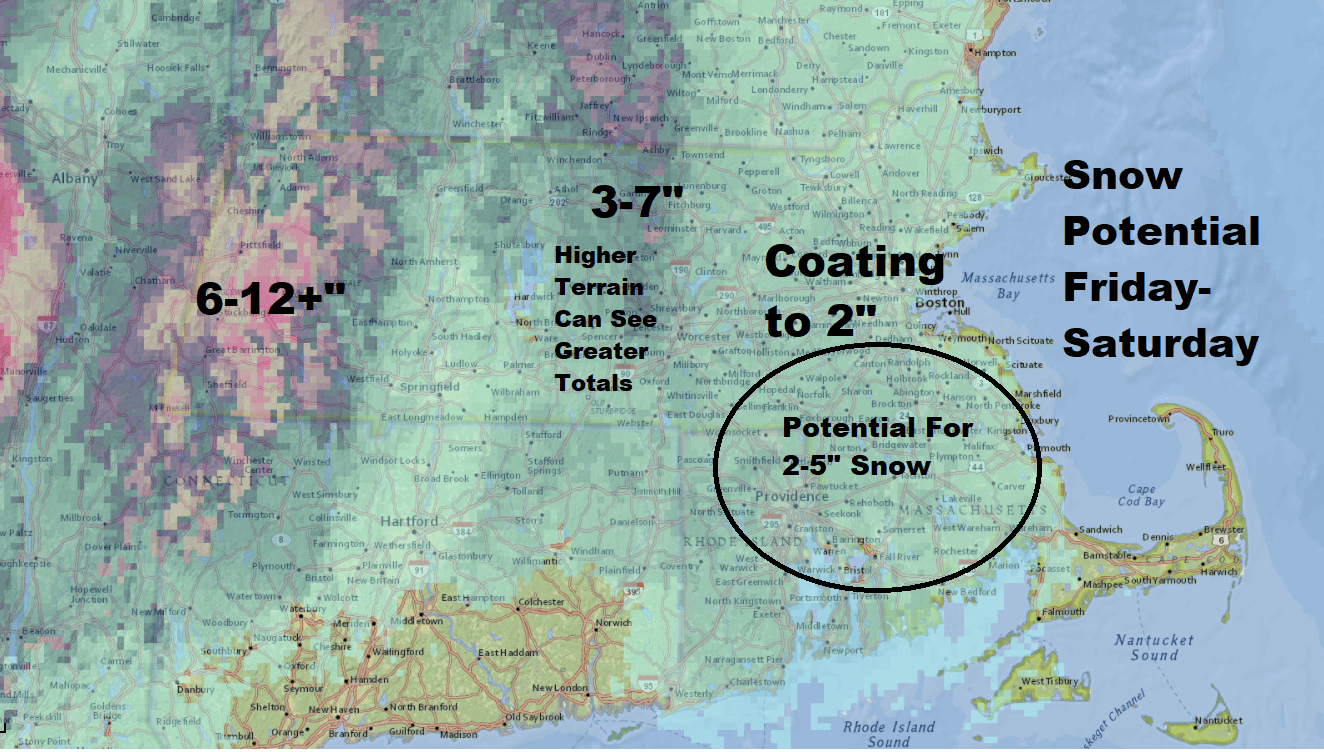 When Will The Storm Be Over?
The worst of the wind will die down after 8 or 9 p.m. tonight, and conditions will slowly improve heading into Saturday morning. Coastal flooding will continue Saturday. I do, however, expect some lingering snow or rain showers throughout Saturday, along with more strong wind gusts. Some sunshine will start to break through the region on Sunday.
You can follow my updates here and on Twitter @growingwisdom.
---
Friday: Rain and wind. Highs in the low to mid-40s. Snow is possible at night over inland areas.
Friday Night: Rain changing to snow and tapering to snow and rain showers. Lows in the low to mid-30s.
Saturday: Cloudy, some early showers or some wet snow. Highs 38-43, windy.
Sunday: Partly cloudy, chilly. Highs around 40.
Monday and Tuesday: Partly sunny. Highs near 40.
This article was originally published on March 02, 2018.
This segment aired on March 2, 2018.