Accused War Criminal Cites Torture Fears To Avoid Deportation
Resume
A Providence man accused of committing dozens of murders and kidnappings during the Guatemalan civil war faced federal prosecutors in immigration court Friday, arguing he could face torture should he be deported.
Juan Samayoa, 67, is facing deportation to his native Guatemala, where prosecutors say they are waiting for him with an arrest warrant.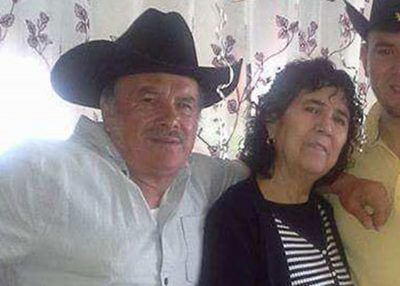 "Sir, have you ever physically harmed anyone, for any reason, anywhere in the world?" asked Department of Homeland Security attorney Jennifer Mulcahy, cross-examining Samayoa in Boston immigration court.
"No," Samayoa said. "I live my life to help my neighbors."
Sitting in a green jumpsuit and shackled at the hands and feet, Samayoa deflected a barrage of questions as to his role in a war that claimed 200,000 lives.
Samayoa admits he led a paramilitary unit of 500 men. He claims his role was purely one of self-defense, and that he came under attack on multiple occasions, including one when he was shot and ended up in a days-long coma.
A quarter-century later – he came to the U.S. in 1992 – Samayoa argued in court that the same people who shot him could now come to get him in Guatemala.
"Some of them are still alive and they will come back looking for me," Samayoa told the court, speaking through an interpreter.
Mulcahy questioned this narrative.
"If you don't know who they were, how do you know they're still alive?" she said.
"I couldn't tell you, only that when I was there and they were looking for me," he said.
"Have you ever told anyone else to physically harm anyone else, for any reason, anywhere else in the world?" Mulcahy said.
"No," Samayoa said.
"Have you ever harmed anyone because of their ethnicity, or specifically because they were Mayan?" she said.
"No," Samayoa said.
Against the objections of Samayoa's attorney, Mulcahy asked Samayoa if he understood that if he lied in court, he could be criminally prosecuted by the federal government. Samayoa said yes.
"Are you lying today," Mulcahy said.
"No," Samayoa said.
Mulcahy also asked Samayoa to respond to the allegations of war crimes.
Samayoa said just because people think he did certain things, that doesn't mean he actually did them.
Convention Against Torture
Samayoa's attorney, Hans Bremer, followed Mulcahy's cross-examination with an argument that his client would face torture should he be deported and imprisoned, citing the United Nations Convention Against Torture.
It's the second time Samayoa has cited the Convention Against Torture to stay in the United States. The first time, in applying for asylum in the early 2000s, his petition was rejected by the courts.
Bremer said the allegations of war crimes are irrelevant to the deportation case. However, Bremer said, "there are many people who believe he was intimately involved with serious atrocities, and wish to take out revenge on him in the form of torture and even death. The Guatemalan government cannot protect him."
Bremer said the Guatemalan government could even allow Samayoa to be tortured.
Mulcahy cast doubt on Bremer's claims, saying it isn't persecution that Samayoa fears, but prosecution.
'I Can't Speak About The War'
In February, Samayoa's wife, Blanca Samayoa, agreed to be interviewed in the presence of the family's attorney.
She said they met when she was 11 years old, and married when she was 16. They've been married 48 years and have eight children, one of whom lives in the United States.
Samayoa described her husband as a hard-working landscaper who gets up at 5 a.m. every day and lives to help others.
"That's been his life, to work, he loves helping people," she said in Spanish. "He might not know you, but if he finds someplace and you're in need, he will help you."
As to the war crimes allegations against her husband, Samayoa said she knew there was a war going on in Guatemala, but that she was a housewife and didn't know what was happening outside the home.
"I can't speak about the war, because I was at home the whole time," she said.
"It was a war that happened at that time, and I can't tell you anything about it."
Samayoa said with all that has been said about her husband, she fears for her family's safety.
Decision Expected This Month
"The people who do have something to fear are his victims, honestly, his victims here," said anthropologist Patricia Foxen, who since November has been travelling from Washington D.C. for Samayoa's court appearances.
Foxen has spent decades studying the community where Samayoa is from — in the Quiche region of Guatemala — and the community where he's lived since he left Guatemala: Providence, Rhode Island.
After the hearing, Foxen said she could hardly believe some of the answers Samayoa gave in court.
"The majority of his answers very much contradict most of the evidence that has been presented," she said.  "It was almost shocking to hear a completely opposite story from what has been told over and over again in the [Guatemalan] community about what occurred during the civil war, and his role in the civil war."
"It was almost shocking to hear a completely opposite story from what has been told over and over again in the [Guatemalan] community about what occurred during the civil war, and his role in the civil war."

Patricia Foxen, an anthropologist
As to whether Samayoa could face persecution upon being deported to Guatemala, Foxen noted that Samayoa's "alleged partner-in-crime," Candido Noriega, was prosecuted, convicted, and eventually pardoned by a past president.
"[Noriega] died last summer of natural conditions, so he was not somebody who was persecuted," she said.
"In terms of the argument that he would be persecuted by the government in prison ... that doesn't really make any sense, given that he was a paramilitary, who worked with the military, who were part of the government."
Immigration Judge Jose Sanchez plans to announce his decision on Samayoa's deportation in court on March 26.
Samayoa could appeal before the Board of Immigration Appeals, and if that is unsuccessful, before the United States Court of Appeals.
This article was originally published on March 02, 2018.
This segment aired on March 6, 2018.