Gov. Baker Surveys Coastal Storm Damage
Play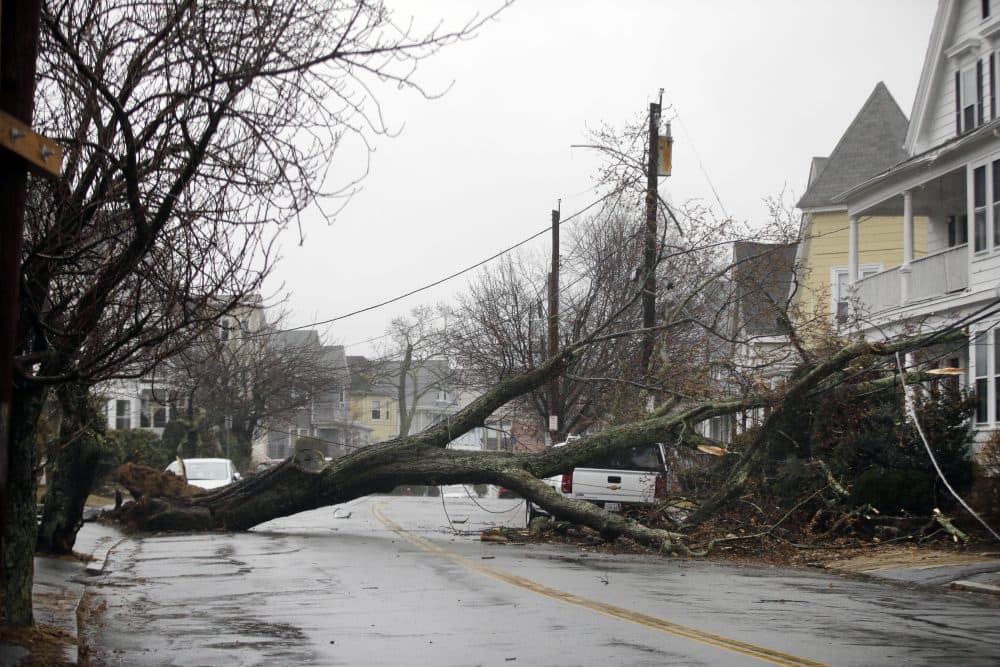 This article is more than 4 years old.
The Massachusetts Emergency Management Agency (MEMA) will be flying planes over the entire coast of the state Monday to get a better idea of the damage caused by the weekend nor'easter.
The storm is blamed for at least one death in Massachusetts.
Its strong winds, heavy rains and high tides knocked out power to hundreds of thousands of people. As of 7 a.m. Monday, 76,000 customers were still without power, and utility companies say it could be midweek before it's restored across the state.
On Saturday, Gov. Charlie Baker declared a state of emergency for the entire state.
While visiting some coastal communities Sunday, Baker said the storm raises big questions about whether Massachusetts is prepared for storms like this.
"What can be done by the folks at the state level, what can be done at the city [level]," Baker said, "but then we also have to have a conversation about how we're going to deal with the fact that a lot of the coastal stuff is probably part of our future — and we need to come up with some plans for that."
Baker met with local officials and residents to get a firsthand look at the damage.
Mike and Cindy Cotter live on Quincy's Houghs Neck. Their family's presence on the peninsula spans five generations, and they say the Friday-to-Saturday nor'easter brought the worst flooding the family has ever experienced. Unlike the hundreds of Quincy residents who had to be rescued, the Cotters decided to leave their home before the worst of the flooding.
"We knew it was going to get bad so we evacuated ahead of it," Mike Cotter told Baker. "My son who lives right around the corner, he and his wife went out in a front-end loader. ... That saved a lot of people. This is miraculous nobody was injured or killed down here, really."
The Cotters knew sooner or later they'd get hit with a bad storm. This one they say is a sign of the times.
"We are environmentalists, we know global warming is happening, the sea levels are rising," Mike said. "It's getting worse and worse. ... The three highest tides in recorded history have happened this year, and it's only March."
The first of those high tides was in January, but Cotter says Houghs Neck was spared because ice on the surface of the ocean prevented the water from breaching the seawall. The next two high tides happened during this storm — and there wasn't enough ice around to protect them.
Quincy officials say the Cotters' home was among roughly a hundred affected by the flooding — half of them severely, and a handful left uninhabitable. Then there's the infrastructure damage, says Quincy Mayor Thomas Koch.
"Because we're a coastal community, we've got 80 tide gates, we've got sewer pump stations, drain pump stations," he said. "So it's complicated, and we're trying to make sure all that infrastructure is taken care of."
On Sunday, some 20 engineers came to Quincy to inspect the city's 2.5 miles of seawall.
The repair work will cost millions, and it's just one part of the statewide recovery efforts. That's why MEMA is tallying up the storm damage to file for federal disaster relief.
Meeting with city officials in Quincy on Sunday, MEMA's regional director, James Mannion, said assessments are already underway.
"At this point we don't know really the breadth of the damage, that's what we're going to really try to figure out in the next week," Mannion said. "Damage assessment teams will be going out [Monday] to probably the top 20, 25 communities to take a sort of a quick snapshot of where the damage is, what the big ticket items are."
Another storm is expected Wednesday going into Thursday. Forecasters say it won't compare to the weekend nor'easter, but more power outages are likely.
This segment aired on March 5, 2018.