Fares, Fees, Retirement Incentives: MBTA Officials Keep 'Options Open' To Balance Budget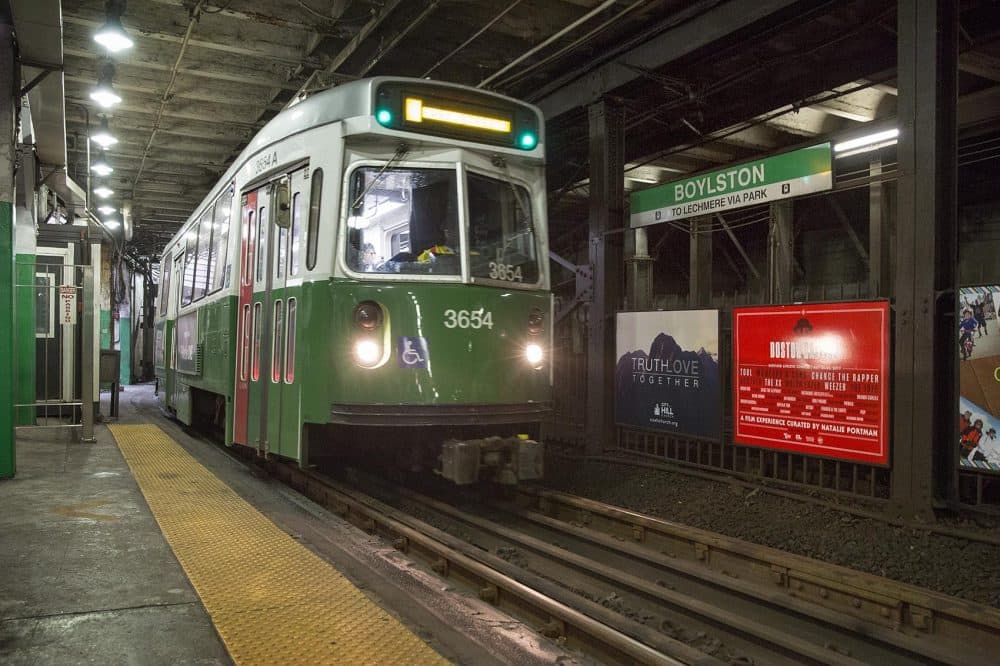 This article is more than 3 years old.
MBTA officials are considering higher parking fees, retirement incentives for T employees and fare hikes for riders as they seek to better align revenues with expenses.
The flat daily rate hike of $1 for those using T parking facilities would generate $5 million in net revenue, while new pricing based on parking space availability could result in another $5 million, according to T officials. If fare hikes are initiated next January that could generate $12 million to $15 million in new revenue, but MBTA staff wants to hold off on fare hikes for another six months.
An early retirement incentive program in fiscal 2017 resulted in a 180 "headcount reduction" and $17 million in savings. Another similar program could save the T an estimated $10 million to $20 million, according to staff.
MBTA officials will be also looking to lawmakers for another roughly $187 million infusion through this year's budget - much of which would be dedicated for capital projects - and they are also seeking legislative leeway so the T can keep employees on the capital budget.
If lawmakers grant the T a reprieve from its statutory obligation to move employees off the capital and onto the operating budget, that would reduce the T's expenses by around $27 million as the agency confronts ways to address a projected $100 million budget gap in fiscal 2019.
MBTA Fiscal and Management Control Board member Steve Poftak wants to see whether lawmakers will give the T that leeway before deciding on fares.
"I think the capital employee issue is such a big swing of money that I'm loathe to take any revenue options off the table at this point," Poftak told reporters after Monday's meeting. "It's not a perfect match, but I think we need to keep all our options open."
MBTA General Manager Luis Ramirez wants to push off fare hikes until the summer of 2019 at the earliest to "align" them with the July 1 start of the year. The control board previously resolved not to raise fares again until January 2019 at the earliest.
"We'd like to coordinate this," Ramirez told reporters after Monday's meeting.
T officials previously calculated the agency's fiscal 2019 projected budget gap at $111 million, and they arrived at the lower $100 million projected gap after some additional analysis, according to MBTA Chief Administrator Michael Abramo.
"That seemed to be the more appropriate trend," Abramo said.
Another revenue enhancement under consideration is an expansion of the corporate pass program, and Ramirez said he hopes to wring around $30 million in savings from administration and maintenance programs.
The MBTA is right to seek operating budget savings and invest in capital projects, Gov. Charlie Baker said Monday.
"I think the most important thing the T needs to do is continue to save money on its operating budget, which it's been doing, and bake that into its capital budget, which it's also been doing," Baker told reporters after meeting with legislative leaders.
Baker deferred to T officials on the timing of the next fare hikes and said he had not spoken to Ramirez about that.
Some big decisions could be made in the next few weeks, as the T board plans to pass a preliminary budget — for review by the MBTA Advisory Board — by mid-March and then pass a final budget by April 15.