Warnings Of 'Treacherous' Roads As Nor'easter Will Pummel Parts Of Mass.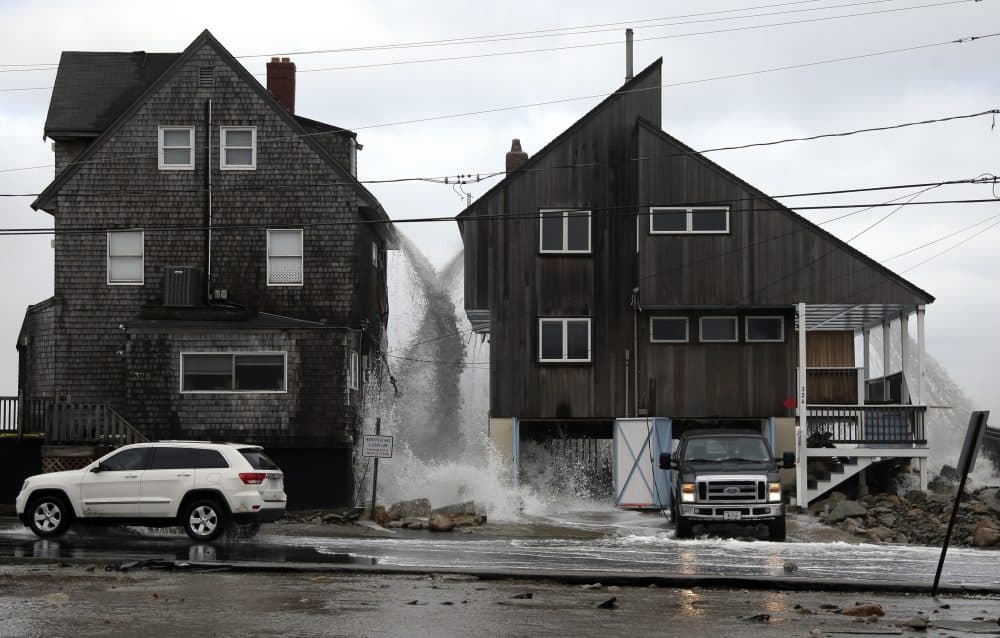 This article is more than 3 years old.
Story continues below
Current conditions in Boston
A second mighty nor'easter in less than a week will soon blanket some areas of Massachusetts with more than a foot of snow, while others — especially in some areas in the eastern part of the state — will see heavy rainfall, but fewer inches.
Ahead of the evening commute Wednesday, Gov. Charlie Baker implored drivers in the central and western parts of the state to stay off the roads, saying snow will beat down so quickly plows will likely be unable to clear the roads fast enough.
State highway officials warned of treacherous driving conditions west of Route 128 in the evening, with snow falling at a rate of 2-3 inches an hour in some areas and causing whiteout conditions. About 300 crews were pre-treating the roads ahead of the storm.
State Highway Administrator Jonathan Gulliver echoed Baker's sentiment, but said that those who have to drive should be "reducing speeds, devoting the full attention to the road ahead, giving plenty of space to other drivers, yes, don't crowd the plow if you do encounter our crews out there."
Baker also warned residents that scattered power outages and "minor to moderate coastal flooding" will affect communities still recovering from last Friday's damaging nor'easter.
The National Weather Service in Taunton has issued a Winter Storm Warning for many places, including Boston, citing snow accumulation estimates of up to 8 inches. Snow totals in Boston have been harder to predict than for the rest of the state, WBUR's meteorologist Dave Epstein said. The city is forecast to see between 4 to 8 inches, depending on where the snow/rain line ends up. Rain in Boston will shift to snow between 6 and 8 p.m., according to Epstein, with the transition in Newton and Needham happening closer to 6 and getting to Logan Airport around 8 p.m.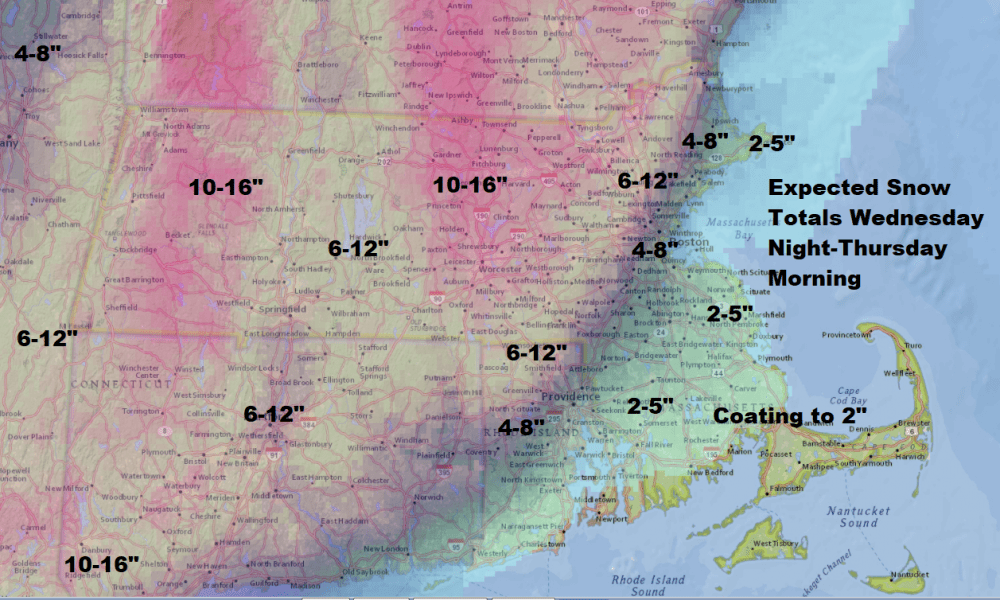 "The heaviest stuff [in Boston] really arrives after 8 p.m. tonight, when it should be snowing at 1 to 2 inches per hour," Epstein said. "I would not be surprised also to hear the rumble of thunder with this, which can really produce 1-, 2-, 3-inch amounts [of snow] in a very short period of time.
"That's the other reason why you're hearing in Boston these amounts have been all over the place, because a difference of two hours can make the difference in 3 or 4 inches of snow, depending on when the changeover [occurs]," he added.
Boston and Worcester public schools announced they will be closed Thursday due to the storm.
Coastal communities may get mostly rain. Baker noted that tides are not as astronomically high as at the height of last week's storm, but could still bring additional flooding woes.
Some areas are still cleaning up from Friday's storm.
In Duxbury, crews worked to shore up a seawall that was damaged by high tides over the last few days. Town Manager Rene Read said town leaders would be keeping a close eye on the forecast and the seawall repairs.
"We are gravely concerned, we are very cautious, with respect to the tide," he said. "Severe high tides and coastal flooding could create serious problems, which is why we're working around the clock to try to address the situation."
The MBTA said it would replace the Mattapan trolley service with shuttle buses, due to the storm.
With reporting by The Associated Press and the WBUR Newsroom. WBUR meteorologist David Epstein did a live Q&A on Facebook at 11:45 a.m. EST. You can re-watch here.
This article was originally published on March 07, 2018.