Gov. Baker Plans To File Climate Change Bill Next Week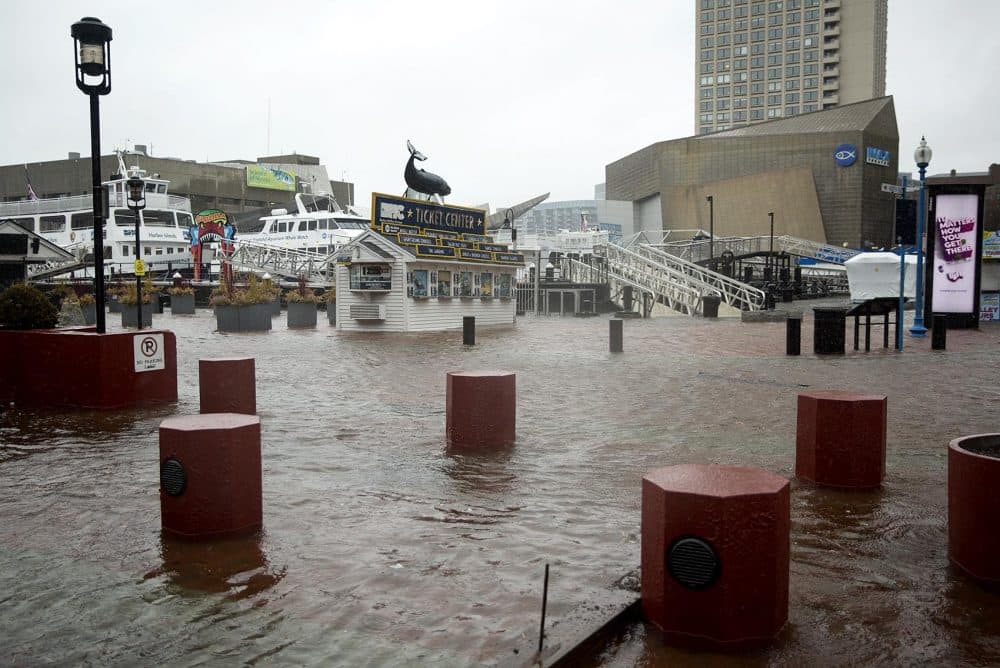 This article is more than 4 years old.
As Massachusetts continued to clean up Thursday from its second nor'easter in a week, Gov. Charlie Baker said he plans to file legislation next week addressing climate change.
Baker and Lt. Gov. Karyn Polito surveyed storm damage on the North and South shores last weekend, and Baker said it occurred to him then that "fixing whatever it is that's there may just translate in something similar happening again at some point."
"A lot of these places got hit pretty hard in the Jan. 4 storm as well, and I think we're going to have to come up with a different kind of strategy around resilience," Baker said during his monthly appearance on WGBH Radio.
Storms in January and March combined with high tides to inundate coastal communities with floodwaters, events that have put a spotlight on strategies to prepare for and respond to climate change.
"The time on some of this stuff seems to be now," Baker said.
The Senate in November passed a bill (S 2196) that would require key state agencies to develop a comprehensive adaptation management action plan, the fifth time they've passed a version of that legislation.
"Public safety officials tell us that the flooding is the worst that they have seen," Sen. Mark Pacheco, the bill's sponsor, said Monday. "If there is ever a time to get climate readiness and climate adaptation into statute, it is now."
The Massachusetts Climate Change Adaptation Coalition has called on House lawmakers to take up the bill, and House Majority Leader Ronald Mariano, who leads a special House working group created to respond to Trump-era federal policy, said Tuesday his group is "in discussions now with putting that bill on the agenda and getting it moving."
On the radio Thursday, Baker did not stake out a position on the Senate bill when co-host Jim Braude mentioned it. He said the nature of the ocean and the state's coastline presents a challenge when pursuing policies in this area.
"The ocean is a changing entity, and what I would really like us to do is to do a serious, one-end-of-the-coast-to-the-other study on both the opportunities and the liabilities and the threats that are sort of all the way up and down the coastline, and then work with the local communities and the Legislature, and probably with the feds, since a lot of this stuff involves Army Corps of Engineers stuff," Baker said.
He continued, "It's not going to be the same answer in every part of the coast."
Baker in 2016 signed an executive order directing his administration to develop and implement a statewide, comprehensive adaptation plan and come up with regulations addressing emissions reductions across sectors, including the transportation industry.
Baker said Thursday the state has also been working with municipalities on "vulnerability planning."
"We're probably going to need to do more, more quickly, with respect to this issue, and I anticipate we'll probably file some legislation on it pretty shortly to make sure we get more aggressive about this," he said.