'Get Our Voices Out': Why 3 Students Will Walk Out To Protest Gun Violence
Play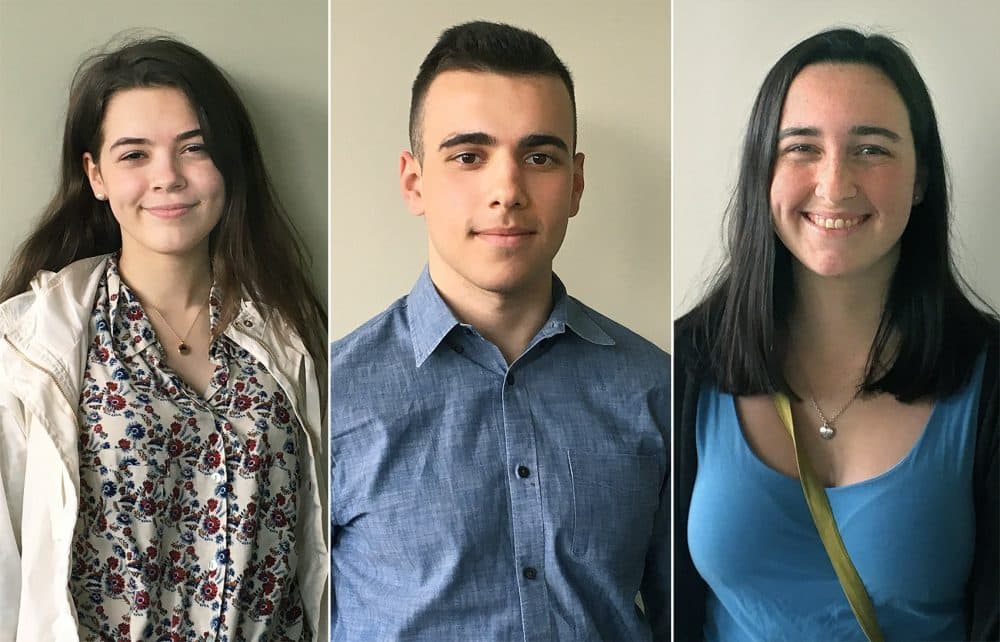 This article is more than 4 years old.
Next week, on Wednesday, students from across Massachusetts will walk out of class to protest gun violence. The #ENOUGH Walkout, as it's known, is mainly spearheaded by high school students.
Daniel Gessen, 17, a Falmouth High School senior; Seneca Hart, 18, a Belmont High School senior; and Emily Weinberg, 16, a Lexington High School sophomore; joined Morning Edition's Bob Oakes to talk about the movement and what they're hoping to achieve. The highlights below have been lightly edited for clarity.
Interview Highlights
On deciding to organize the walkout
Daniel: "After the Parkland shooting we had the same sense of hopelessness — but this time, it did feel different. When the Parkland students started organizing they started getting their message out and keeping the issue on the front page. So I think the main purpose of a walkout, [and] the main purpose of the rally on March 24, is to take ownership of the conversation being had in the country."
On blaming mental illness
Seneca: "People who are mentally ill … that does not mean that they are violent. That doesn't mean that they're dangerous, and it could be argued that the thing that makes people who maybe are a little bit more unstable, or very dangerous, is access to weapons of war."
On the Second Amendment
Seneca: "The Second Amendment isn't just the right to bear arms, it's the well-regulated militia, which I think pretty clearly states that the government or some governing body has the right to regulate gun ownership in America. The current interpretation of the Second Amendment seems very flawed to me."
On young people driving political change
Daniel: "Nothing's ever guaranteed but I think people are sick of the way things are done. I think young people will refuse to accept cynicism as the way things are."
Emily: "I hope that the people that label us as the generation that never looks up from our phone sees that's not all what we're doing. We're not just gossiping and scrolling through Instagram. We are realizing and we're reading the news and we are keeping educated and we know that all the people that are standing behind us right now want us to get our voices out."
Correction: An earlier version of this story said Emily is a junior; she is a sophomore. We regret the error.
This article was originally published on March 09, 2018.
This segment aired on March 9, 2018.