This Latest Nor'easter Could Bring 18 Inches Of Snow To Boston
This article is more than 5 years old.
Editor's Note: See Tuesday morning's story and forecast. 
---
Here we go again.
Yet another nor'easter — the third in under two weeks — is expected to drop more than 18 inches of snow on parts of eastern Massachusetts Tuesday.
Starting at 11 p.m. Monday, a blizzard warning goes into effect for parts of the state's coastline; a winter storm warning goes into effect for the rest of Massachusetts.
In areas under a blizzard warning, the National Weather Service said "[w]inds gusting as high as 65 mph will cause whiteout conditions in blowing snow."
Some locations might see up to 2 feet of snow before the storm moves out late Tuesday. Boston could see up to 18 inches of snow.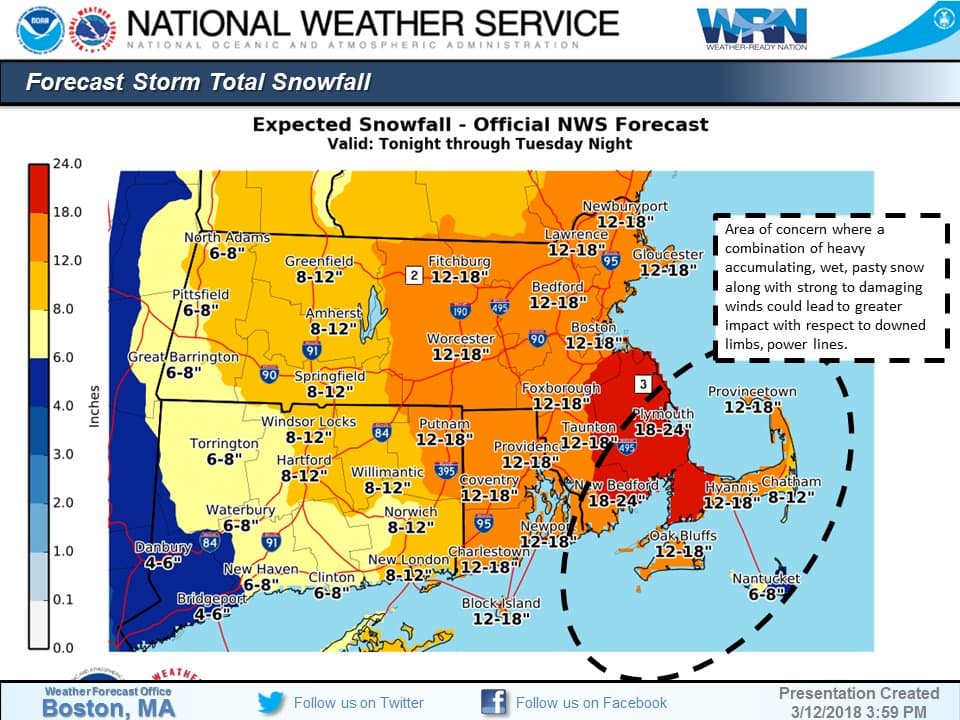 The snow is expected to be heaviest during Tuesday morning's commute.
"We're really expecting dangerous travel conditions Tuesday morning, pretty significant heavy snowfall rates, as well as strong winds [that] will make near-whiteout conditions," said Chris Besse, spokesman for the Massachusetts Emergency Management Agency. "So we really encourage people to stay off the roads if they can Tuesday morning and avoid any unnecessary travel."
MEMA says that unlike the other two recent nor'easters, widespread power outages are not expected with this storm, because the snow is forecast to be a bit lighter.
On Tuesday, the MBTA commuter rail will operate on an "extremely reduced schedule," the transit agency said, and the Red, Orange, Blue and Green lines "will operate with reduced frequency that is similar to a Saturday schedule." Many MBTA buses will operate on snow routes, and ferry service is suspended for the day. Bus shuttles will also replace the Mattapan Trolley.
Boston and Somerville are among the school districts that have cancelled classes Tuesday.
Boston instituted a parking ban that goes into effect at 7 p.m. Monday.
MEMA says it's still assessing damage from those two other nor'easters.
"As we're keeping an eye on this storm, we're also still working on some of the damage assessment and recovery process starting up from the first storm," Besse said. "So we're pursuing multiple angles, the recovery from that as well as the response to this upcoming storm."
Along with a bad Jan. 4 storm, the recent pair of nor'easters -- which knocked out power to hundreds of thousands of customers and inundated low-lying coastal areas with floodwaters -- raised new questions about the state's climate resiliency. Gov. Charlie Baker said he plans this week to file legislation addressing climate change.
With reporting by WBUR's Benjamin Swasey and its Newscast Unit
This article was originally published on March 12, 2018.