Forecast: Intense Snowstorm Is Coming Tonight; Boston Likely To See Upwards Of 18 Inches
03:33
Play
This article is more than 3 years old.
Editor's Note: See Tuesday morning's story and forecast. 
The third nor'easter in under two weeks is headed our way, and it comes with a lot of snow, high winds and potential blizzard conditions in parts of eastern Massachusetts.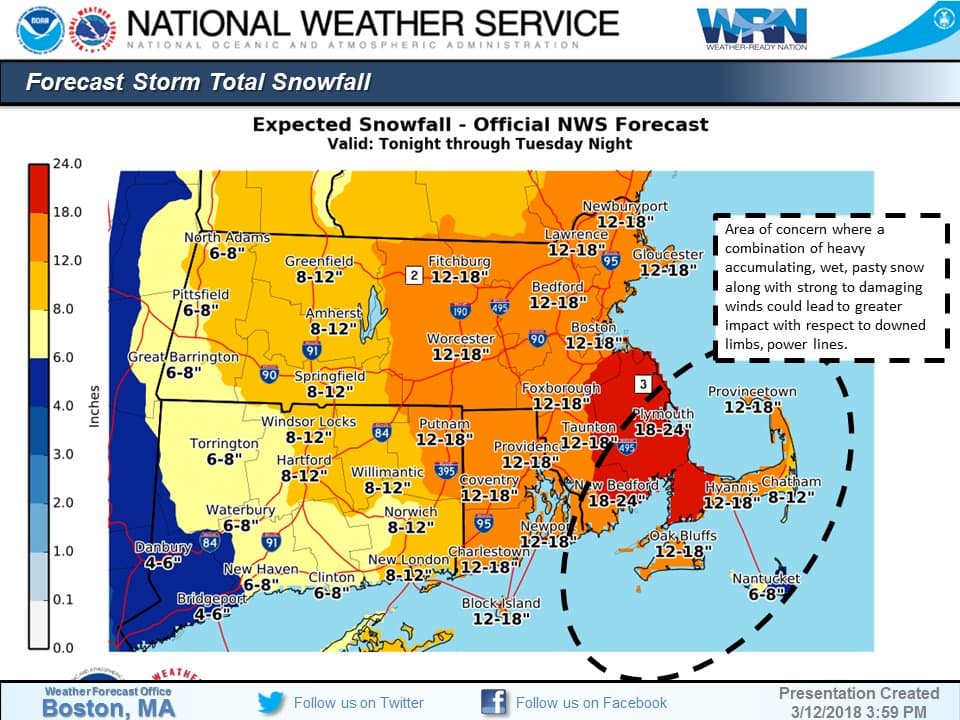 The snow will begin moving in by midnight Monday night and fall heavily at times, into Tuesday. The snow will definitely affect the morning commute Tuesday and possibly even the evening commute.
Northeasterly winds will increase as the storm intensifies southeast of Cape Cod. The highest gust in the Greater Boston vicinity will be 45 miles per hour between 9 a.m. and 1 p.m. Tuesday. Parts of Cape Cod and the Islands will be hardest hit with sustained winds of 35 to 45 miles per hour and gusts of 60 to 65 miles per hour.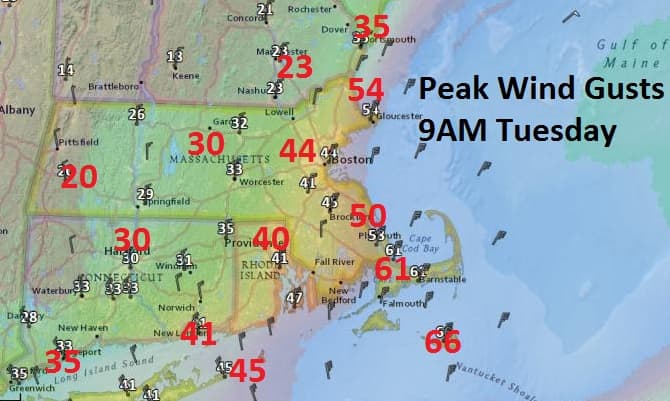 The exact track of the storm will determine the accumulations across southern New England, but most of the computer model guidance is in agreement that Boston down to Providence will likely see upwards of 18 inches, with some higher totals possible on the South Coast.
Story continues below
Current conditions in Boston
Temperatures will be in the lower 30s through the event so the snow will be wet and heavy, especially over Cape Cod. The combination of heavy, wet snow and high winds will inevitably cause power outages due to fallen limbs and trees on power lines.
There will be two more model runs prior to this event. And with any winter storm, a 50 mile change of course could cause a significant change in the snowfall forecast.
A winter storm warning is in effect from 11 p.m. Monday to 8 p.m. Tuesday, and a blizzard warning will be in effect for portions of the coast.
---
Monday: Some sun but with increasing afternoon clouds. High: 42.
Monday night: Cloudy with snow developing around midnight. Low 31.
Tuesday: Snowy and windy. Snow heavy at times. Northeast winds increasing to 25-30 miles per hour, gusts to 45 miles per hour. High: 33.
Wednesday: Mostly cloudy, blustery. High: 39.
Thursday: Mostly cloudy, some sun. High near 40.
The audio atop this post is an interview with Stephanie Dunten of the National Weather Service.
This article was originally published on March 12, 2018.
This segment aired on March 12, 2018.