Forecast: Near Blizzard Conditions Tuesday As Nor'easter Sweeps In
This article is more than 3 years old.
Story continues below
Current conditions in Boston
Another potentially dangerous and life-threatening storm is headed our way.
Snow is expected to fall heavily through the evening. Expect plowable snow, high winds and even coastal flooding at times of high tide, which for Tuesday is expected to be 9:14 a.m. and 9:51 p.m. in Boston Harbor. A blizzard warning has been issued for the entire east coast of Massachusetts.
Snow will fall heavy at times through mid-afternoon and then taper to flurries tonight. Northeasterly winds will increase as the storm intensifies southeast of Cape Cod.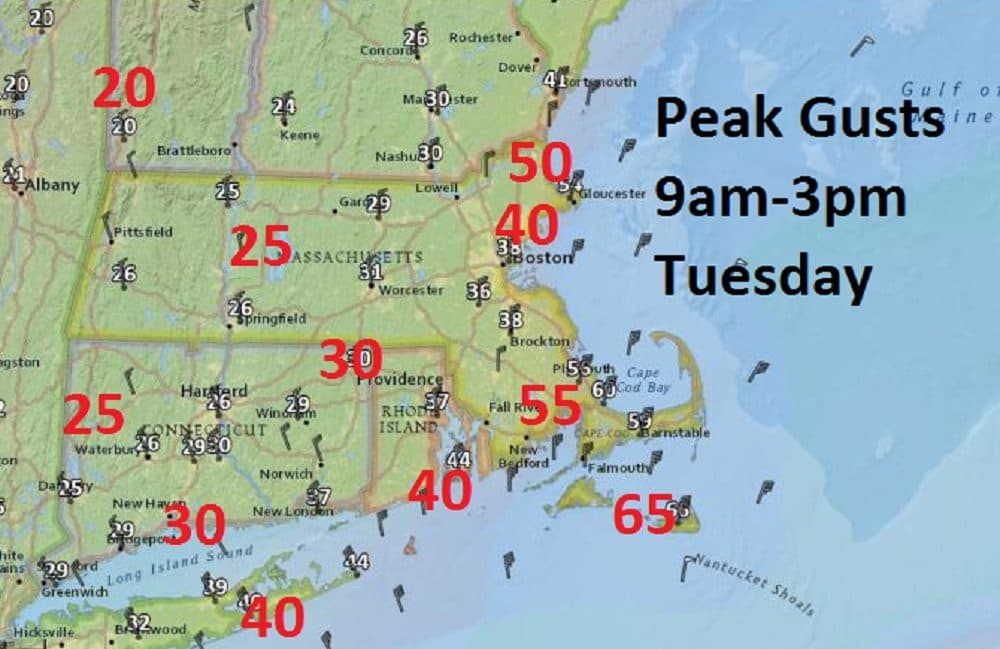 The highest wind gusts in the Boston vicinity will be around 45 miles per hour, expected between 9 a.m. and 1 p.m. The southeast parts of Cape Cod and the Islands will be hardest hit, with sustained winds of 35 to 45 miles per hour and gusts of 55 to 65 miles per hour.
Snowfall amounts will range from under 6 inches in western Massachusetts to as much as 20 inches from Boston down to Providence. Temperatures will be in the lower 30s through the event so the snow will be heavy and wet, especially over the Cape. The combination of heavy wet snow and high winds will inevitably cause power outages due to fallen limbs and trees on power lines.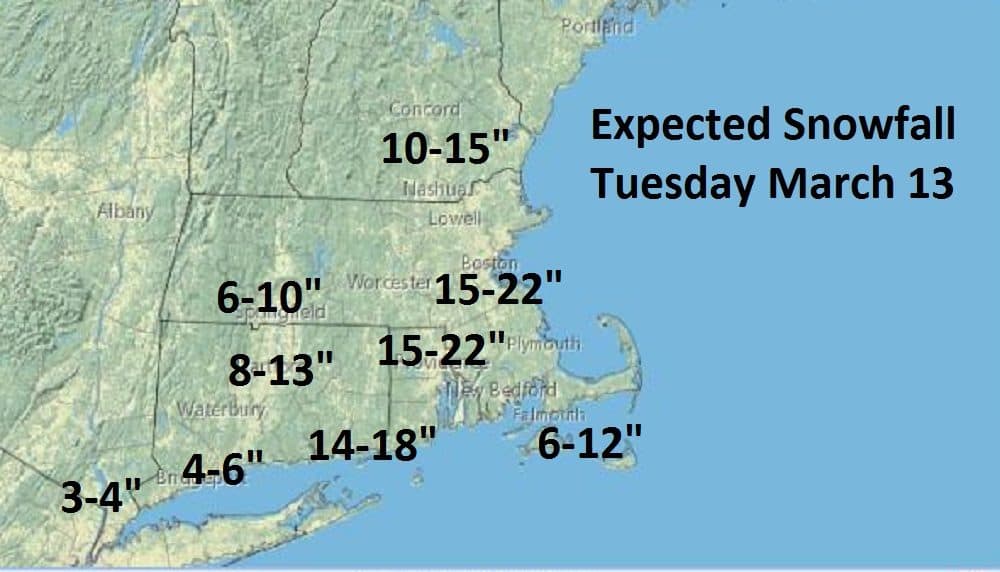 Remember, there still could be a slight deviation from the track. Even a 25-mile change of course could cause a significant change in the snowfall forecast.
Today: Snow, heavy at time through mid-afternoon. Northeast winds increasing to 25 miles per hour gusts to 40 miles per hour. Total accumulations 15-22 inches. High 33.
Tonight: Snow ending, staying mostly cloudy and blustery. Low 29.
Wednesday: Mostly cloudy, blustery. High 40. Few snow showers at night.
Thursday: Mixed clouds and sun, breezy. High near 40.
Correction: A previous version of this story listed the incorrect times for high tide. We regret the error.