Forecast: Windy And Cold Day After The Snow
Another large nor'easter has come and gone. This one was officially a blizzard, says the National Weather Service, in Boston, along the South Shore and on Martha's Vineyard.
The NWS calls a storm a blizzard when visibility is at less than quarter of a mile and sustained winds or gusts exceed 35 mph for at least three consecutive hours. Many locations received 2 feet of snow across eastern Mass., and East Falmouth had a peak wind gust of 81 mph.
Although the heavy snow has moved away, our weather will be affected by a rather large circulation around this system for the next couple days. An upper level disturbance will rotate through Wednesday night, with enough energy to produce light snow showers across much of southern New England - with a coating to half an inch possible.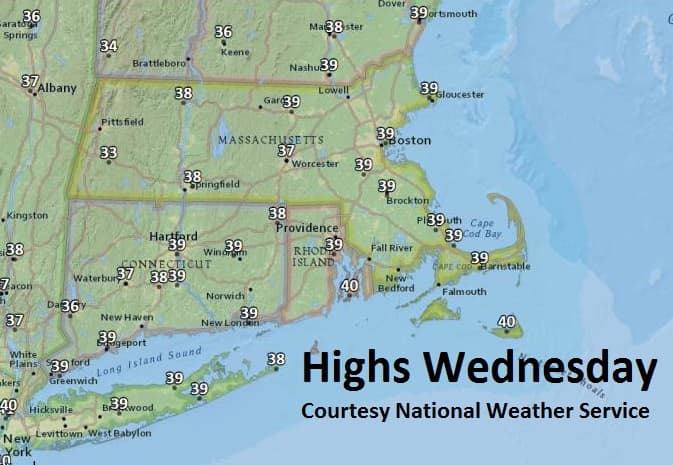 Some sun will finally break through Thursday, but temperatures will average a bit below normal through the period. Restoration of power on the South Shore, the Cape and the Islands will be hampered by occasional wind gust up to 35 miles per hour, but there will be two windows of opportunity when winds will diminish some:  7 p.m. Wednesday to 3 a.m. Thursday and again after 10 a.m. Thursday.
Meteorologist Dave Goldbaum is in for Dave Epstein
---
Today: Mostly cloudy, windy. High 39. A snow shower possible.
Tonight: Cloudy, few snow showers after midnight. A coating up to half an inch possible. Low 30.
Thursday: Partly sunny, with diminishing winds. High 41.
Friday: Considerable cloudiness, breezy and cold. Highs in the mid-30s.
Saturday: Mostly sunny. Continued breezy and colder than normal. Highs near 40.
Sunday: Mostly sunny. Highs near 40.
This article was originally published on March 14, 2018.