Forecast: Some Sunshine, Breeziness Continues
This article is more than 1 year old.
Tuesday's storm continues to spin over the Canadian Maritimes. Its affect on our weather will be felt into Saturday, with breezy conditions and lots of clouds as our atmosphere remains unstable.
Today starts off cloudy but will become mostly sunny as the day goes on, with highs in the high 30s, low 40s. It will still be breezy, with gusts up to 30 miles per hour.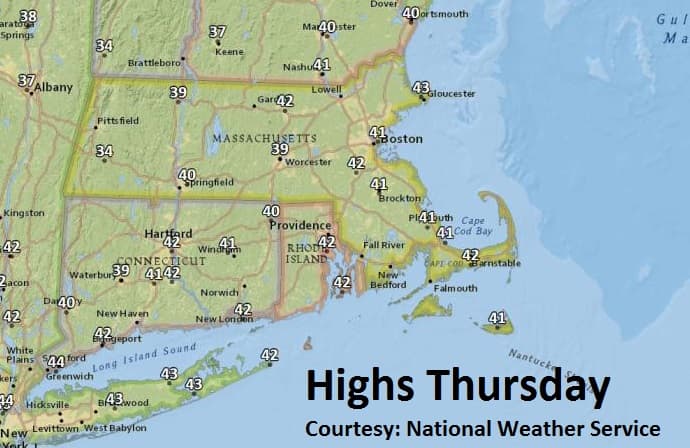 The sun will show up over the weekend, especially Sunday when drier air starts to move in. However, it will be rather chilly with temperatures below normal. In fact, temperatures will probably fall into the teens for lows Sunday morning.
A weak storm will pass well to our south over the weekend. But a second storm may affect us Tuesday as low pressure tries to form over the mid-Atlantic region and track up toward Cape Cod. All models are showing this system but it's still too early to determine an exact track or its intensity.
Today: Mixed clouds and sun, breezy. High 41.
Tonight: Mostly cloudy. Low 28.
Friday: Considerable cloudiness. High 37.
Saturday: Morning sun, afternoon clouds. Highs in the mid-30s.
Sunday: Mostly sunny. Colder than normal. Highs mid-30s.
Monday: Partly sunny. Highs in the mid-30s.