Debate Continues Over Changing Yawkey Way's Name
Resume
Cardinal Sean O'Malley has joined with several prominent Bostonians in opposing Red Sox owner John Henry's effort to change the name of Yawkey Way, next to Fenway Park.
Henry and the Red Sox say they want the change because it's named after longtime team owner Tom Yawkey, who they say was racist.
"The undeniable and regrettable history of the Red Sox with regards to race and integration during the Yawkey stewardship make it difficult to give prominence to a symbol associated with an era marred by racial discrimination and inequality," said Red Sox attorney David Friedman at a hearing of the Public Improvement Commission Thursday at City Hall.
But O'Malley and others who lead organizations that have benefited from the philanthropic foundation in Yawkey's name are asking the team to keep the name.
The cardinal joins Ray Hammond, pastor of Bethel AME Church in Boston, and a trustee of the Yawkey Foundation II, which was founded by Yawkey's widow, Jean. At the hearing, Hammond said the narrative that Yawkey was a racist was false.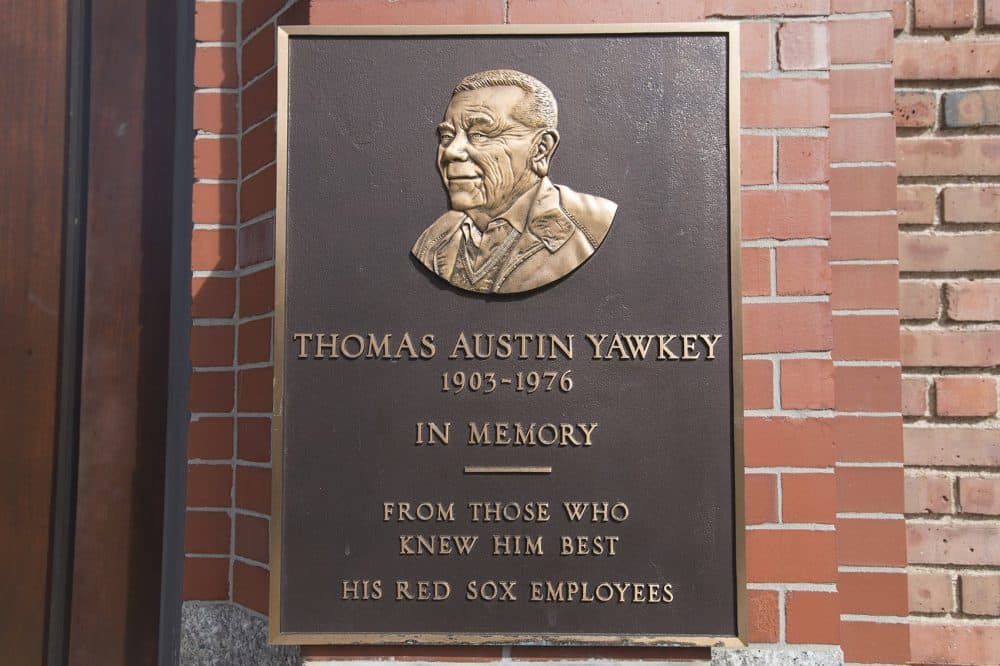 He maintains that Yawkey's reputation rests in part on an accusation that Yawkey used a racist epithet against Jackie Robinson during his tryout for the Red Sox.
"And according to Jean Yawkey, she and Yawkey were not even in Boston on the day of the tryout in April 1945. Their custom was to come back to Boston each year in May," said Hammond.
The Red Sox did not sign Robinson, and the team was the last Major League Baseball team to hire black players. Still, Hammond said, it's a fiction that this was because Yawkey was a racist.
Walter Carrington, who was in charge of the Massachusetts Commission Against Discrimination's investigation of the Sox in 1959, disputed Hammond's defense. He spoke to Robinson about the 1945 tryout.
"Which he described to me as an absolute sham, that the Red Sox did it only because a member of the Boston City Council had told the Red Sox that unless they gave a trial to black players, that he was going to see that their license to have baseball games on Sunday was revoked," he said.
It was not the Curse of the Bambino that kept the team from winning all those years, said Carrington — it was, instead, the curse of Tom Yawkey, who refused to hire the best players in the game because of their race.
Carrington said he feels the same way approaching Yawkey Way as he does approaching statues of Confederate generals.
Saying that the Yawkey Foundations' good works absolve Tom Yawkey of racism, Carrington added, is like saying the Ford Foundation's good work absolves Henry Ford of his anti-Semitism.
Coming to the defense of his old boss was Jim Longborg, who led the American League in wins and strikeouts during the 1967 Sox's "Impossible Dream" season and who said Yawkey had been surrounded by bad influences.
"I personally saw a change in Mr. Yawkey, from the 1966 season, '67 season, '68 season, when our team now became integrated, with wonderful players like Elston Howard, who he traded for, Jose Tartabull, Reggie Smith, Joe Foy, George Scott, all teammates of mine," he said.
Longborg said Yawkey became a better man. He's urging the city to keep the Yawkey Way name.
In two weeks, the city's commission holds another hearing on the name change. It's a proposal that's clearly pitting influential Bostonians against one another.
This article was originally published on March 16, 2018.
This segment aired on March 16, 2018.