Forecast: Chilly Start To The Final Week Of March
This article is more than 4 years old.
Finally, April is within sight. Average temperatures this time of the year should be getting near 50 degrees, but until the second part of this week, we will continue with below average temperatures.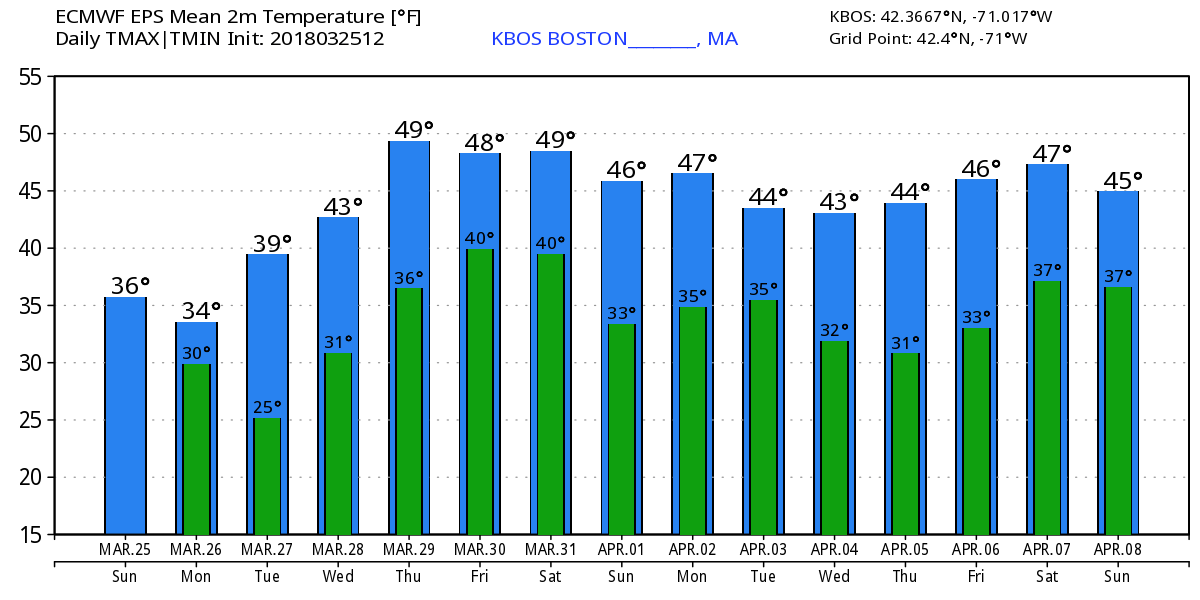 In spite of the chilly conditions today and tomorrow, there will be plenty of sunshine. Although it may seem like you don't need it yet, if you are going to be outside for any extended period of time, it is the time of year to start using sunscreen on a regular basis — if you don't already, which many people do. It's a good idea.
On Wednesday, a warm front will approach the region, a leading edge of milder air and this should put temperatures in the 50s toward the end of the week.
The warm front is accompanied by a lot of clouds and some spotty precipitation in the form of showers or even a few sleet pellets. With the warmer air will come showers, and I expect that by this time next week much more snow will be melted. You probably already noticed many of the south-facing hillsides are completely bare.
It's too early to say whether we see any more snow or not, but odds of any significant snow, especially in Boston, are rapidly decreasing. I do see another shot of cold air coming late this weekend or early next week, so although the snow shovels may not get much use don't put away your hats and mittens just yet.
You can follow my updates here and on Twitter @growingwisdom.
---
Monday: Sunshine and chilly. Highs around 40, some 30s at the shore.
Monday Night: Mainly clear. Cold. Lows within a few degrees of freezing at the coast, but 20s inland.
Tuesday Sunshine, cool. Highs 40-45.
Wednesday: Clouds, may shower, mid 40s.
Thursday: Milder, a few showers. Some sun. Highs 54-60.
Friday: Partly sunny. 50-55.
Saturday: Cooler.