How Pay For Massport State Troopers Has Increased Since 2014
Troopers working for Logan Airport and other Massachusetts Port Authority properties have taken home more money — and more overtime — every year since 2014.
New data released Friday by the Office of the State Comptroller show that last year, the average trooper paid by Massport earned $184,000. A full third of that pay was overtime.
The 2017 average pay was nearly $40,000 more than what Troop F employees made four years ago, in 2014. Back then, about a quarter of their pay was overtime.
You can see how the pay increased over four years: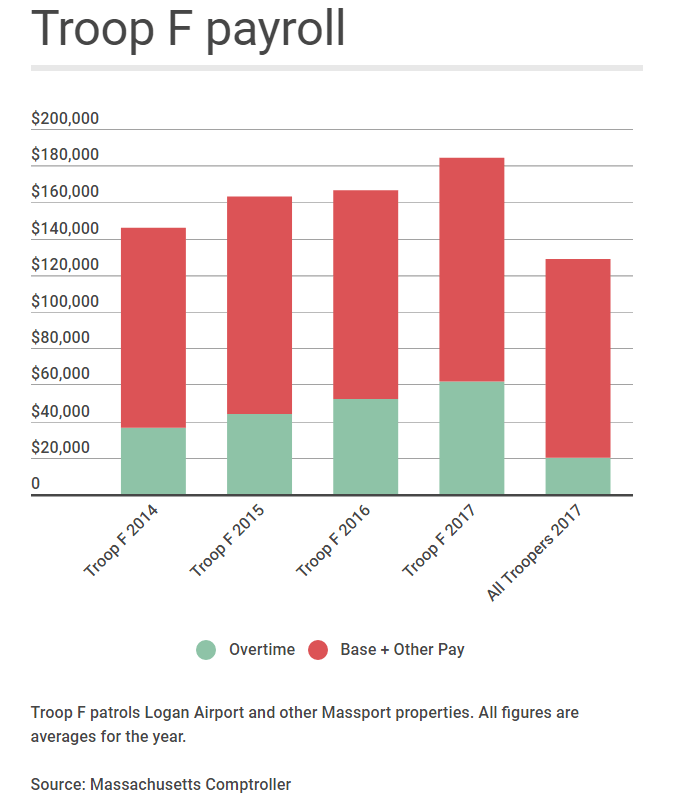 Troop F patrols Logan, parts of the Seaport and other Massport properties. It had been paid by Massport, but on Wednesday state police said it will now directly pay the troopers assigned to Massport properties. (Massport will reimburse state police.)
In 2017, 23 Troop F troopers earned more than $100,000 in overtime alone. In 2014, zero troopers in Troop F took home six figure overtime checks.
Troop F was known as a lucrative assignment, and the numbers bear that out.
In 2017, troopers paid by Massport earned about $50,000 more than the rest of the State Police, on average. And the proportion of overtime paid to all troopers was half that of the Massport troopers.
In a statement, Massport said:
Safety and security are Massport's top priority. Two reasons which result in significant overtime for Troop F – they have been at an enhanced level of readiness since the series of coordinated terror attacks on Paris in 2015 and the Troop also has a number of vacancies.
The Boston Globe reported this week that payroll records for the 140-member Troop F hadn't been filed with the state comptroller for eight years.
Comptroller Tom Shack said his office will add more information to the state's website as it's found.
"The remedy in this particular case is to make sure the transparency system is providing as much detail as possible," he told WBUR, "and two, that on a going-forward basis, we're on a position to be able to make sure it's done automatically with the rest of state government."
This article was originally published on March 30, 2018.