After Months Of Rehab In Quincy, These Endangered Sea Turtles Are Now Back In The Atlantic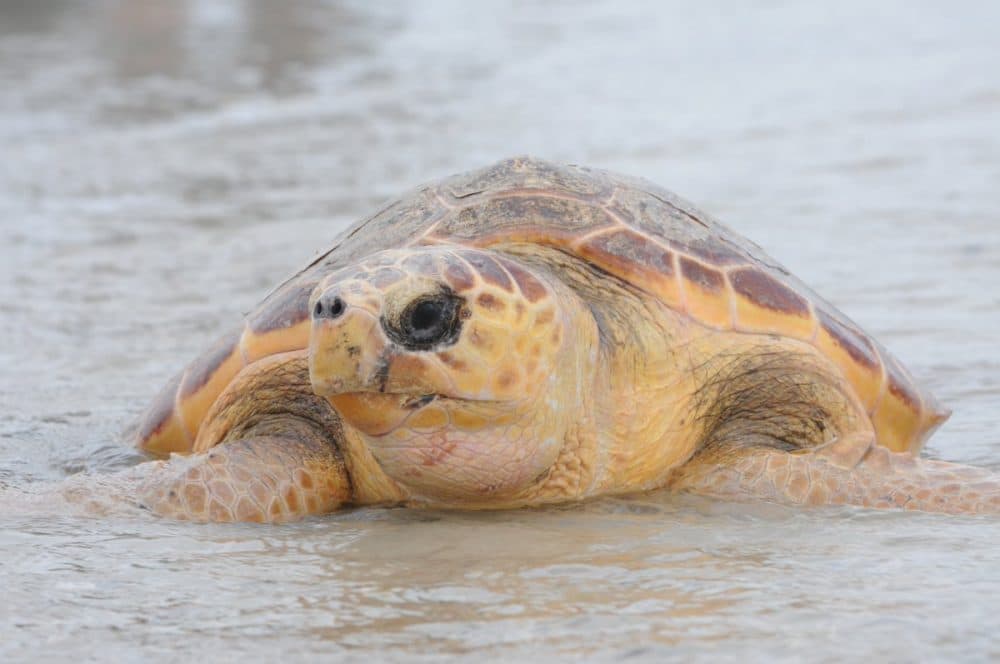 This article is more than 3 years old.
Several sea turtles are basking safely in the warm Florida surf following a long stay in Massachusetts.
Biologists from the New England Aquarium released 14 endangered and threatened sea turtles into the Atlantic Ocean off the coast of Florida on Monday. The animals spent the winter near Boston recovering from various illnesses.
The large loggerhead and Kemp's-ridley sea turtles became stranded on Cape Cod beaches last November and December due to hypothermia in a failed attempt to migrate south. They suffered life-threatening medical conditions like pneumonia and starvation that required months of rehab at the aquarium's turtle hospital in Quincy, just south of Boston.
The waters off Florida are over 70 degrees — a paradise compared to those off New England, which are hovering around 40 degrees.
Aquarium spokesman Tony LaCasse said the organization's veterinarians and recue biologists likely have more experience treating sea turtles for hypothermia and related conditions "than any other animal care group." He also commended turtle veterinarian Dr. Charles Innis for helping save the animals.
In the late fall of 2017, the aquarium and its rescue partner, the Mass Audubon Wellfleet Bay Wildlife Sanctuary, rescued and treated nearly 300 sea turtles.