Amid Delay In New Lottery Policy, Repeat Winners Keep On Winning
Resume
It's been a charmed decade for Ali Jaafar. The Watertown man keeps hitting it big on the Massachusetts State Lottery, winning millions of dollars from thousands of scratch tickets.
For the past two years, Jaafar has held the title of the state's winningest lottery player. But he is just one of hundreds of individuals who repeatedly cash in on the Massachusetts lottery.
The lottery does not know how some of these so-called "frequent winners" manage to win so often. Many of these players hold win streaks that Michael Sweeney, executive director of the state lottery, said "defy all mathematical logic or reason." While some people believe these players are coming by their prizes through luck, effort — or both — Sweeney said he's concerned illicit activities, like money laundering, could potentially be involved. And for the last 10 months, he's been working on a way to stop giving the spoils to certain victors.
Payouts Flow Amid Policy Delay
Last August, Sweeney told the Boston Globe that he was working on a new policy to stop the lottery from making massive payouts to frequent winners. He said that plan would be in place on Oct. 1, 2017. However, more than half a year later, no policy is in effect.
In that time period, close to 80 frequent winners have cashed out more than 4,000 prizes totaling at least $22.8 million, according to a WBUR analysis of lottery records obtained through public records requests. From Oct. 1 through mid-March, Jaafar alone won more than 700 prizes — 549 were scratch tickets that hit $1,000 — and collected more than a $1 million.
University of California Berkeley statistics professor Philip Stark calculated that "if every Massachusetts resident spent $5.7 million on scratchers, there would still be less than a 1 in 10 million chance that any of them would win $1,000 as many times as Jaafar" did on scratch tickets.
This improbable wave of luck has brought into question whether a state lottery that touts itself as the nation's most successful may be vulnerable to manipulation.
Since last October, close to 80 frequent winners have cashed out more than 4,000 prizes totaling at least $22.8 million.
A lottery spokesman said the agency is now in the "late stages" of implementing the new rule it pledged last year. The policy will flag and freeze payments to people whose repeated good fortune raises suspicions. Win $1,000 or more at least 20 times within 12 months, and the lottery will freeze your future winnings for 90 days. You could cash in again after that freeze, but if you win another 20 times, your prizes will be held for 180 days.
This is more forgiving than Sweeney's original proposal. Last summer, he told the Globe he wanted to trigger the freeze at six wins of $1,000 or more in a 12-month period. Had this original limit gone into effect in October, nearly 500 winners would have had to explain their luck. Those players cashed close to 7,200 wins worth about $34.5 million.
"While admittedly perhaps we're not moving as fast as some people would like us to, what we're trying to do is we're trying to get this right," said Sweeney.
He said it took longer than expected to shore up the details of the new policy. Sweeney wanted to come up with language that could withstand legal challenges. He also cited the ongoing process to make the rule a part of the Code of Massachusetts Regulations.
Lottery officials in both Florida and Georgia created new policies in the wake of scrutiny around frequent winning. In Georgia, there have been a handful of lawsuits challenging the state's withholding of big-money prizes through a policy change similar to the one being created in Massachusetts.
"What we are trying to do, and what I think my responsibility is in part, is to try to make our process as thorough and as complete as possible, so that if someone does appeal [a freeze under the policy], we'll have very strong standing in whatever judicial setting," Sweeney said. "What I'm trying to do is to make the process legal, constitutional and for it to stand up in court."
Number Of Frequent Winners Keeps Increasing
Suspicions around the incredible gambling successes among frequent winners in Massachusetts are not new. State auditors first outlined concerns on the matter nearly 20 years ago in a 1999 audit of the lottery.
"Statistically, these multiple winners would have had to purchase hundreds of thousands to millions of tickets in order for them to win so many prizes and 'beat the odds,' " then-state Auditor Joseph DeNucci wrote in the report. The audit found that the state's top winner won 319 times for a total of $412,482 — or about one-fifth of the wins and the money Ali Jaafar won in 2017.
Ali Jaafar was the top lottery prize-getter last year, winning more than 1,500 times for a fast $2.25 million.
There has been only one instance in which a state agency has brought a frequent winner to court, according to Sweeney. It was an Appellate Tax Board case against Clarance Jones, of Lynn — the state's most frequent winner for more than a decade. As the Boston Globe reported in 2011, the government was unsuccessful in collecting the taxes it argued Jones, who bills himself as a professional gambler, owed.
Ali Jaafar was the top lottery prize-getter last year, winning more than 1,500 times for a fast $2.25 million.
The 59-year-old is not the only lucky member of the Jaafar family. Mohamed Jaafar, 27, and Yousef Jaafar, 25, together won more than 600 times, netting nearly $1 million in total from January 2017 to mid-March. When reached by phone, Ali and Yousef Jaafar said they did not want to speak to a reporter. A young man who answered the door at an address believed to be where the three of them reside also said the family did not want to talk. Ali Jaafar has owned a business called Assorted Phone Cards, Inc. since 1995, and state records show its registered address is the same as Jaafar's home.
Frequent winners appear to have found their paradise in Massachusetts. The state has the most repeat lottery winners in the U.S., according to an analysis of 36 lotteries last year by PennLive and the Columbia Graduate School of Journalism. Between 2011 and 2016, there were 384 frequent winners in Massachusetts. (The winners counted in their analysis won at least $600 a minimum of 50 times.)
New York is the next closest state, with 319 frequent winners between 2010 and 2016. In other words, even with one less year of data, Massachusetts still had by far the highest number of frequent winners.
For the past seven years, the number of frequent winners in Massachusetts, as defined by the policy Sweeney is creating, has increased. The state lottery's total payout to them: more than $396 million.
In Florida and Iowa, frequent winning has been tied to criminal activities. Sweeney is concerned winners here may be engaging in similar illicit actions. Beyond implementing his policy, he said he's made collaborating with law enforcement a top priority since his tenure began in 2015.
"It would be the death of the lottery if people think the games are fixed at all," said Boston College professor Richard McGowan, who studies the gaming industry in Massachusetts.
But McGowan sees the lottery's forthcoming policy as "a bit of an overreaction," saying the number of frequent winners does not necessarily surprise him. He said many of these people are likely addicted to playing the lottery — and deeply invested in beating the odds. People spend hours studying which scratch tickets have unclaimed high prizes, he says, in order to buy up those tickets and better their chances.
"I also would like to know how many scratch tickets these people are buying, and I would probably say they're buying an awful lot of scratch tickets," McGowan said. "So it will be interesting if this policy goes into effect, what's going to happen to those instant ticket sales? I guarantee you they're going to be going down. And so the lottery isn't going to do as well."
McGowan said he thinks the lottery should consider pulling instant tickets after a certain period of time, rather than waiting for them to sell. "That way it would be harder to take advantage if you knew that the big prizes were not taken yet."
He also questioned whether the lottery's policy would be effective: "If a person is this dedicated, they certainly could get a lot of people to cash tickets in for them, and what could the lottery do?"
Les Bernal, of Stop Predatory Gambling, a national group against state-run gambling operations, said he highly doubts law enforcement officials are keeping a close watch on frequent winners.
"When states like Massachusetts aggressively sponsor predatory gambling you get into this quandary. In the past — 40 or 50 years ago — if people were running predatory gambling rings that were illegal, the police would act on this stuff, they would take action," Bernal said. "Now, because states like Massachusetts have put the imprint on predatory gambling … law enforcement more often now sees gambling as a revenue issue, and not as something that they need to attack criminally."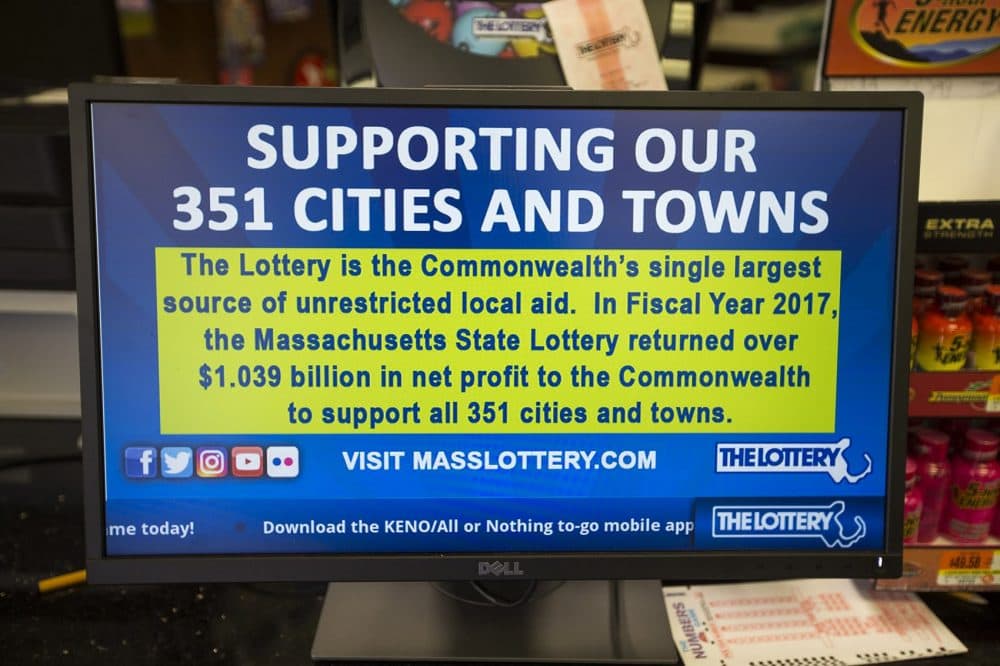 Last year, lottery revenue generated more than $1 billion in local aid distributed among the state's 351 towns and cities.
Within the last month, the lottery has scheduled hearings for seven retailers with "a high frequency of lottery prize claims," according to lottery spokesman Christian Teja, who says zeroing in on businesses that sell lottery products "allows us to make the quickest impact."
"Over the last 10 months, the Massachusetts State Lottery has done more to address this issue than in the prior 20 years," Sweeney said in a statement. "We have started our efforts by focusing on licensed lottery retail agents that have engaged in this activity."
Last August, following a WHDH-TV report that found some business owners who sell instant tickets were often cashing in winning tickets for big prizes, too, the lottery suspended at least three of its sales agents in East Boston, Dedham and Revere, banning them from selling products for 30 days. The lottery says suspensions for similar activity at two other stores in Hyde Park and Springfield are pending appeal.
Sweeney said implementing the new rule has been "a big undertaking." He said that while the lottery is mandated to ensure individuals' payouts are garnished to first pay any back taxes and outstanding child support, it is not a law enforcement agency.
"I do think there's been a tendency in the industry to turn the blind eye to this behavior or they chalk it up to, 'Well, that person must be really lucky,' " he said. "I just don't think those are acceptable public responses."
Sweeney hopes the new policy will be on the books within the coming months.
It's possible that once the policy is in place, many of these frequent winners may not feel so lucky.
---
Lisa Creamer is a digital editor for WBUR. Jeff Kelly Lowenstein is an investigative journalist who teaches at Grand Valley State University. He is the project coordinator for the Gaming the Lottery project, an international collaboration involving student and professional journalists from Africa, Europe, Latin America and the United States.
This article was originally published on April 27, 2018.