Drag Ball Culture Gets A Flamboyant Salute In Company One's 'Wig Out!'
As a piece of dramatic writing, "Wig Out!" will not make you flip your fake hair. An early effort by the very talented Tarell Alvin McCraney, author of the haunting "The Brother/Sister Plays" and an Oscar winner for the screenplay of "Moonlight," the piece is sentimental and disjointed. But as a showboating paean to "love across the gender spectrum" that spreads itself into every pulsing cranny of Oberon, the drag-laced spectacular fields as much aggressive razzle-dazzle as unblemished heart.
A Company One Theatre production presented in collaboration with the American Repertory Theater (at Oberon through May 13), "Wig Out!," which was written in 2004, had its New York debut in 2008 and was revised for a Chicago production in 2017, is a muscular valentine to the history and culture of drag Houses and the Balls in which their self-selected families compete.
The particular locus of this family love story, awash in pop music and sometimes melodrama, is at what McCraney dubs the intersection of "queer" and "of color." The denizens of the Ball scene are mostly African-American, Latino and either homosexual or transgender. But the piece also dances at the juncture of runway and identity, with some of the young members of its House of Light still trying on their non-binary selves (much as almost every one of the play's black, brown and queer characters references trying on his -- or their — grandmother's wig).
Part of a Company One season dedicated to exploring "the black male experience in America," "Wig Out!" is set in the heated midst of the nurturing, dueling Ball culture that dates back to the Harlem Renaissance — and beyond. Given the recent vintage (with a few exceptions) of the music either sung or lip-synced, the production is set close to the present. In any case, the height of the AIDS crisis is behind the LGBTQ community when a sudden, jeering challenge pits the warmly knit if squabbling House of Light against the aptly named House of Di'Abolique in a Ballroom showdown. (Not that the recession of AIDS should engender a sigh of relief: According to the "Wig Out!" program, over 50 percent of queer youth of color test HIV positive.)
What the play calls Houses are chosen rather than biologically dictated families, with the House of Light presided over by priapic father Lucian and fabled but aging mother Rey-Rey. Its "children" include the cocky but uncertain Wilson aka Nina (who has just entered a romance with Eric, a stranger to the culture), divine diva Venus and "god of the DJs" Deity. The latter two used to be a couple, and now, in that regard, hostility battles hope.
As the play explodes into being, Rey-Rey is being both challenged and insulted by Loki, once of the House of Light, now in the thrall of Di'Abolique, who menacingly appears with an invitation to a suddenly cooked-up Cinderella Ball -- a multifaceted contest to take place that same day at midnight. The first act features the run-up to the strutting, pulsing, lamé-draped competition, the second the highly theatrical event itself and its bittersweet aftermath.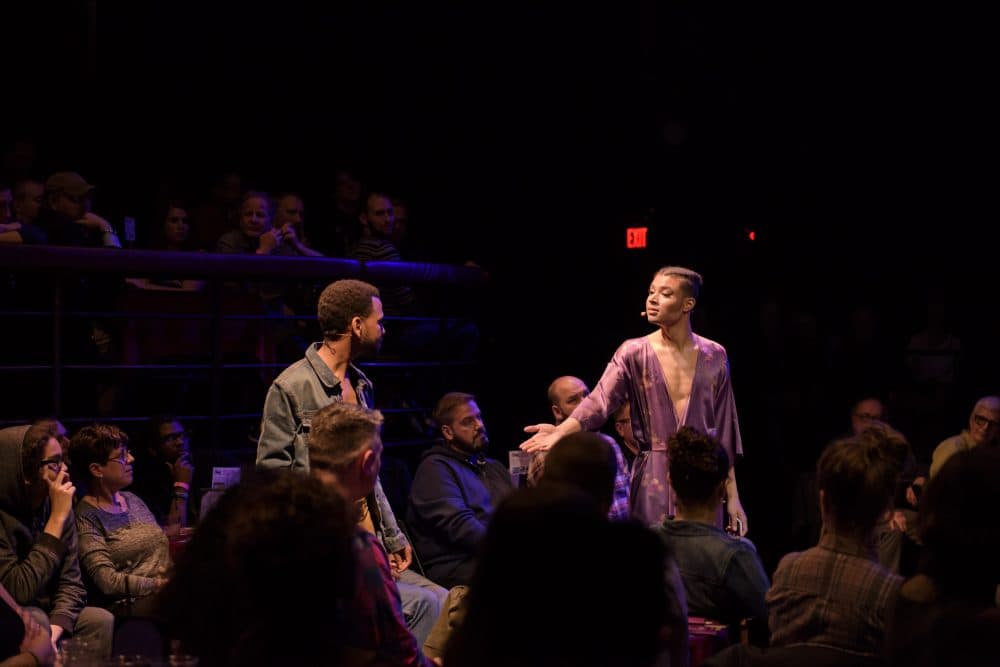 But I'm making this sound like a mash-up of "Ru Paul's Drag Race" and pro wrestling, and McCraney is both a slyer and a more lyrical writer than that would imply. ("Wig Out!" is peppered with Shakespearean allusions.) True, the theater piece bristles with vogue moves and attitude, its Three Fates' high-performance, lip-synced cover of Destiny's Child's "Lose My Breath" threatening to take away that of the audience. But McCraney is more concerned with the vulnerability of his characters, particularly Nina, who identifies as a woman but hasn't yet worked it all out, and Rey-Rey, a once "legendary" drag artist whose legend is on the fade.
By contrast, the presiding presence at Di'Abolique is a mother from hell, the commanding and vindictive Serena, who has never forgiven Rey-Rey for showing her up on a runway when both were younger. Here he/she is played by former theater reviewer for the Boston Metro Nick Dussault, who moved to New York two years ago, trading in his pen for a performance career. And his Serena is both a showy and a scary thing, garbed like a burly Marie Antoinette in wig and flounces as he lip-syncs to Jefferson Airplane, only to return after intermission to hector the audience before a dark number that finds him smothering lesser beings in great black wings while mouthing the words of Emilie Autumn's "I Want My Innocence Back." Better give it to him if you known what's good for you, I thought!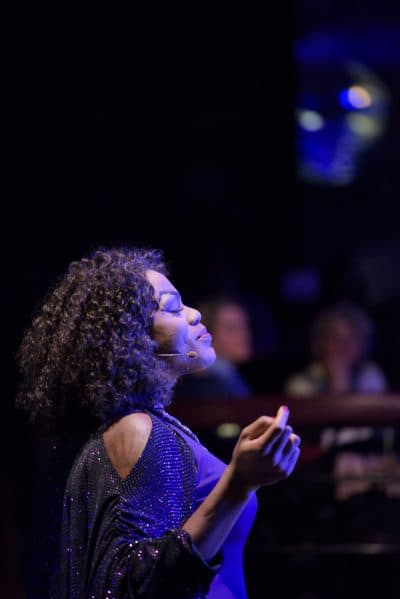 Summer L. Williams, who directs with her usual sensitivity cloaked in panache, has assembled a raw and energetic young cast (most of the characters are in their teens and early 20s) anchored at the older end by Dussault and Juan Carlos Pinedo, who manages to make the determinedly masculine Father of the House of Light both bullying and charming. As Rey-Rey, Sidney Monroe is formidable, contained and, telling a painful story from childhood or faltering woozily on the runway, touching.
As Venus, Dev Blair, poured into one snug, shimmery creation after another (the seemingly endless shiny costumes are by Tyler Kinney), is both gorgeous and quick, whether she's rocking Beyoncé or running the show. Miles Jordan, tall and delicate as Wilson aka Nina, is teasingly predatory in his/her relations with new boy Eric but almost childlike with Lucian. And as Eric, Deen Rawlins is all hesitant, ebullient discovery as he samples the culture. ("So it's like a gang?" he asks about the House of Light. "No Maria, this ain't 'West Side Story,' " Nina snips in reply.)
As Serena's menacing henchman, Loki, Shawn Verrier, whipping a ponytail as if his life depended on it, dances up a storm to the White Stripes' "Seven Nation Army." Trinidad Ramkissoon is all tamped-down swagger as he jousts with Lucian and tries to recover Venus' favor. And when his ex channels Beyoncé, he reluctantly stands in for Jay-Z, both of them switching out their trademark duds for pure white.
As the Fates (another classical allusion), Krystal Hernandez, Ally Dawson and Aliyah Harris are as inescapable as the real ones. They're everywhere, lip-syncing, actually singing quite lushly and keeping things moving while bemoaning the lot of actual, biological girls immersed in this culture.
"Wig Out!" is just a hint of what was to come from the now 37-year-old McCraney, whose deeper and more accomplished "The Brother/Sister Plays" Company One produced in 2011. But spread over the multiple levels of Oberon, reflected in its mirrors and dodging the cabaret customers, it successfully merges club culture with Ball culture. And if it isn't as subtle or cohesive a play as it might be, it's still one heck of a show.
---
A Company One Theatre production presented in collaboration with the American Repertory Theater, "Wig Out!" is at Oberon through May 13.