Tracking Of 1,000 State Police Cruisers Is Implemented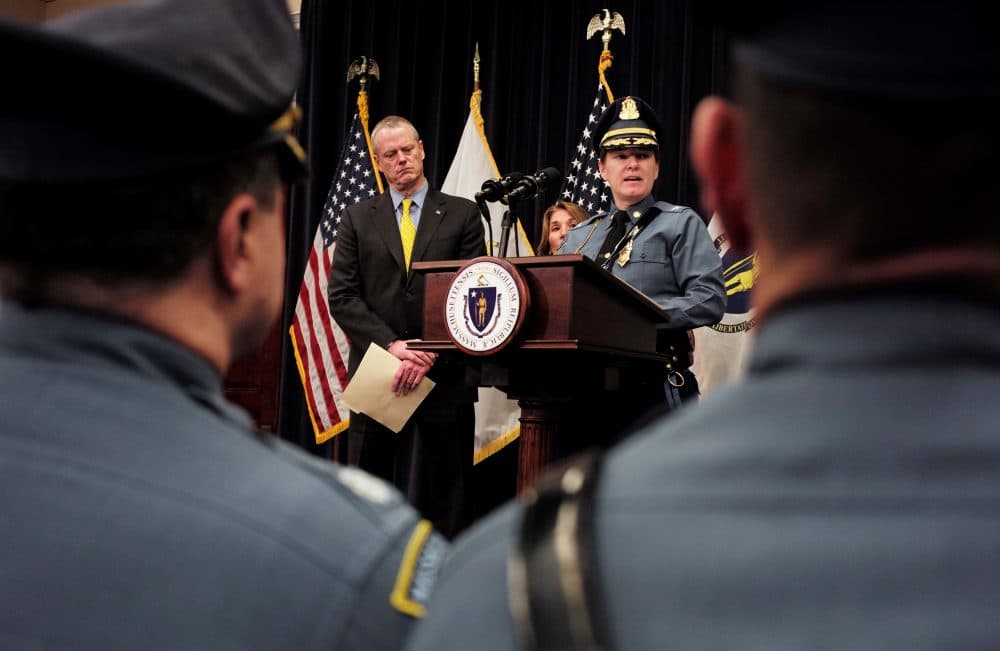 This article is more than 2 years old.
By the end of the day Wednesday, more than a thousand Massachusetts State Police cruisers will be tracked through a GPS system, allowing officials to keep an eye on them.
Republican Gov. Charlie Baker and state police Colonel Kerry Gilpin released a 30-day update to state police reforms Wednesday following a slew of scandals that include overtime abuse by state police.
This month's changes included the elimination of Troop E (and the reassignment of its troopers), and studies on Massachusetts Turnpike barracks.
Baker says 1,087 police cruisers will be tracked by the end of the day using a GPS system so commanders can deploy personnel to emergencies.
The department has also completed a review of staffing needs at Troop F, which patrols Logan Airport and other Massport properties.
The study "will result in the assignment of 30 new State Police members to Troop F as of May 27," Baker's office said in a press release. Increasing staff levels, Baker's office said, will "reduce the reliance on overtime hours."
A questionnaire for new hires will also be updated to include questions about former involvement with criminal investigations, even if the candidate was not charged.
"While progress has been made to install new technology, eliminate excess overtime shifts and determine the appropriate staffing levels for the Turnpike and Logan Airport," Baker said in a statement, "there is much work to be done to improve efficiencies and policies at the State Police."
An audit ordered by Gilpin showed discrepancies between hours worked and payment for Pike traffic enforcement patrols. Some have been suspended without pay.
With reporting by The Associated Press and WBUR's Benjamin Swasey