DA: No Charges For 2 Boston Cops Who Fatally Shot Man During Gunfight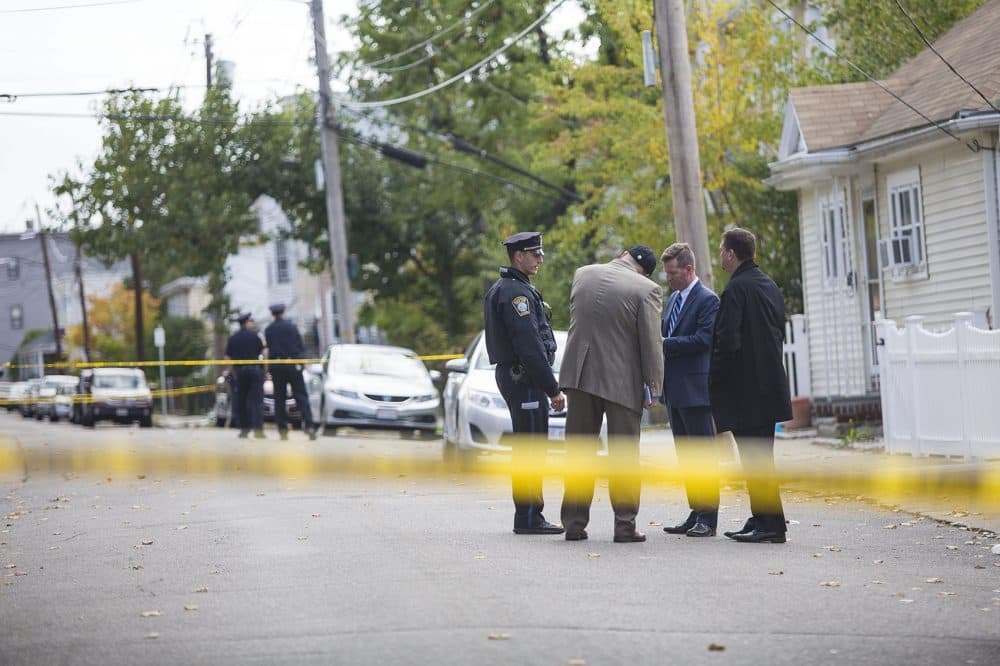 This article is more than 2 years old.
Two Boston police officers acted "reasonably and lawfully" when they shot and killed a man during a gunfight in East Boston, the Suffolk County district attorney has ruled.
DA Dan Conley on Monday released the investigative file into the Oct. 12, 2016, gunfight that killed Kirk Figueroa and left two officers injured.
The investigation, led by a Suffolk prosecutor, concluded that Figueroa shot Officers Richard Cintolo and Matthew Morris when they and other officers responded to a 911 call by Figueroa's roommate.
Cintolo was shot beneath his chin, in his left arm and in the chest, according to the DA's office. Morris was struck in the upper left leg, severing his femoral artery.
Morris and Officer Eric Schmidt then fired at Figueroa, who was wearing body armor. Eighteen rounds struck Figueroa in the torso, the investigation found. He was also shot in the head, chest and side.
"Under the circumstances, the use of deadly force was a lawful and reasonable exercise of self-defense and defense of others," Conley said in a statement. "Accordingly, I have determined that criminal charges are not warranted."
Figueroa, 33, worked as a Boston constable, a person hired by the city to issue, for instance, summonses.
The Suffolk DA's office said Figueroa legally purchased the two firearms he used in the shooting in Arizona and Florida, but did not have a permit for them in Massachusetts.
Given a 2010 arson conviction in Georgia, prosecutors said in the statement that Figueroa "likely would not have been able to purchase or possess [the firearms] legally in Massachusetts."
With reporting by WBUR's Newscast Unit