Following Arrest In Jamaica Plain Double Murder, Mother's Day Peace March Remembers Those Slain
04:22
Play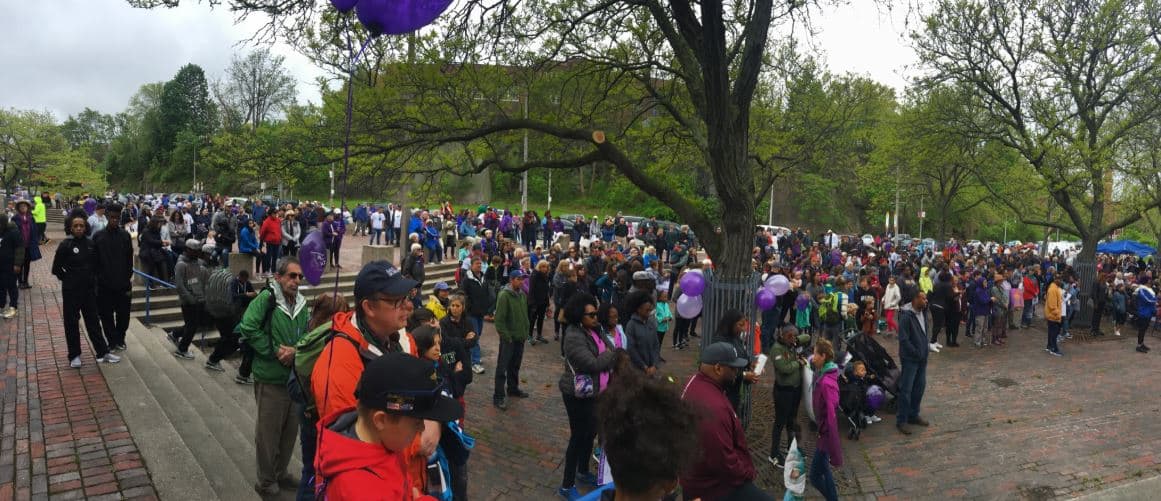 This article is more than 2 years old.
More than a thousand people marched from different Boston neighborhoods into the heart of the city Sunday, carrying images of young blacks and Latinos — almost all men — their dates of birth and death printed below.
At Madison Park High School in Roxbury, three young hip-hop artists from East Boston shared verses about their lives: Abraham Caban, a.k.a. MC Abe; Chad Williams, a.k.a. Jack the Reaper; and Kamari Jones, a.k.a. Junior Biggie.
Jones said one way to stay safe is to lead a positive life — though that's not a guarantee.
"If you want to indulge into something that's dangerous, you're going to get a dangerous outcome. If you want to indulge into something that's good you're going to get a better outcome," Jones said. "But sometimes you could be at a wrong place, wrong time, and something happens."
For Caban, the answer to his anxiety over violence is in hip-hop.
"I live in Eastie... and I've heard about stabbings near my house and everything, and I try to take what I feel, and I try to put it into my music, because my emotions speak my words," Caban said.
The teenagers were among the performers Sunday at the 22nd annual Walk for Peace. The Mother's Day march summons the memories of all the people taken by violence in the streets of Boston, and seeks healing for those affected.
The event took place after Boston police announced they'd charged 28-year-old Wilvin Guity with two counts of murder. Saturday's arrest came eight days after Guity allegedly killed two people in the Mildred C. Hailey apartment complex in Jamaica Plain. The victims were 58-year-old Clayborn Blair and 23-year-old Chris Joyce.
"When we work together we truly can stop evil," said Boston Police Superintendent-in-Chief William Gross, as he took a moment from chatting with peace marchers to speak about the arrest. Gross said it resulted from cooperation with the residents.
"Even the community support, like 'we hope you get someone,' even spreading the word like if you see something say something, all that, that's what I mean, the community did say enough is enough, let's go, let's make a change," Gross said.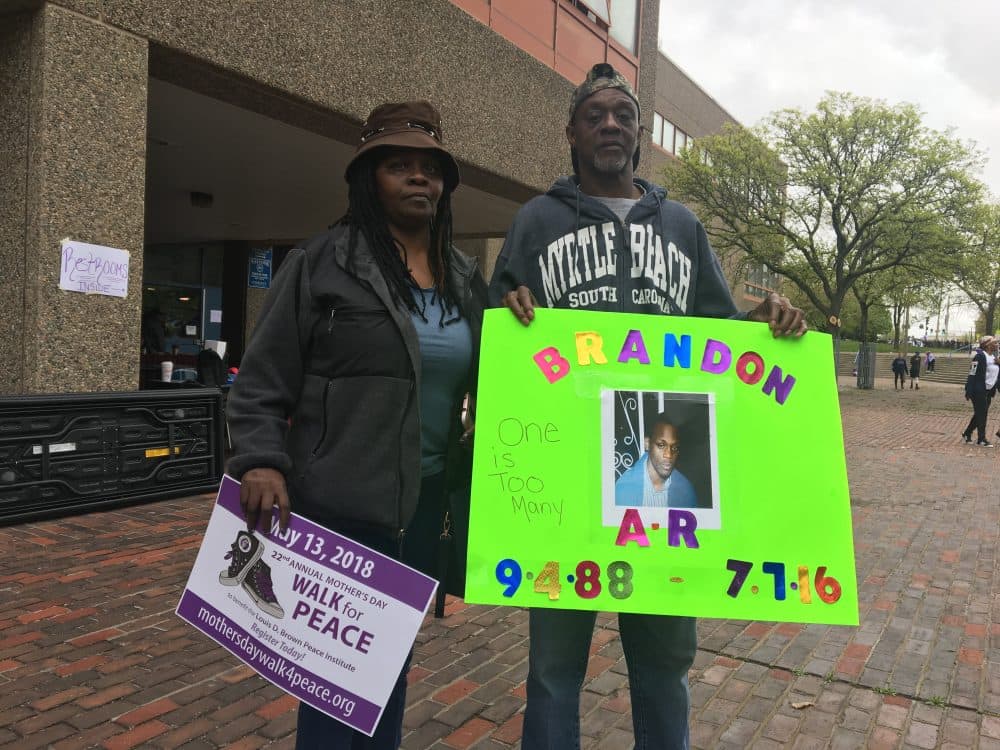 Unsolved Murders Frustrate Victims' Families
Wilvin Guity is scheduled to be arraigned Monday morning.
That's good news for the families and friends of Blair and Joyce. But for the parents of murder victims whose killers are at large, the absence of that kind of news is a source of deep frustration.
That's according to Federico Brown. He's a father of five children, one of whom, 27-year-old Brandon, was murdered in Dorchester in 2016. With the second anniversary coming in July, Brown is still waiting for answers.
"It could've been solved in three days, but unfortunately it hasn't," he said.
Asked whether he is still hoping for police to make an arrest, Brown said: "Oh definitely. … It would mean getting a bad apple off the street before he does it again."
Brown marched with his wife, Monica Haney Brown, holding a picture of their late son and thinking about how to root out the violence that plagues the city. The challenges are many — but they say there's a simple place to start.
"It's got to start at home," Brown said.
She added: "People who see their kids doing certain things and they're not paying attention to them. Look around for the gun in your child's house. Care about what he's doing, ask questions, don't be afraid of him. When you're afraid of your child there's a problem."
The group that organizes the march, the Louis D. Brown Peace Institute, aimed to raise $400,000 Sunday. Advocates say they hope to expand their work interrupting the cycles of violence — and working with those affected on both sides to do so.
This segment aired on May 14, 2018.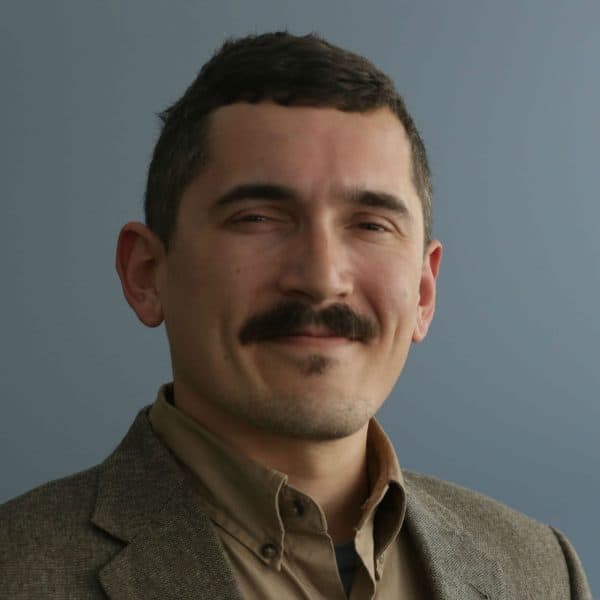 Simón Rios Reporter
Simón Ríos is an award-winning bilingual reporter in WBUR's newsroom.