Over 8 Years, Mass. Spending On Incarceration Is Up 25 Percent Despite Inmate Numbers Dropping 21 Percent
This article is more than 4 years old.
Massachusetts prisons and jails hold 5,000 fewer people than they did eight years ago, but spending on those facilities has continued to rise nonetheless.
That's according to a research brief out Monday from the think tank MassINC, which advocates for criminal justice reform measures. The findings are an update to the group's report last year that found correctional spending in the state had increased $181 million over five years, despite fewer inmates.
Monday's new figures, MassINC said, mean the trend has continued, and "in fact, the divergence between spending and population is accelerating slightly."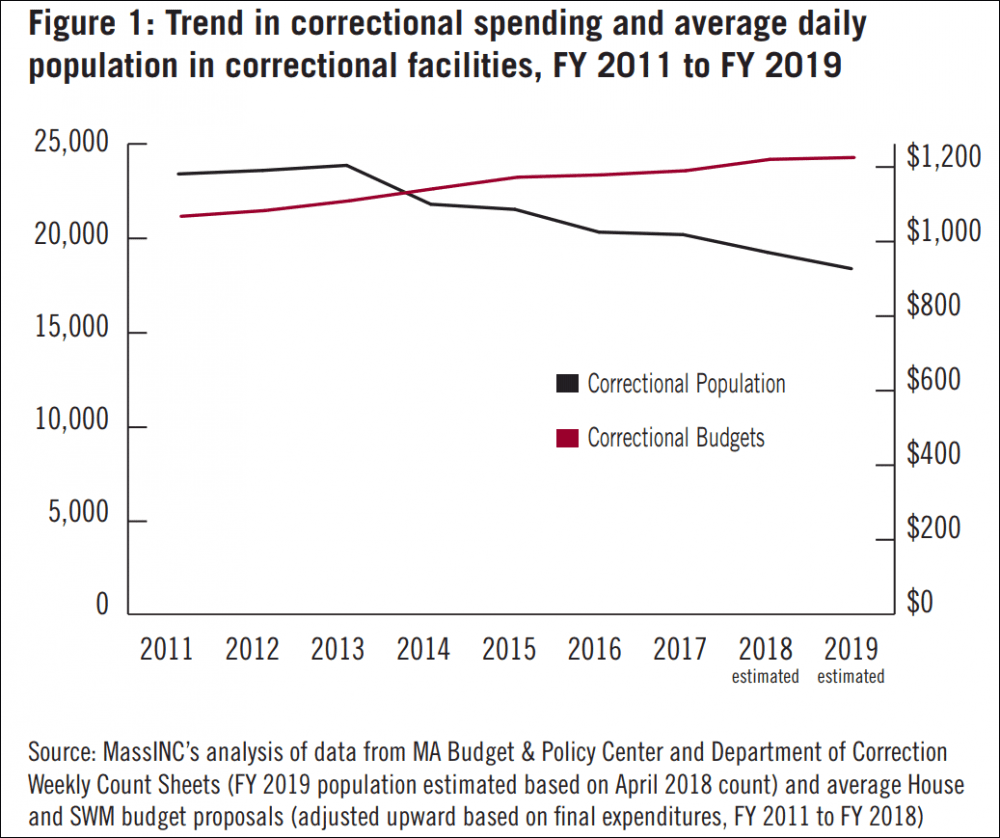 Between fiscal year 2011 and now, the average daily inmate population in Massachusetts has dropped 21 percent, the report said, but spending on the state Department of Correction (DOC) and county sheriffs' departments has increased by nearly 25 percent, or $254 million.
Staffing at sheriffs' departments is up 4 percent between 2011 and the end of 2017, the report found, while the number of DOC employees fell 11 percent. Average salaries at both were up at least 17 percent.
"If more dollars were going to provide job training, education, and other services that reduce the likelihood individuals reoffend when they get out, that would be one thing, but it appears that bigger budgets are mostly going to hire more correctional officers or increase staff pay," MassINC's Ben Forman, an author of Monday's report, said in a statement.
Health services spending per inmate has also climbed, at both sheriffs' departments and at the DOC.
In a statement Monday evening, Christopher Fallon, a spokesman for the Department of Corrections, said that since 2011, DOC "has significantly expanded medical and mental health care for its population, which has helped to drive down the Department's recidivism rate."
That expanded medical and mental health care, DOC said, includes more substance abuse treatment beds for opioid use, and for a new vendor at the long-troubled Bridgewater State Hospital.
The new figures from MassINC come on the heels of a criminal justice overhaul Gov. Charlie Baker signed into law last month.
As the New England Center for Investigative Reporting detailed Monday, that package included so-called "compassionate release" for aging and infirm state inmates, though Baker is seeking to limit who that applies to.
This article was originally published on May 21, 2018.