WBUR Poll Finds Big Cushions Continue For Baker And Warren
Another poll, another set of findings that Gov. Charlie Baker and U.S. Sen. Elizabeth Warren appear to be in very strong shape for their respective re-election campaigns.
The WBUR survey out Friday (topline results, crosstabs) finds Baker — who also faces a Republican primary challenge — leads the two Democratic candidates by 40 percentage points each, in hypothetical match-ups. And Warren, a Democrat, leads each of her prospective GOP challengers by at least 35 percentage points.
The poll shows the two big races as virtually static, with findings similar to what recent WBUR surveys have found: The state's electorate has favorable opinions of the governor and the senior senator, and their challengers have very little name recognition.
Baker, especially, maintains his sterling numbers. He's viewed favorably by 67 percent of Massachusetts voters, and unfavorably by just 9 percent. In fact, a higher percentage of registered Republicans (20 percent) view Baker unfavorably than Democrats (10 percent).
Baker faces an intra-party battle against controversial pastor Scott Lively, a President Trump-aligned candidate who in late April cleared a key hurdle to get on the primary ballot.
With now just over five months until Election Day, at least two thirds of voters say they haven't heard of either of the two Democratic gubernatorial candidates, Jay Gonzalez and Bob Massie.
The WBUR survey comes as Democrats gather this weekend for their state convention. Both Gonzalez and Massie are expected to make the primary ballot.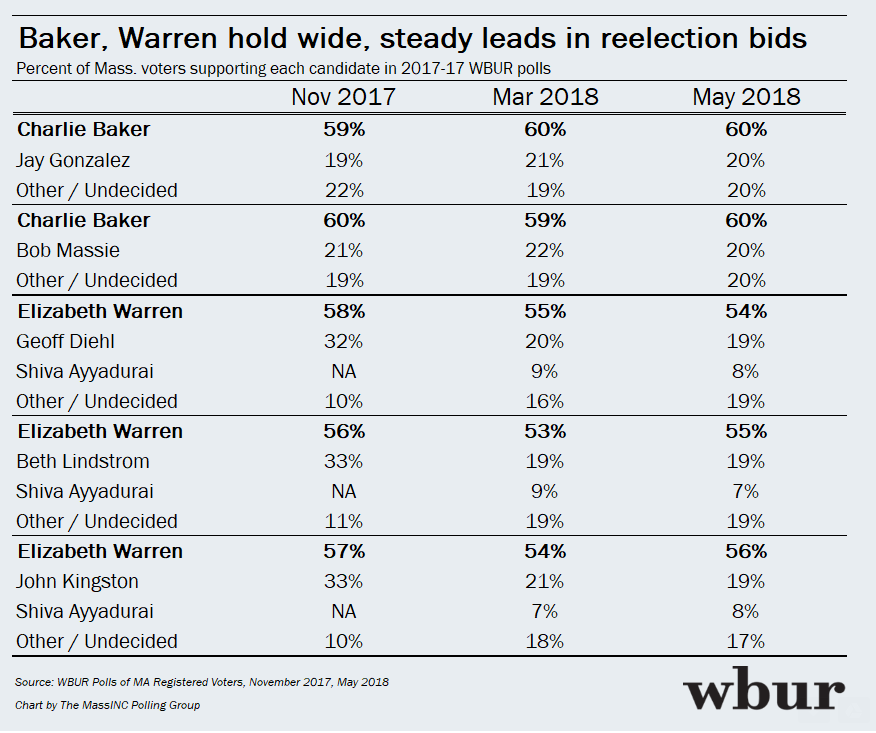 On the U.S. Senate side, Warren is viewed favorably by 53 percent of voters, and unfavorably by 33 percent.
But at least 78 percent of voters haven't heard of any of Warren's three GOP challengers, Geoff Diehl, Beth Lindstrom and John Kingston. The poll finds she would easily best them in hypothetical match-ups.
In those match-ups, Shiva Ayyadurai, an independent candidate who previously was in the Republican race, garners 7 or 8 percent of the vote.
The survey also found Trump with a favorability of 29 percent, to an unfavorability of 64 percent, among the state's voters.
The live telephone poll of 501 registered voters was conducted last Tuesday through Saturday. It has a margin of error of 4.4 percentage points.