Convicted Child Rapist Who Was Set For Release Faces New Charge Of Indecent Exposure
This article is more than 4 years old.
A 70-year-old convicted child rapist from Massachusetts who was set to be released from custody after two experts concluded he was no longer "sexually dangerous" will remain locked up after he was arrested Wednesday, authorities said, for indecent exposure and lewd acts.
The Massachusetts Department of Correction said the new charges for Wayne Chapman stem from incidents Sunday and Monday at the prison where he's being held. A lawyer for some of Chapman's victims said she was told Chapman exposed himself to a nurse.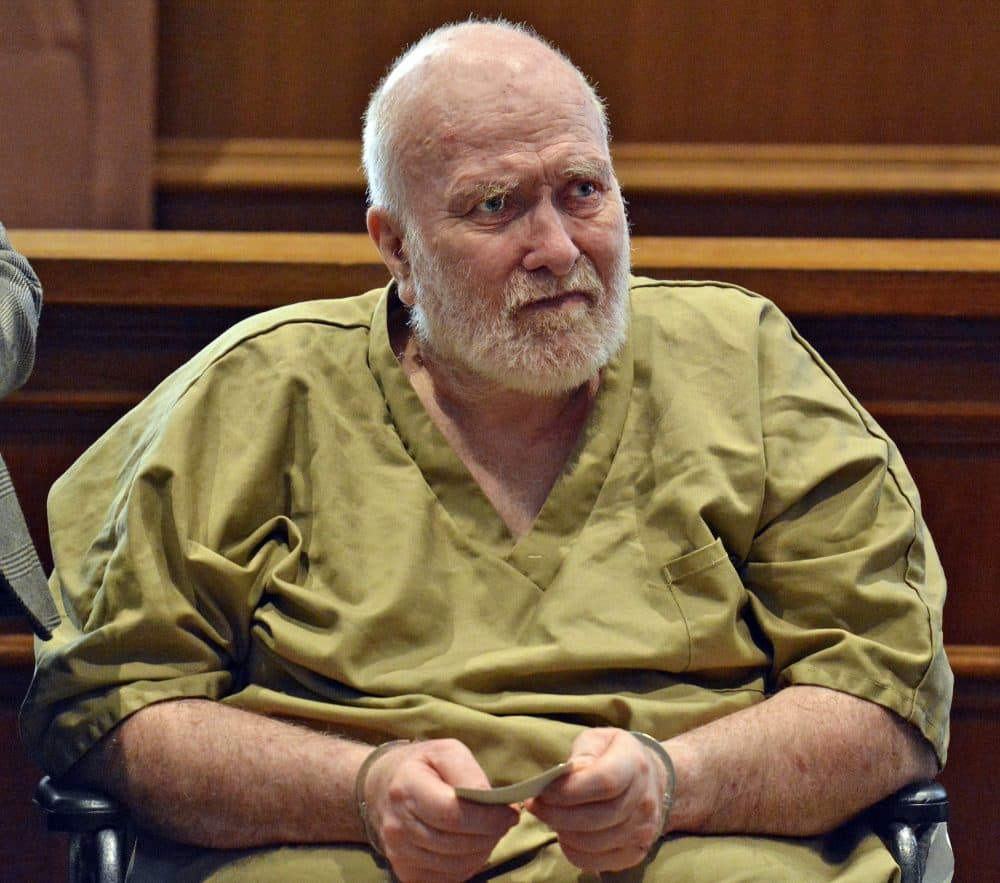 Chapman, who sat in a wheelchair with his ankles shackled, was held without bail after not guilty pleas to the new charges were entered on his behalf at his arraignment in Ayer District Court later Wednesday. He did not speak but just nodded when a judge asked him if he understood.
The prosecution and defense agreed to keep Chapman civilly committed and held until at least June 27 while the sides determined whether they want to seek bail or ask for a dangerousness hearing.
Chapman initially was convicted in 1977. He lured young boys into the woods by pretending he was searching for his missing dog and then sexually assaulted them, court records say. A court found Chapman had at least 50 victims, and Chapman has said he raped up to 100 children, said Wendy Murphy, an attorney for some of the victims.
"Today's arrest provides the one point we have been trying to make all along, which is this is not an elderly man with a walker," said Murphy, who filed an emergency petition with the state's highest court Monday to keep Chapman locked up. "This is a very dangerous man who in his own words has raped up to 100 children."
Chapman's lawyer, Eric Tennen, said this week Chapman can't live independently because of health issues and was seeking a bed in a facility that can address his medical needs. Tennen didn't immediately return a phone message Wednesday from The Associated Press but told The Boston Globe ahead of the Chapman's arraignment that he had not been made aware of Chapman's arrest and had "literally no idea what is going on." Tennen was not in court Wednesday.
Chapman's impending release sparked outrage from Chapman's victims and Republican Gov. Charlie Baker.
On Wednesday, the governor filed a bill to toughen penalties for child rapists, citing the Chapman case. Baker's bill would require a court hearing over whether a sexually dangerous person should be released. On Tuesday, Baker told reporters that if legislators were to pass the bill — even if they move as quickly as he hopes — it would likely not apply to Chapman's case.
Prison officials had said in court documents their hands were tied because two examiners found Chapman is no longer dangerous.
Chapman's prison sentence ended in 2004, but Massachusetts, like many other states, allows officials to civilly commit certain inmates after their terms are over if they are deemed "sexually dangerous."
Justice Scott Kafker of the Supreme Judicial Court said in a ruling released Monday that Chapman's victims were "understandably upset and frightened" about his potential release, but he said Chapman had to be freed because the proper requirements were followed under the law.
This article was originally published on June 06, 2018.