An Ancient Sarcophagus Comes To Life At The Gardner Museum
Resume
A prized, ancient coffin has been sitting peacefully — unassuming, almost hidden — in the Isabella Stewart Gardner Museum's lush palazzo courtyard for more than 100 years. Until now.
The sarcophagus' elaborately carved stone — and the stories it holds — are being revived in more ways than one.
A 'Pretty Busy Social Life' Ages Before Boston
For a coffin, the Farnese Sarcophagus has had quite a life — beginning around 225 AD.
"It was likely quarried in western Turkey," senior objects conservator Holly Salmon explained, steps away from the marble hunk of history. "It ends up in Rome. It goes into a tomb hundreds of years later."
Salmon and her colleague Jessica Chloros have been cleaning, restoring and analyzing the Roman-sculpted sarcophagus — which in Latin means "flesh eater" — for months. And they're learning a ton.
"This piece continues to surprise us," Chloros said. The conservators discovered traces of a rare pigment known as "Egyptian blue" on its surface.
And there's even more to divine in the 2,000-year-old object's journey.
"Centuries later," Salmon said, "it is uncovered and put into a garden outside of a villa. It travels to a restorer's workshop in Rome, and then to the Vatican, and then back to the Farnese family, and then to a dearer, and then across the Atlantic Ocean."
Then, it ended up in Mrs. Gardner's trove.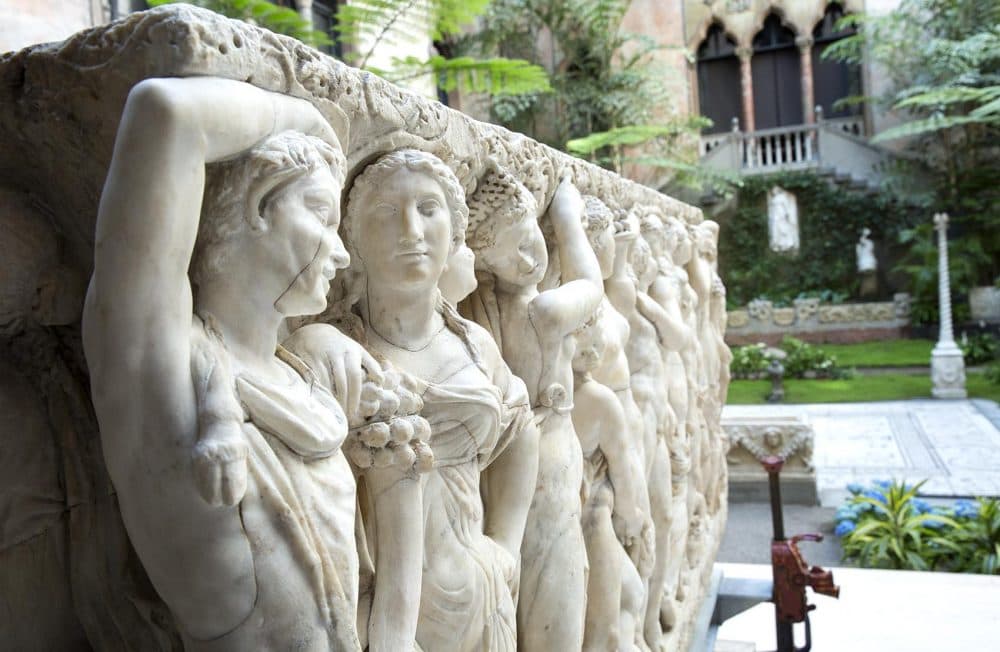 "It really had a pretty busy social life for centuries before it arrived in Boston even," Christina Nielsen, curator of the museum's collection, mused. "And you know, Gardner loved stories like that, and she had such an active social life. I think she understood that objects have biographies themselves, and those biographies intersect with the people who own it or come into contact with it."
Now the sarcophagus' relationships and timeline — including its extensive conservation and scholarship — are fueling the museum's new exhibition, "Life, Death and Revelry." The storied, visually striking vessel is the star.
"That an ancient work of art can inspire artists working today is very much part of the Gardner's DNA. It's why Isabella collected these treasures."

Christina Nielsen, art curator at the Gardner
Its timeworn marble facade is decorated with a parade of mostly nude maenads, satyrs and other followers of Dionysus — the god of love and wine. They're all frolicking, touching, gathering grapes and celebrating life.
When it was unearthed in 1535, Nielsen said Renaissance artists were seduced by the carvings' classical forms. Gardner was, too, when she and her husband purchased the antiquity in 1898. She believed future artists would continue to appreciate its power.
"That an ancient work of art can inspire artists working today is very much part of the Gardner's DNA," Nielsen said. "It's why Isabella collected these treasures."
Lifting The Sarcophagus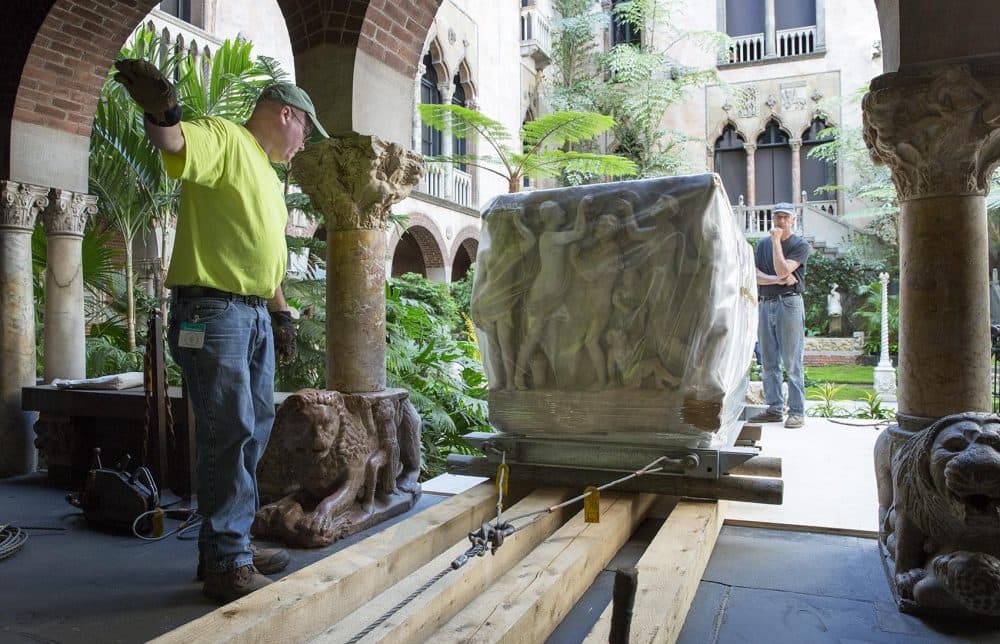 For the show, the mammoth 7,500-pound piece needed to move once again — this time, with the help from a team of experienced riggers.
"I'm holding my breath," Nielsen whispered as she watched them wrap the coffin.
"We've all been waiting for this for a while," Salmon added, "so it's pretty exciting to have this moment."
The movers looked to the ancients for some of their methods, at first rolling the sarcophagus along a track on wooden logs. It was slow going — out the palazzo's front entrance, onto the sidewalk, then for a flatbed truck ride around the block to the new wing's loading dock, and finally, up to a gallery. (It's too big and heavy to get to the other building any other way.)
The trip wasn't all that far when you consider the countless miles this sarcophagus has already logged. Even so, the conservators and curator were pretty tense about its latest journey.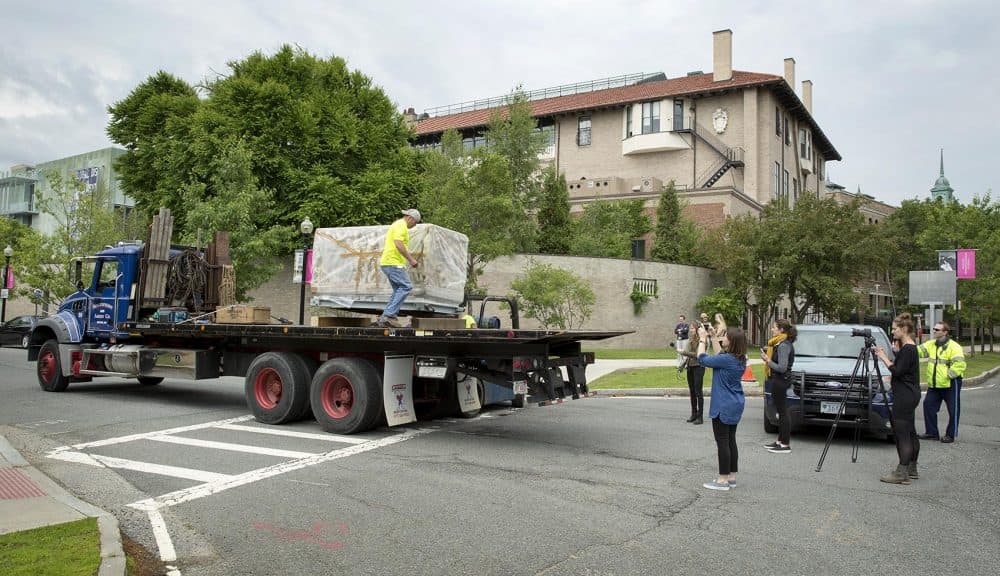 Once safely inside, Pieranna Cavalchini, contemporary art curator at the Gardner, marveled at the object's new display. It had been sitting on the ground — wedged between two columns in the courtyard — for more than 100 years.
"It's spectacular because the sarcophagus is lifted. So we've never seen it up," Cavalchini said, "and the power is doubled, tripled, quadrupled. It's just so strong and fascinating."
Now visitors will be able to walk around the sarcophagus, which was impossible before.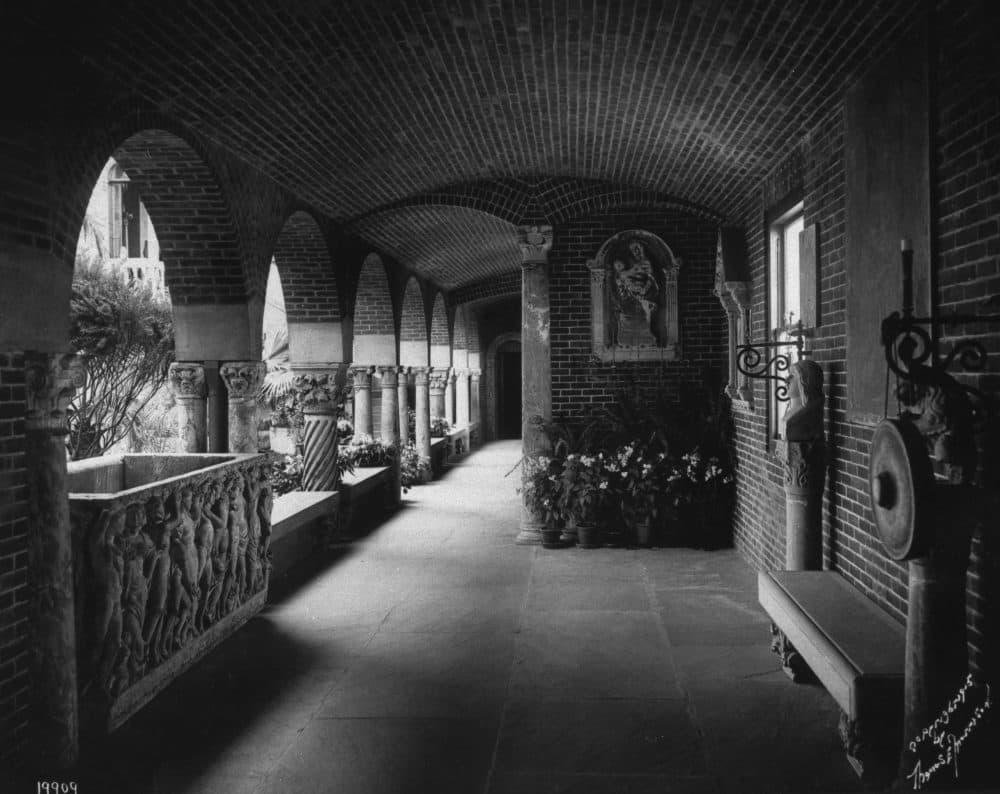 To breathe even more life into the work two artists-in-residence at the Gardner interpreted it using 3D technology.
"A bit risky," she said, because, "you didn't know how it would go, what it would be."
The curator did know that it would reflect the present time and speak to modern audiences.
Discovering 'Different Kinds Of Secrets' With 3D
Marc Downie and Paul Kaiser collaborate together under the name OpenEndedGroup.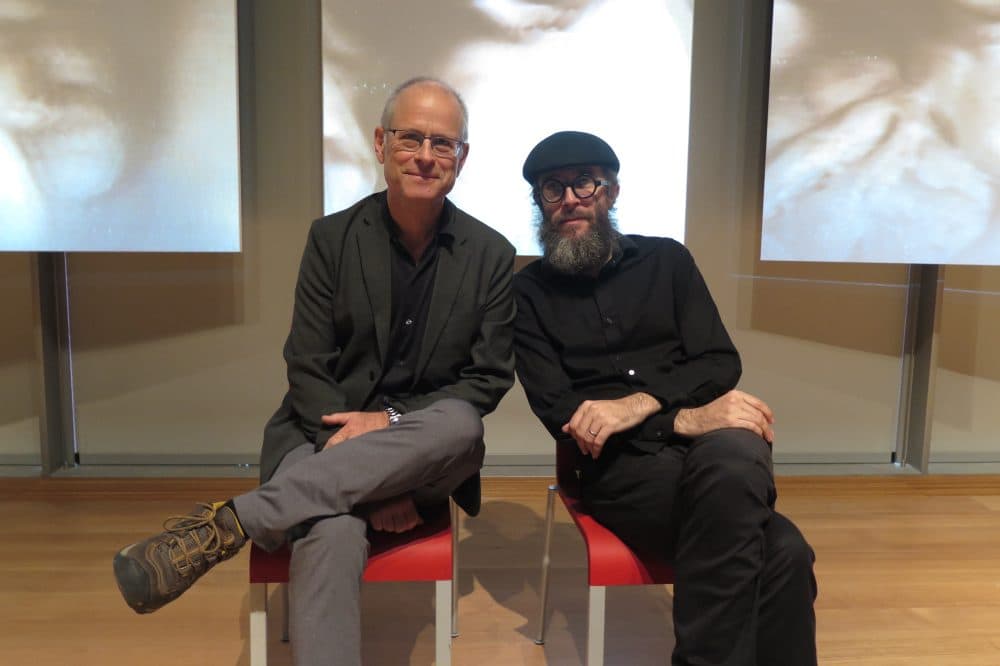 "Although these are frozen figures, they're frozen in motion. It struck us as being a kind of dance that plays along the surface of this thing," Kaiser said of the scene on the sarcophagus' relief. "It's also unbelievably erotic. I mean, it has this astonishing sexual power to it."
Downie and Kaiser are no strangers to working with lithe bodies and movement. In the past they've executed projects with choreographers Bill T. Jones and the late Merce Cunningham.
At the Gardner, Kaiser and Downie said they took thousands of photos of the sarcophagus' characters from all angles, often late at night. They captured every facial feature, fold of skin, graceful limb, pockmark and shadowy crevice.
Downie recalled an eerie evening when the coffin came to life for him in front of the camera and his computer's 3D program.
"I think the camera just slid into the right spot and suddenly all of the faces were staring at me," he said. "That's when I knew we had to make the piece."
Perhaps it was Gardner's hand that coaxed the moment into being?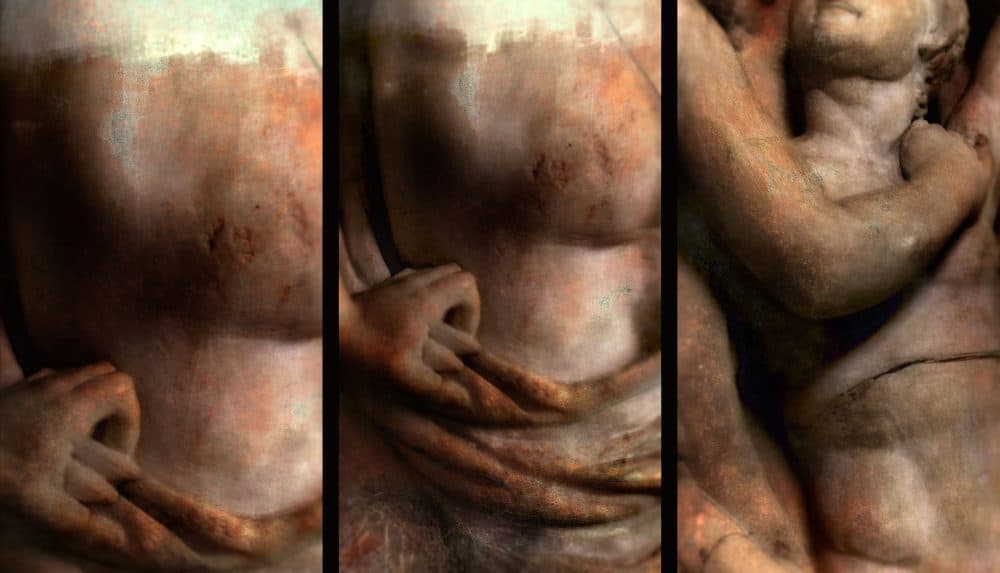 The technology translated the images into hard-to-describe, extremely close-up, seemingly fleshy spatial renditions now projected across three tall screens hanging in the gallery.
"So you sense how close they are to each other since they're all touching each other and exchanging really intimate glances," Kaiser pointed out as we watched the video. "There is a kind of intimacy to the experience that's distinctly odd, really."
The stone seemed to breathe along with the cello soundtrack performed by soloist Yeesun Kim.
"All of those things that might be paint, or might be sculpture, or might be flesh are floating in three-dimension," Downie said. "So it becomes a very uncanny and strange experience."
The artists said working on this project made them feel connected to the Renaissance artists who were also compelled to explore the sarcophagus back in the 16th and 17th centuries.
"We're so familiar with the stone, and it does not change ... But to see an artist's perspective helped us take a step back and appreciate it without our scientific minds at work."

Holly Salmon, senior objects conservator at the Gardner
"Here we are in the 21st century — and we're not using paper and pencil to respond to this, but we're instead using computer technology and the code that Marc writes to discover different kinds of secrets," Kaiser said.
There are 40 pairs of 3D glasses in the gallery and 20 seats. The Farnese Sarcophagus has been placed just paces away from the triptych of screens, on the other side of a dividing wall. The hope is that visitors will circulate between the contemporary work and the ancient one.
"You see the sarcophagus ... then you come and see our piece ... and then you go back," Downie explained, "and you see the sarcophagus again — it looks different."
For their part, the curators and conservators say the 3D piece inspired by the Farnese Sarcophagus has altered their ways of seeing something they've been working with so closely.
"We're so familiar with the stone, and it does not change," Salmon said, "other than what we saw as we cleaned it. But to see an artist's perspective helped us take a step back and appreciate it without our scientific minds at work."
For curator Nielsen, the age-old object of death now teems with even more life, and evokes a well-known saying.
"Carpe diem! The Romans were right — 'seize the day,' " she said, smiling, "because life is short, but art endures."
---
The Farnese Sarcophagus is on view in the exhibition "Life, Death & Revelry" until Sept. 3.
This segment aired on June 14, 2018.