'We're Just Hoping For A Miracle': Hurricane Maria Evacuees Brace For End Of Housing Assistance
Play
This article is more than 4 years old.
Este reporte tambien está disponible en español.
Nine months after Hurricane Maria devastated the island of Puerto Rico, there are an estimated 300 families still living in hotels in Massachusetts with FEMA and the state footing the bill.
But that changes at the end of June when this assistance expires. Many of the evacuees staying in hotels don't know where they will be living next month.
And for some, their concerns run even deeper than finding shelter.
'Hoping For A Miracle'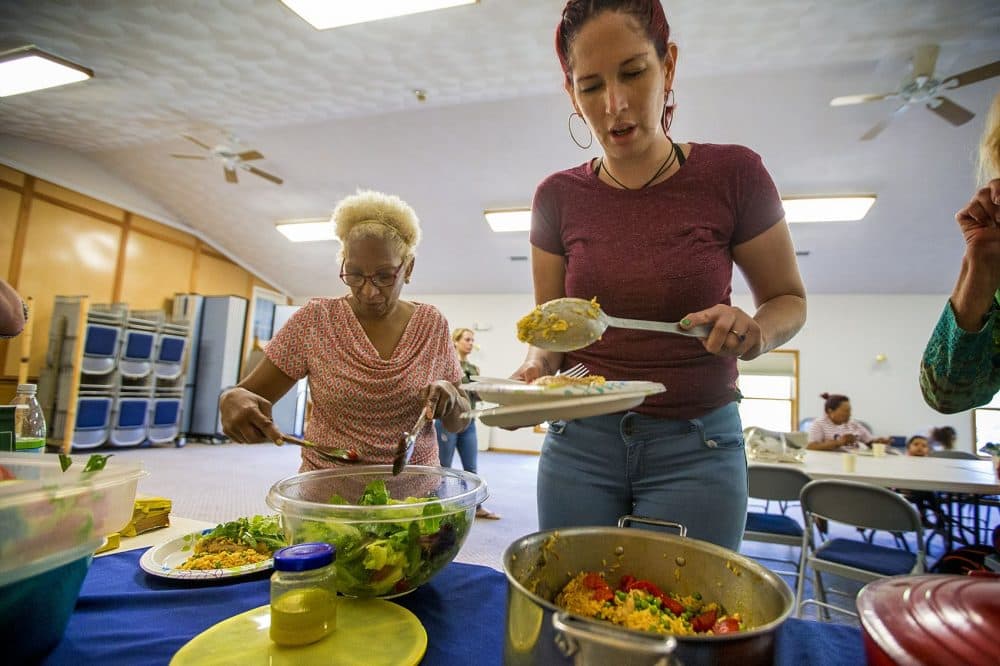 A half dozen women are sitting around a folding table in a Dracut church. They're gathered for a potluck meal of arroz con pollo, salad and chocolate chip cookies. They're here to share a meal and pick up bags full of donations from surrounding communities.
All of these women have relocated from Puerto Rico and are living in area hotels, for now. But, like 42-year-old Dagamar Rivera says, the future beyond June 30 is unclear.
"I don't know what to tell you. We're just hoping for a miracle, that some door will open for us," she says in Spanish. "We're not really here for pleasure. We're here because we need to be. Most of us are sick, or have children that are sick. And we're not asking you to keep us or anything, just give us the opportunity to have a roof over us and to be able to move forward. That's it."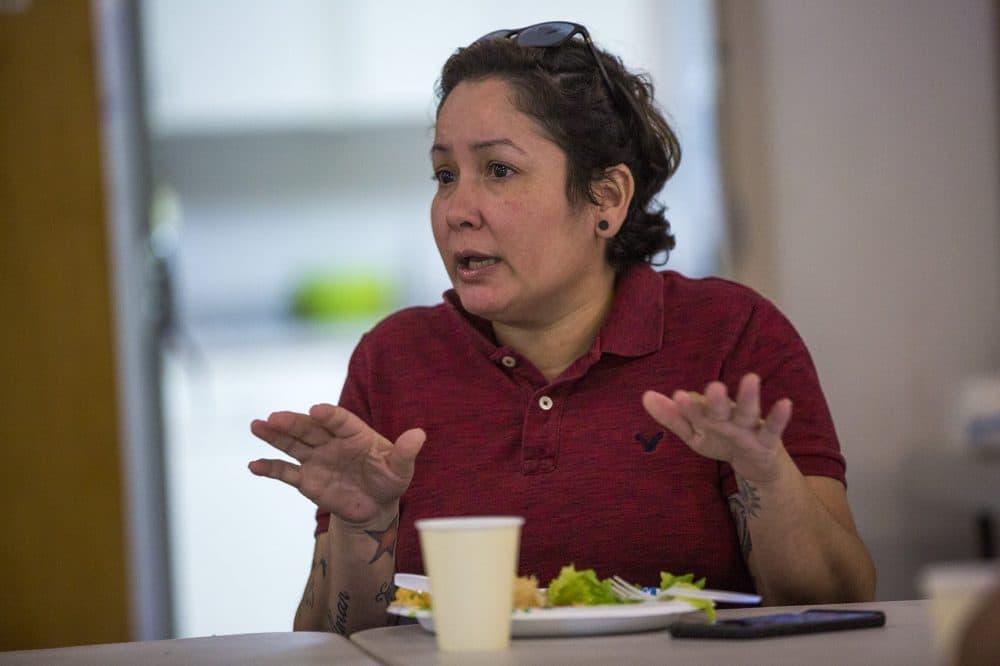 Rivera limps into the church hall, leaning on a cane. She says she needs to be hooked up to a machine to treat some of her illnesses.
"I have lupus, COPD, asthma, arthritis and several heart conditions. So, I'm waiting, and we're all nervous because we're out on the 30th. It's not easy."
Many of the evacuees who are still living in hotels are here because they have serious illnesses that can't be treated in Puerto Rico. Angie Lago, who is also at the church potluck, is sort of slumping in her seat. She's just come from a dialysis treatment. Her three children all have chronic health issues as well.
Some of the women are staying in the same hotel outside of Lowell; none of them know where they'll be living on July 1.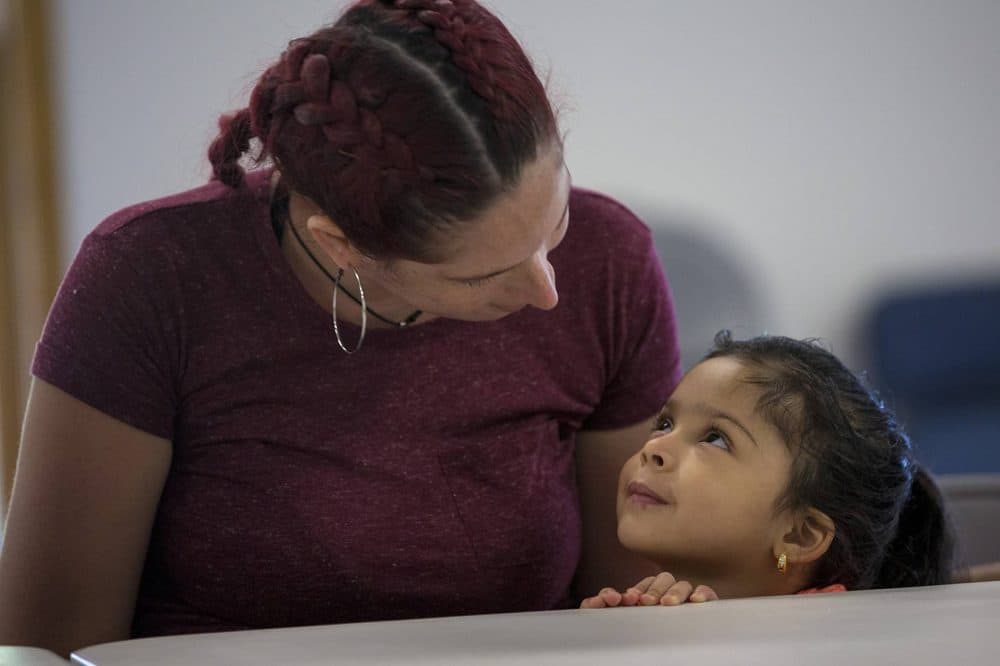 Olga Guerrero is a social worker with the Lowell Public Schools. She's been working with Puerto Rican students and their families, helping them adjust to their new schools and access services like housing and medical care.
"It's been challenging, confusing at times," she said. "A lot of information changing all the time."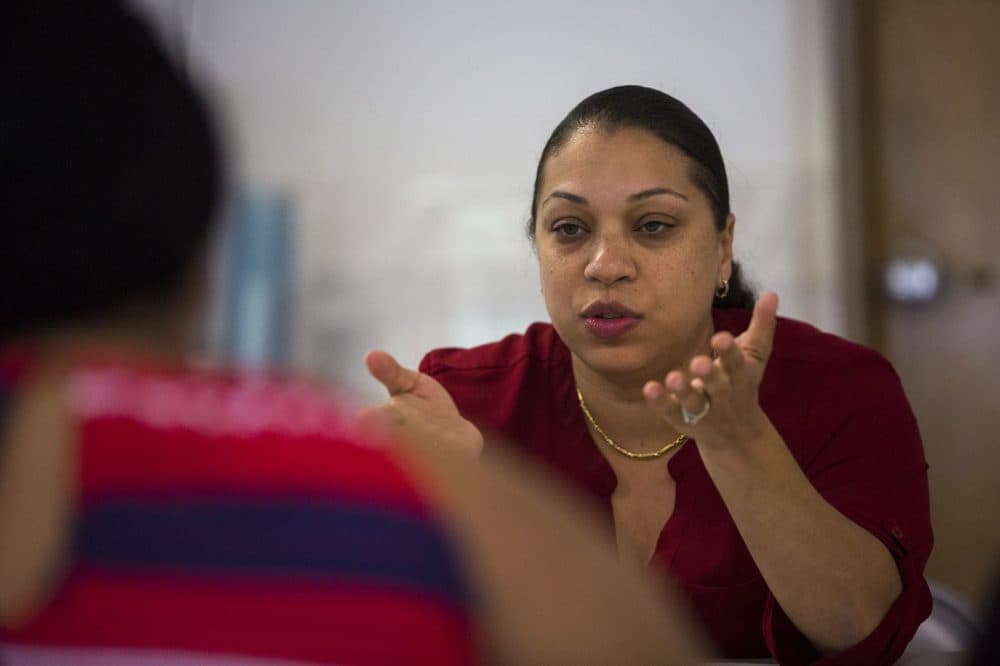 Schools in Lowell were bracing for an influx of Maria evacuees but figuring out how to navigate the federal and state systems distributing resources after Maria has been complicated — even for Guerrero, who is a trained social worker. Massachusetts has the third-largest population in the country of Maria evacuees registered with FEMA.
"Once you think that, you know, these are going to be the channels of what we have to do, how to navigate the system, then the following week, it changes," she said. "I feel like you're always putting out fires so you can't really prepare."
'We Had 5 Minutes To Leave And Move To The Holiday Inn'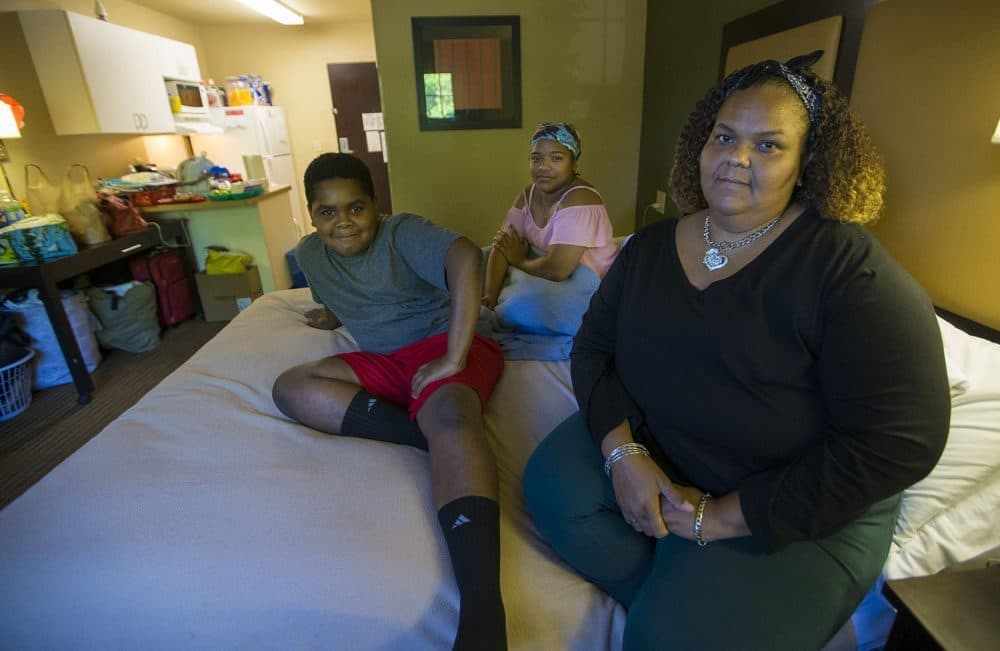 Lisbeth Sandoval, her daughter, Sheylibeth, and her son, Stephen, have lived in four different hotels since coming to Lowell in January.
The family of three has been sharing one queen-sized bed for almost three months. Suitcases and bags stuffed with their belongings line the walls of the room. Red plastic plates sit in the kitchenette sink. It feels as though every item has its place in the room, but if you were to move something, it could all come tumbling down.
Twelve-year-old Stephen says living like this is hard.
"When I see that I have to move from this hotel to this hotel, and the next day I have to get up early for school, and then when I get home from school I go to another hotel, which is what happened to me," he explains in Spanish. "I was at the Residence Inn and then I got home from school, and we had five minutes to leave and move to the Holiday Inn, and then from the Holiday Inn, we came here."
Stephen was recently diagnosed with epilepsy. His mom, Lisbeth, says she couldn't find a neurologist on the island and their home was destroyed by the storm. She came to Lowell where she hoped her family would be able to start over. After staying with her cousin in public housing for a few days, Lisbeth and her family were asked to leave.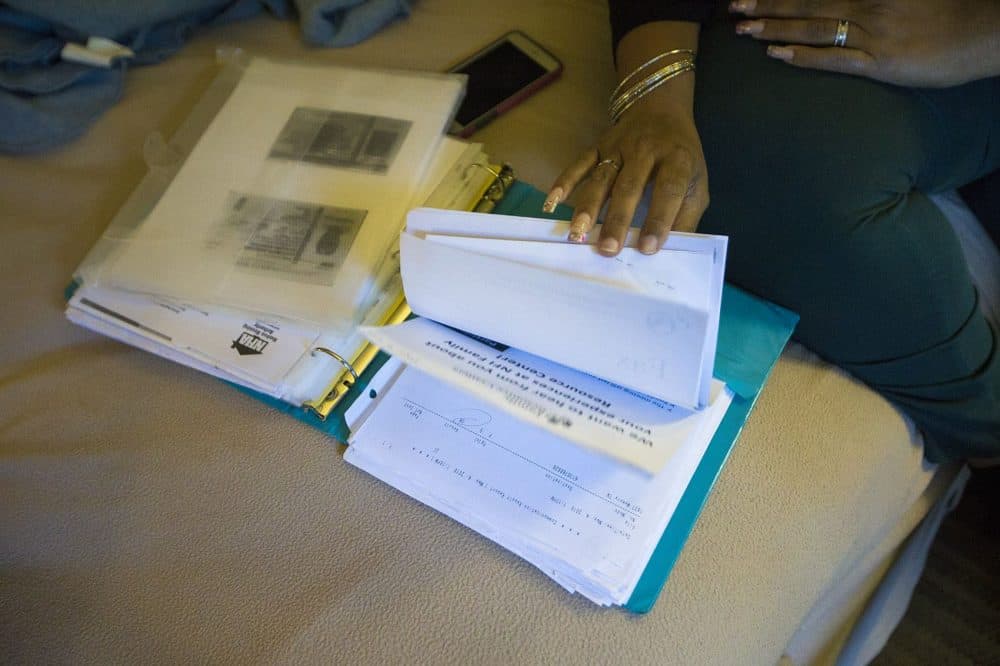 Sitting on the bed, Lisbeth opens a three-ring binder full of paperwork. This is where she keeps all of her housing applications. She says she's submitted 37 different applications since January. In most cases, she was told there is a years-long waiting list or that her family wasn't considered homeless because they had a hotel room. She's appealed some of the decisions.
" 'Come, come, to the United States,' they said, 'we're going to help you.' And then when we got here, everything stopped and they [government officials] didn't help you," Lisbeth says. "If each person doesn't mobilize and look for their own help, they're not going to give you the help."
The state has contributed over one million dollars in transitional housing assistance to families like Lisbeth's. According to guidance passed down by the Baker administration, the state will continue to help families find long-term housing but "other housing options may be limited." This state assistance has supplemented the nearly $450,000 in rental funding kicked in by FEMA for Massachusetts evacuees. Still, in two weeks, most of that money disappears.
A New Start
Stephen gathers his things for baseball practice, but before he leaves his mom shares a surprise. She waves a set of keys in the air. Stephen's face lights up.
"We have an apartment," he asks his mom.
"Yes," she says with a smile.
They pass the keys back and forth for a moment, and Stephen holds them up in the air before clutching them in his fist.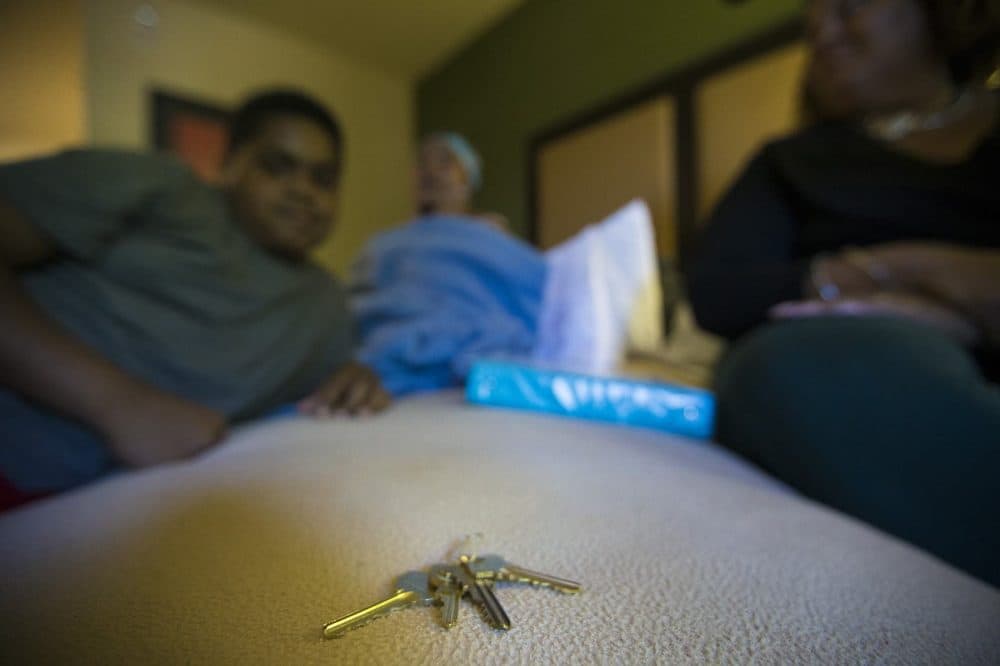 This segment aired on June 18, 2018.