Mass. Union Leaders Decry Supreme Court Ruling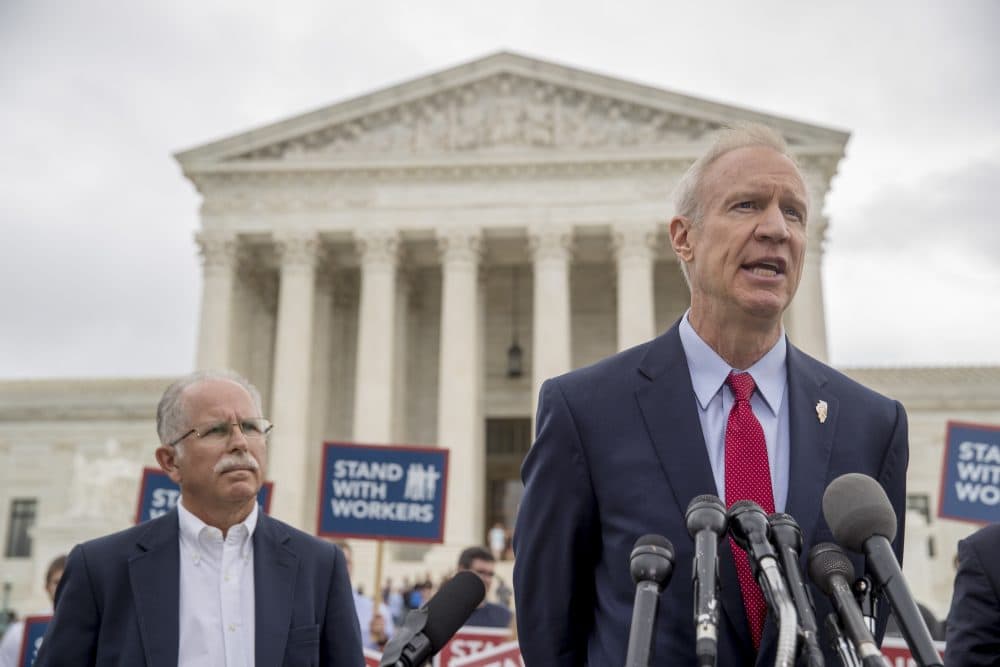 This article is more than 4 years old.
Local union leaders and members of Massachusetts' all-Democratic congressional delegation spoke out Wednesday against a U.S. Supreme Court ruling that's seen as a blow to public sector unions.
The 5-4 decision — with the court's conservative justices aligned in the majority — said that government workers who choose not to join a union cannot be charged for the cost of collective bargaining.
"Under Illinois law, public employees are forced to subsidize a union, even if they choose not to join and strongly object to the positions the union takes in collective bargaining and related activities," Justice Samuel Alito wrote in the ruling.
The decision, as NPR reports, reverses a four-decades-old precedent and upends laws in 22 states.
NPR adds:
Wednesday's ruling is a victory for conservative activists who have been waging a multipronged battle against organized labor — and a potentially crippling blow for public sector unions.
In Massachusetts, Steve Tolman, president of the Massachusetts AFL-CIO, said in a statement that the decision "represents an attack on the freedom and the rights of workers."
Similarly, Peter MacKinnon, president of SEIU Local 509, said in a statement that the Supreme Court "came down on the wrong side of history in a case that the rich and powerful are hoping will divide us. But no court case is going to stop us from fighting for the strong unions our communities need."
Unions may feel the ruling is a blow, but David Tuerck, president of the Beacon Hill Institute, a Boston-based free-market think tank, says it's a win for individual members.
"If the unions want to be effective for their members, now they'll have to earn the support of their members by delivering at the bargaining table — nothing's saying they can't do that," Tuerck said. "But now they have to deliver as opposed to simply buying politicians to carry out their agenda."
Massachusetts Democrats decried the decision.
Sen. Elizabeth Warren called it a "huge victory" for corporations.
State Attorney General Maura Healey said the court "turned its back on millions of Americans who keep our communities safe, educate our children, and care for our most vulnerable populations."
And Rep. Michael Capuano said the decision attacks the rights of public employees.
Massachusetts Democrats were similarly up in arms the day before, following another 5-4 ruling by the Supreme Court, on the president's travel ban.
With reporting by WBUR's Benjamin Swasey and Quincy Walters
This article was originally published on June 27, 2018.