Cannabis Businesses Hope To Shed Stoner Stereotype By 'Professionalizing Industry'
Play
This article is more than 4 years old.
Recreational marijuana sales are legal in Massachusetts starting Sunday (though, there aren't any stores actually licensed and open to make sales). But most of the state's cities and towns have either a ban or a moratorium on retail sales.
That leads to the question: Have our attitudes on marijuana changed since the 2016 ballot question, when a little more than 53 percent of the state voted to legalize recreational marijuana?
Take Needham, a relatively wealthy town of around 30,000 people, that finds itself somewhere in the middle of this cultural shift. It allows medical marijuana sales, and has a medical dispensary in town, but voted against recreational marijuana in the 2016 referendum. In May, the town voted to ban recreational sales within its limits.
We visited Needham's medical marijuana dispensary, Sira Naturals, which also has branches in Somerville and Cambridge. It's located in a plain-looking, one-story building in an area without much foot traffic. Inside, it has the clean, modern feel of a bank lobby.
"What we're trying to do at Sira Naturals is professionalize the industry to the extent that we can," says CEO Michael Dundas.
Dundas, 48, is a Boston native and a former lawyer. He spent 15 years in California watching that state's cannabis industry grow. When Massachusetts voters legalized medical marijuana in 2012, he moved back to start his own cannabis business, and since then, he says there has already been a dramatic shift in attitudes.
"Many folks have changed their minds about the medical marijuana use and we're seeing hearts and minds changing on the adult front as well, but it's happening slowly," Dundas says.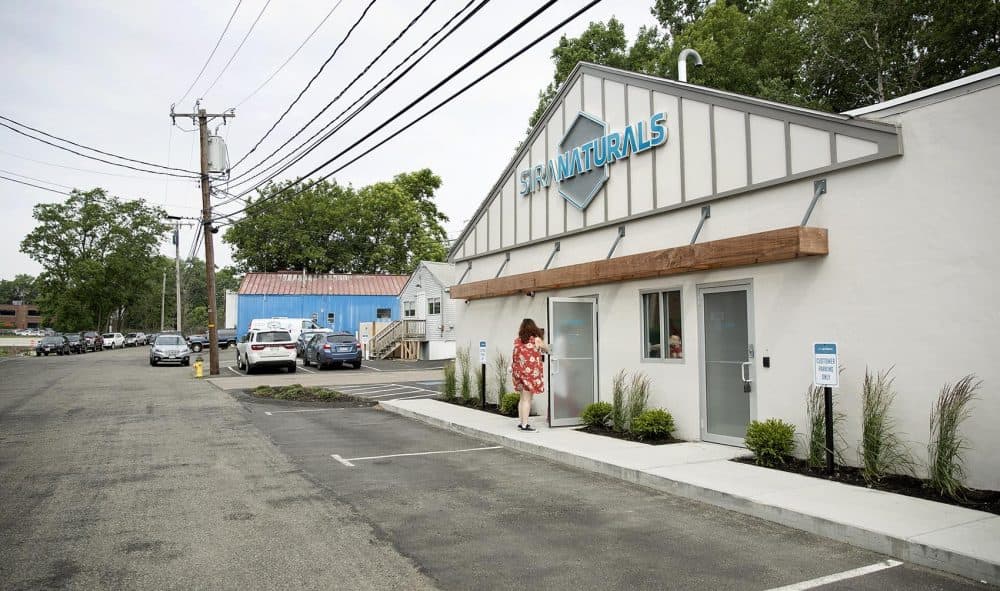 He says the cultural shift on marijuana is particularly evident on the business side.
"It was almost impossible to find banking services. It was almost impossible to find insurance services," Dundas says. "Today, that's flipped almost completely where we'll have solicitation from several professional organizations."
Dundas is expanding into recreational marijuana. Last week, state cannabis regulators granted Sira Naturals the first state license to grow recreational marijuana, at a facility in Milford. He plans to apply for licenses to sell recreational cannabis in Cambridge and Somerville, but not in Needham. He's hoping the town comes around to accepting recreational marijuana first.
There is still a lot of skepticism in Needham. During the May town meeting, where residents voted to ban retail stores, several people argued that marijuana impairs driving and harms health. One resident worried that "living in a town with recreational marijuana will decrease the perception of harm among youth."
The skittishness on marijuana was also evident among patients at Sira Naturals' Needham dispensary. Several did not want to go on the record about their own use, for fear that it still carries stigma.
First-time patient Karlene Kadra, 52, admits she was also skeptical of marijuana. She voted no on legalization in 2016, but has since changed her mind.
"I used to think that everyone who smoked marijuana was a pothead, a deadbeat, a burnout," she says.
A nurse of 23 years, Kadra says she was desperate to find something to help alleviate her chronic joint pain. As doctors become more restrictive with opioids, Kadra's primary care physician suggested she try cannabis as an alternative therapy.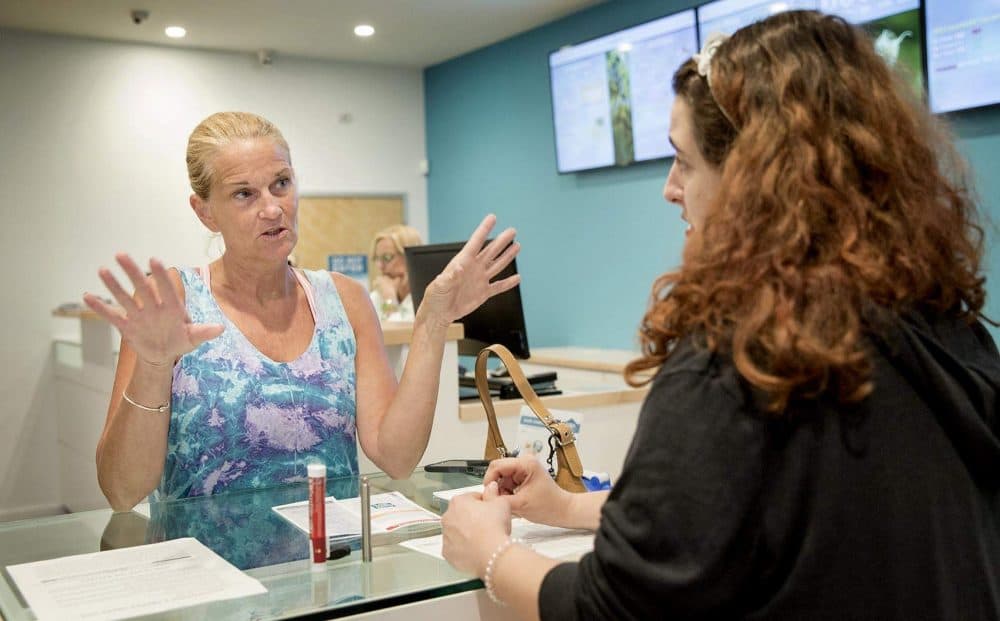 "To me, marijuana had that whole chilled out, kind of do-nothing, unproductive association with it and that's not my personality," she says. "My personality is to get things done, be active, be social, be happy, and now I'm seeing that I can achieve that through cannabis use."
There's also an obvious generational shift in attitude toward marijuana. Medical marijuana patient David Hepp, 23, who lives in neighboring Natick, says he's seeing the stereotype of the "stoner persona" fading away.
"Being a young dude, I don't know many people who don't smoke or are against it," Hepp says. "It's very socially acceptable. It's like having a drink."
Needham Selectman Dan Matthews is in favor of the ban on retail marijuana stores. He says it's wise for the town to watch how other communities handle it first, but he admits that at some point, Needham will need to jump in, too.
"Generationally, I think marijuana is much more accepted than it was before," Matthews says. "Even people in the prohibitionist camp in large part have come to the conclusion that regulated systems is a better way to go if we can make it work."
In another two or three years, Matthews expects Needham to revisit whether or not to allow retail marijuana stores.
This segment aired on June 28, 2018.