Photos: Thousands Gather In Boston To Protest Trump Immigration Policy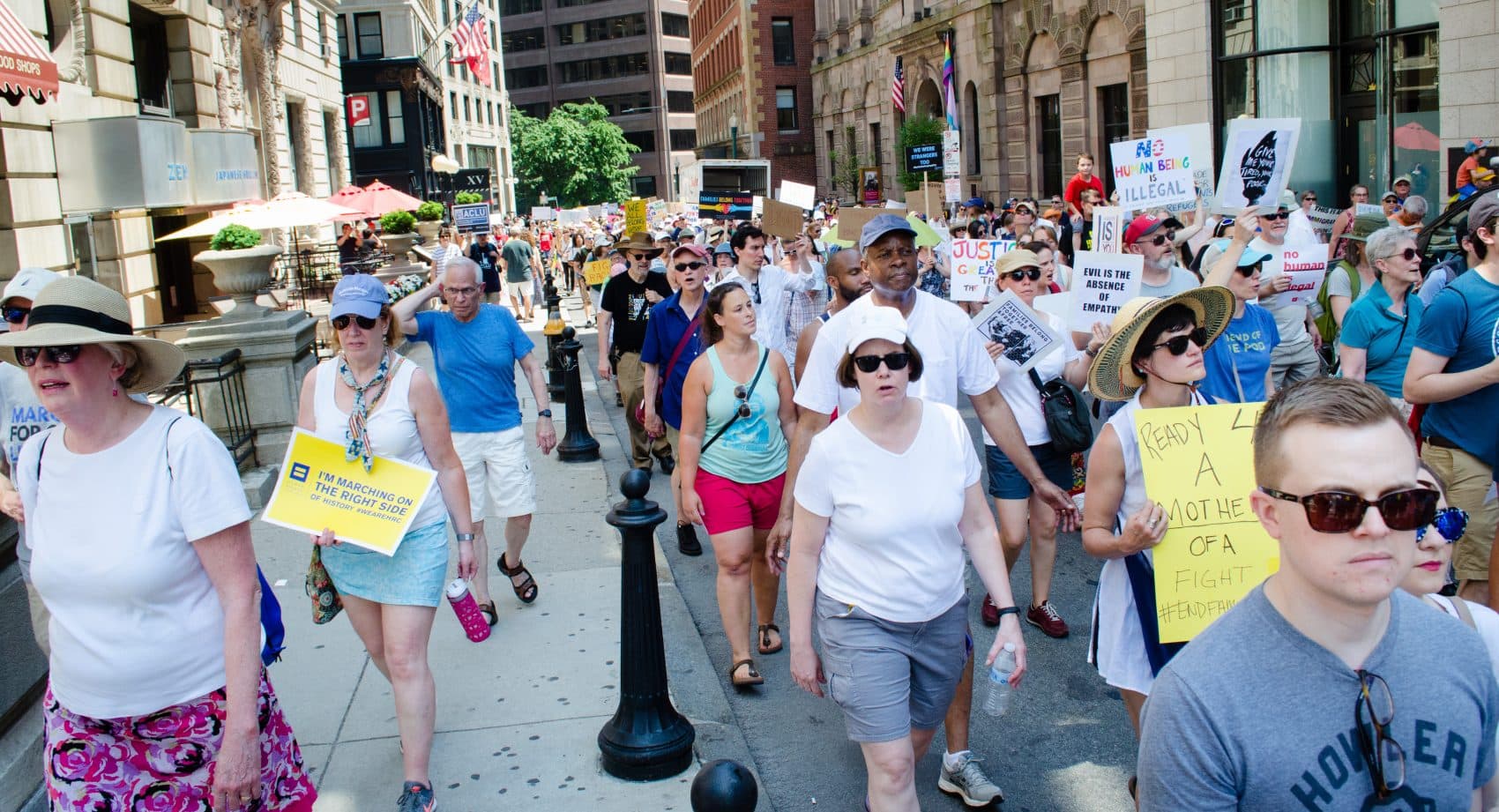 This article is more than 4 years old.
Thousands of people opposed to President Trump's controversial policy of separating migrant families protested Saturday in Boston.
Saturday's "Rally against Family Separation" began with a morning march from City Hall to Boston Common. The rally was timed with other protests nationwide and was also meant to oppose Trump's ban on travelers from certain Muslim-majority nations.
At the rally, Brazilian immigrant Sirley Silveira Paixao sobbed onstage and explained her desire not only to be reunited with her own son, but for all children to be reunited with their parents.
Paixao was separated from her 10-year-old son when she requested asylum at the U.S.-Mexico border in May. He is currently being held at a facility in Chicago.
Members of the state's all-Democratic congressional delegation were also in attendance. U.S. Sen. Elizabeth Warren called for the swift reunification of families, and the replacement of U.S. Immigration and Customs Enforcement (ICE) with "something that reflects our morality."

U.S. Sen. Ed Markey told the crowd he is going to the U.S.-Mexico border Sunday, and will bring letters from Massachusetts children to children in the detention centers. Both Warren and Rep. Joe Kennedy III spoke at the rally, too. They both have already recently made trips to the border.
Other immigrants who attended the demonstration also voiced their fears in the wake of the Trump administration's decision to end Temporary Protected Status (TPS) for several nations.
Patricia Carvajal, an immigrant and single mother, said she came to the country 22 years ago under TPS to escape poverty, gangs and a corrupt government in Honduras. Trump is ending TPS for her native country, and she anticipates being sent back next year.
She said she does not know whether her young daughter, who is a U.S.-born citizen, will return with her.
"I don't want to get separated from my daughter," she said. "She's everything that I have, and I'm everything that she has. And here I can give a lot to my daughter."
A second demonstration to protest the Trump administration's immigration policies started Saturday afternoon with a march from Wellington Common Park to the South Bay House of Correction. The correctional facility is a county jail in Boston that houses immigrants in the U.S. illegally and who are apprehended by federal officials.
Organizers demanded local government agencies stop cooperating with federal immigration authorities.
The demonstrations were largely peaceful. However, Boston police said there were 20 arrests.
With reporting from The Associated Press and WBUR's Quincy Walters
---
Photos from the first rally:




This article was originally published on June 30, 2018.