A Condemned Building Becomes A 'Watershed': The ICA's New Art Outpost Opens In East Boston
Resume
There's something novel about taking a boat ride from one museum building to another.
"Oh my, I've done this trip so many times," Institute of Contemporary Art director Jill Medvedow told me as our water taxi's engine idled in Boston Harbor.
About two years ago, she started taking this trip — from the ICA's flagship at Fan Pier in the Seaport to East Boston — solo, thinking about how to grow the ICA. Ultimately she fell in love with the working shipyard there and envisioned a new outpost. Now, that vision, dubbed The Watershed, is opening to the public on the buzzing waterfront.
"The fact that it's so real and still gritty," Medvedow said. "It's a big contrast from the Seaport."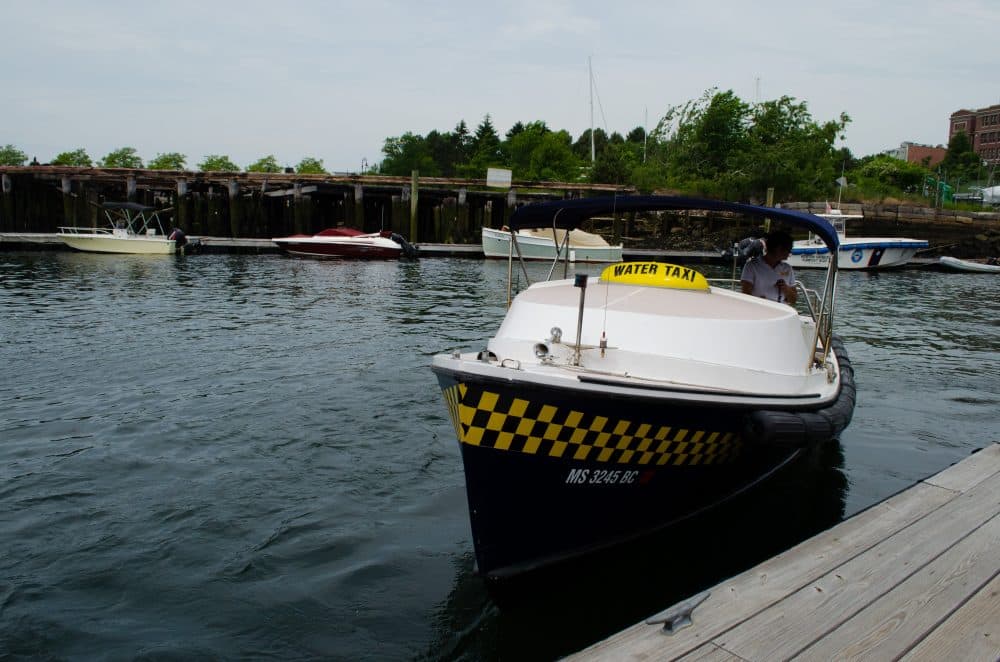 The 63-year-old museum director orchestrated the ICA's relocation from Boylston Street to the Diller Scofidio + Renfro-designed building in the Seaport in 2006. Back then, the waterfront was very different than what we see today. It was sparse — quieter, scrappier. An explosion of development has dramatically altered the vibe and the urban landscape.
"It's fantastic to have people walking around on the sidewalks or in restaurants day and night," Medvedow said. "But it's also exciting to have imagined — and now open — an alternative vision of what growth can look like, that maybe isn't as shiny and as private."
Looking back, as we bounce a bit on small, harbor waves, we take in the view of the Seaport's skyline, now populated by a crop of gleaming glass and steel skyscrapers. The law firm Goodwin Procter looms over the ICA. Corporate logos tag other buildings in the transitioning urban landscape. Medvedow considered expanding to sites adjacent to the museum, but says it wasn't practical. Turns out the solution was just outside her office window.
"Looking over the harbor, it was just so evident that the harbor and East Boston are all within just a stone's throw from the museum," she recalled.
It takes about six minutes to get from the ICA to East Boston, where visitors who travel by boat disembark for The Watershed. On our way, we walked past a permanent, outdoor gallery of sculptures and murals created by the organization Harbor Arts. A weather-worn, metal fish is perched on one of the two buildings that flank The Watershed.
Medvedow explained how the former copper pipe and sheet metal factory was the only unoccupied building left in the shipyard, which is owned by Massport — and it was condemned. Even so, Medvedow plowed forward to re-purpose the derelict building.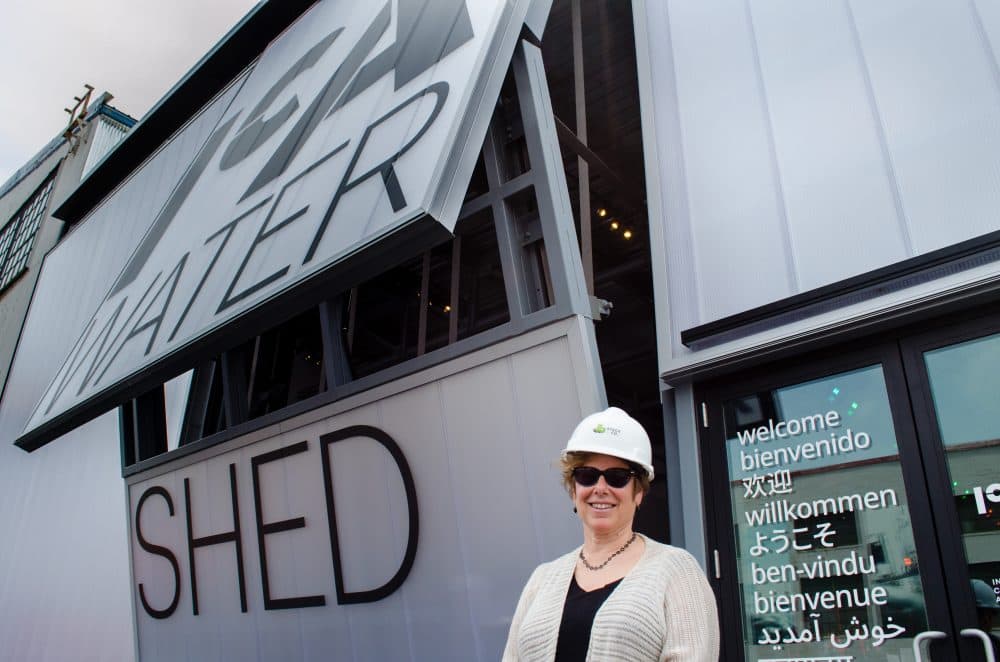 The ICA is spending $10 million on the renovation of the building, which was done by Anmahian Winton Architects, and for five years of seasonal programming. Now a massive but sleek garage-style door opens into the 50-by-300-foot art outpost. It's raw but clean, with original exposed brick and a massive new roof. Industrial gantries and chains hang from the ceiling, evoking the past. Medvedow pointed to the old train tracks in the floor.
"Right now when you walk in, you get what I would say is the 'money shot' here," she said, smiling, "you get a sense of this long fantastic space, right, spanning these two end caps."
For ICA chief curator Eva Respini, The Watershed is a chance for the ICA to stretch its wings.
"It's a huge opportunity to work in a raw way, in a space that doesn't have the confines of a kind of white cube museum space — which is what we have currently, and to really think in much more expansive and dynamic ways," she said.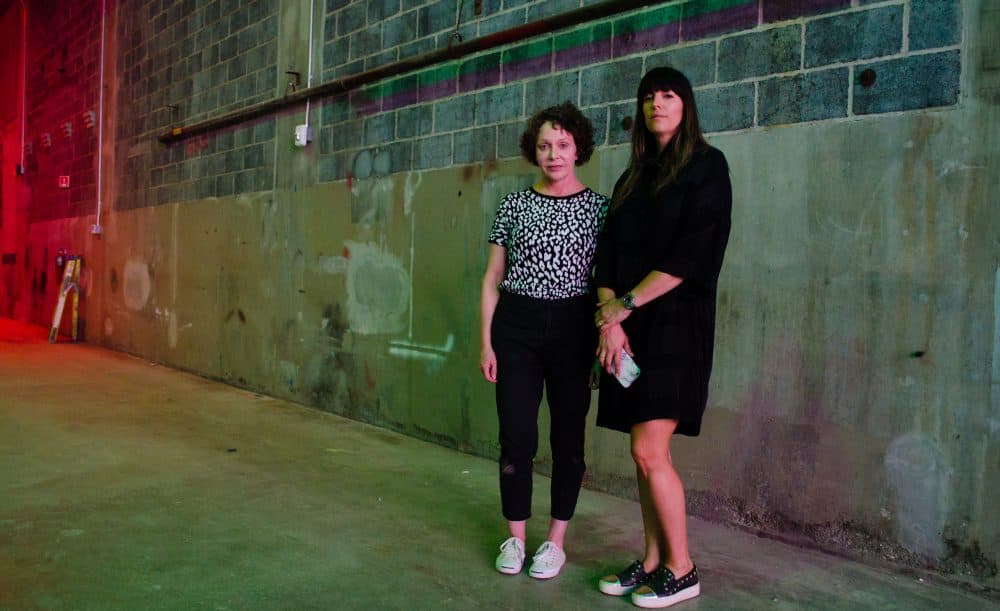 The narrow, long space is celebrated with a chromatic progression of overhead lights. To our left is a wall map of what the area looked like in the early 1800s featuring the group of raised islands that were once East Boston. There's also a video featuring historians, community leaders and residents who trace the neighborhood's evolution.
These elements are part of what Medvedow calls a "radical welcome" the ICA is extending to the Eastie community.
"We wanted to make sure that people from East Boston felt welcome here, and that we reduced all barriers to participation," Medvedow said.
To that end, The Watershed is free for everyone.
"It's the way it should be," pioneering video artist Diana Thater said. Her installations will be featured for The Watershed's inaugural season. Then the museum will find another exhibition to occupy the space for the next season, which will run between the months of May and October.
"Everyone should be able to go to the museum and see art," Thater continued. "More and more museums are trying to make admission free, and I think it's really vital to people who want to see art but might not be able to afford museum entrance."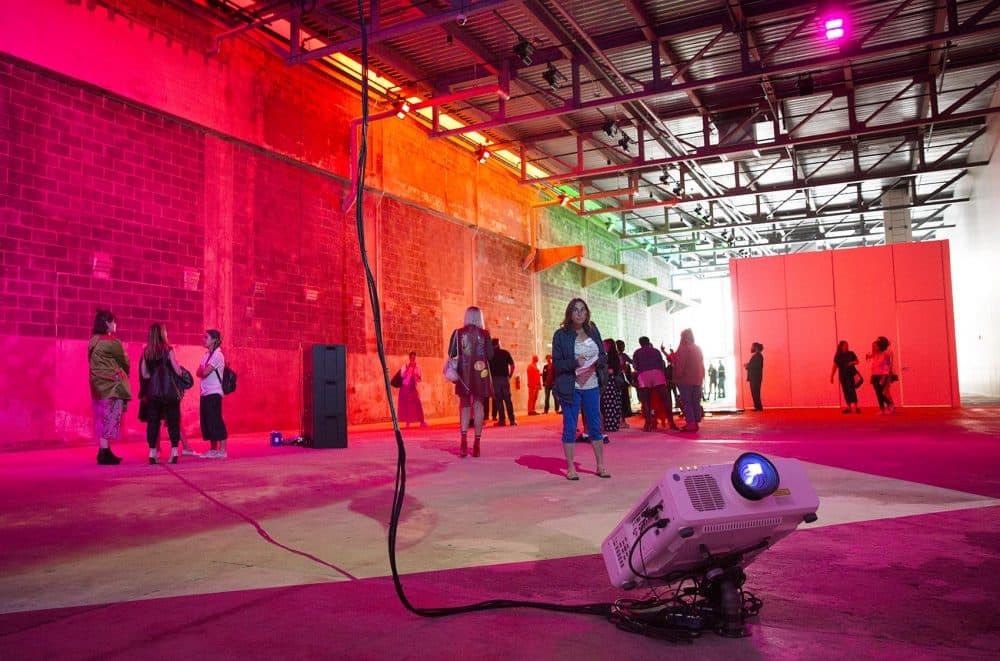 In addition, the wall text introducing The Watershed, Thater and her art are in both English and Spanish. Respini said it's a first for the museum.
"Knowing that 68 percent of East Boston households are Spanish-speaking we felt it was important to have everything bilingually here in the building," she explained.
Beginning in August there will also be free tours in Spanish.
In Eastie — a neighborhood that's long flown under the radar — change is coming fast. In this age of rampant gentrification, director of education Monica Garza and her team set out early to engage with the community — not to just show up and expect people to come to them.
"Introducing ourselves, meeting with different organizations, different individuals, hearing what their desires are, hearing what some of the challenges they're facing and what are those opportunities and how we can work together," she says, are all part of the strategy.
East Boston Social Center executive director Justin Pasquariello said a major challenge residents are grappling with right now is displacement. "Rents and housing costs have gone up so rapidly. People have been buying homes and kicking tenants out."
East Boston Social Center is one the organizations the ICA is now partnering with as it expands its footprint. Garza and the education team have long been working with the local, young people's music and technology nonprofit Zumix and East Boston High School.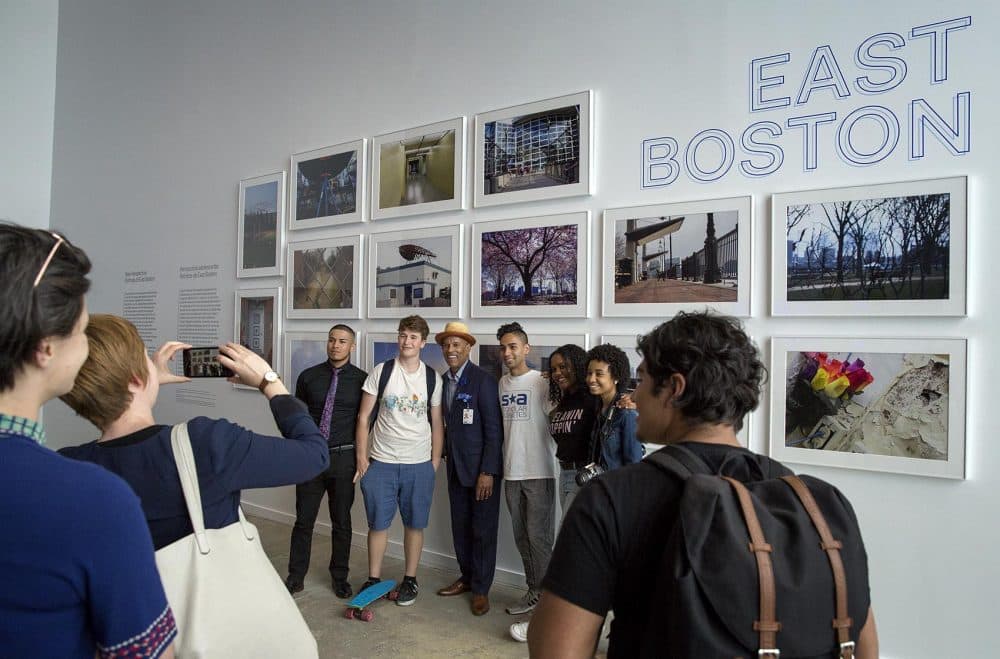 In a community where more than half the residents are immigrants, Pasquariello added there's a lot of anxiety over being pushed out and about recent U.S. government policies.
"Our immigrant communities are some of those that are most targeted right now, unfortunately," he said. "We have a substantial Salvadoran community, and then we also have a significant and growing Muslim immigrant population. There are a lot of needs there and there's a lot of fear."
Pasquariello believes a communal art space like The Watershed will offer a place to come together. This summer, the ICA will start offering programming for groups from the Social Center and other organizations.
"With all the stress that people are experiencing related to these challenges, they also need to have an opportunity to have enjoyment," he said.
And Pasquariello added, The Watershed celebrates history and the need for creative reinvention. Instead of constructing a new building, the ICA chose to re-purpose and preserve one that already existed.
"It's reusing a building that otherwise would have been empty," he said, "and that reinvention is what keeps this a vibrant community."
---
On Tuesday, July 3, The Watershed hosts a community day before its grand opening on the Fourth of July. Visitors coming from the ICA in the Seaport could take a water taxi to the ICA Watershed. 
This segment aired on July 3, 2018.