How Brett Kavanaugh's Opinion On Net Neutrality Could Hurt Boston Startups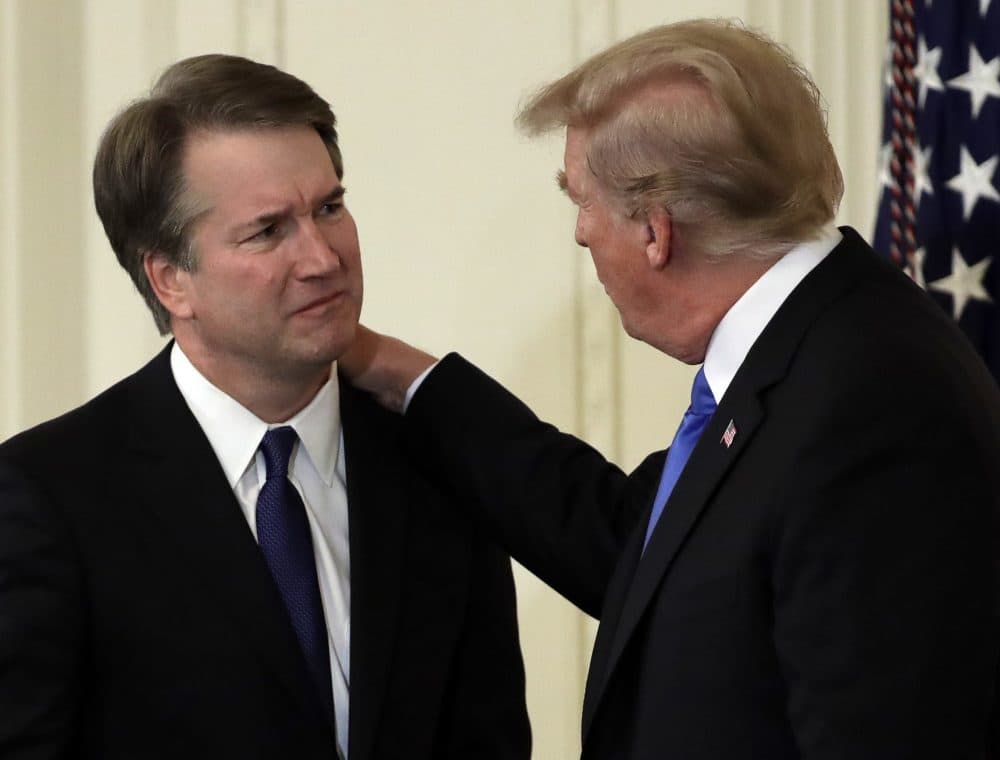 This article is more than 4 years old.
Supreme Court nominee Brett Kavanaugh's conservative positions on gun and abortion rights may dominate political debates about his prospective confirmation, but it is his opposition to net neutrality that could prove most consequential for Boston's high-tech economy.
Net neutrality is the principle that internet providers should make all content available at the same speed. For young businesses that showcase or deliver their goods and services online — most, in other words, and an overwhelming majority in startup hubs like Kendall Square and the Boston Innovation District — net neutrality represents a vital protection that helps them compete with established firms on an even plane.
"My view is that net neutrality has kept the gates open to startups with new ideas to succeed on the internet," said Tim Rowe, founder of the Cambridge Innovation Center, a shared workspace for entrepreneurs. "It levels the playing field so the little guys can provide their services to the public on the same basis as the big guys."
Imagine, for example, how the already-difficult task of a fledgling company breaking into the online travel-booking industry could become even harder if market heavyweights like Kayak and Orbitz were able to pay internet providers to load their webpages and apps faster than any newcomer's. Consumers would likely be disinclined to use a new service — even if it improved upon existing options — if it ran more slowly.
A Federal Communications Commission [FCC] regulation imposed under the administration of former President Obama prohibited such favoritism by internet providers. The United States Telecom Association, a trade group comprising such carriers as Verizon and AT&T, challenged the FCC's net neutrality mandate, and a panel of judges on the federal appeals court in Washington upheld the regulation last spring.
But Kavanaugh, who was one of the judges, dissented, writing that "the net neutrality rule is unlawful and must be vacated." Seven months later, having flipped to a Republican majority under President Trump, the FCC tore up its net neutrality regulation.
In the event a future legal dispute reaches the Supreme Court, the probability of a ruling against net neutrality would increase with Kavanaugh on the bench.
Jody Rose, president of the New England Venture Capital Association, said that "nominee Kavanaugh's past opinions on net neutrality are disappointing," adding that her group "is and has been a staunch proponent of net neutrality." But, she said, "We are hopeful that protections can be achieved through other means, either in Congress or at the state level."
Perhaps wary of provoking a jurist who could hurt their businesses, other members of Greater Boston's high-tech community have been reluctant to weigh in on Kavanaugh's nomination. WBUR sought comment from 17 entrepreneurs, investors and technology executives; Rose, alone, spoke on the record about Trump's pick, and Rowe was the only other to address the issue of net neutrality.
Many tech companies, including giants such as Microsoft, Amazon and Reddit, have previously said they support net neutrality. Though they have bristled at regulation, internet providers insist they will not play favorites when delivering online content, even if permitted to do so.
"We have repeatedly stated, and reiterate today, that we do not and will not block, throttle, or discriminate against lawful content," Comcast Senior Executive Vice President David Cohen said in a statement on the day, last December, when the FCC scrapped its net neutrality rule.
Still, Kavanaugh's presence on the Supreme Court could help leave the door open for Comcast and other internet providers to change their minds and pick winners and losers in the future. In the U.S. Telecom case, Kavanaugh's objection to the Obama-era net neutrality regulation was twofold.
"First," he wrote in his dissent, "Congress did not clearly authorize the FCC to issue the net neutrality rule. Congress has debated net neutrality for many years, but Congress has never enacted net neutrality legislation or clearly authorized the FCC to impose commoncarrier obligations on internet service providers. The lack of clear congressional authorization matters. In a series of important cases over the last 25 years, the Supreme Court has required clear congressional authorization for major agency rules of this kind."
FCC Chairman Ajit Pai has made a similar, procedure-based argument, contending the commission exceeded its authority when its Democratic majority passed the net neutrality rule on a party-line vote in 2015.
Even if an act of Congress were to grant the FCC clear authority to mandate net neutrality, Kavanaugh's dissent in the U.S. Telecom case indicates that as a Supreme Court justice he might vote to strike down the regulation.
"The net neutrality rule violates the First Amendment to the U.S. Constitution," Kavanaugh wrote.
His argument centers on the idea that internet providers have a free-speech right to deliver some material faster than others.
"Under the rule," he added, "you supposedly can exercise your editorial discretion to refuse to carry some internet content. But if you choose to carry most or all internet content, you cannot exercise your editorial discretion to favor some content over other content. What First Amendment case or principle supports that theory? Crickets."
Without mandatory net neutrality, "money talks" might be the kind of speech that puts startups at a disadvantage, as they try to take on big companies willing to pay for top speeds.
This article was originally published on July 11, 2018.