Maine Lobster Industry Deals With New Tariffs From China
Resume
Some Maine lobster dealers who have seen sales to China shoot up over the last decade are now suddenly shut out.
Late last week, China more than doubled tariffs on lobster from U.S. sources as part of the emerging trade war between the two countries. But the lobster industry as a whole, and lobstermen in particular, are trying to take it all in stride.
Michael Marceau watches workers pack lobster on the chilly floor of his Arundel business, The Lobster Co. Until last week, up to 15,000 pounds of live lobster were run through these water tanks, weighed and put in shipping containers every day, bound for Chinese tables.
"We were gearing up for a really big year," Marceau says.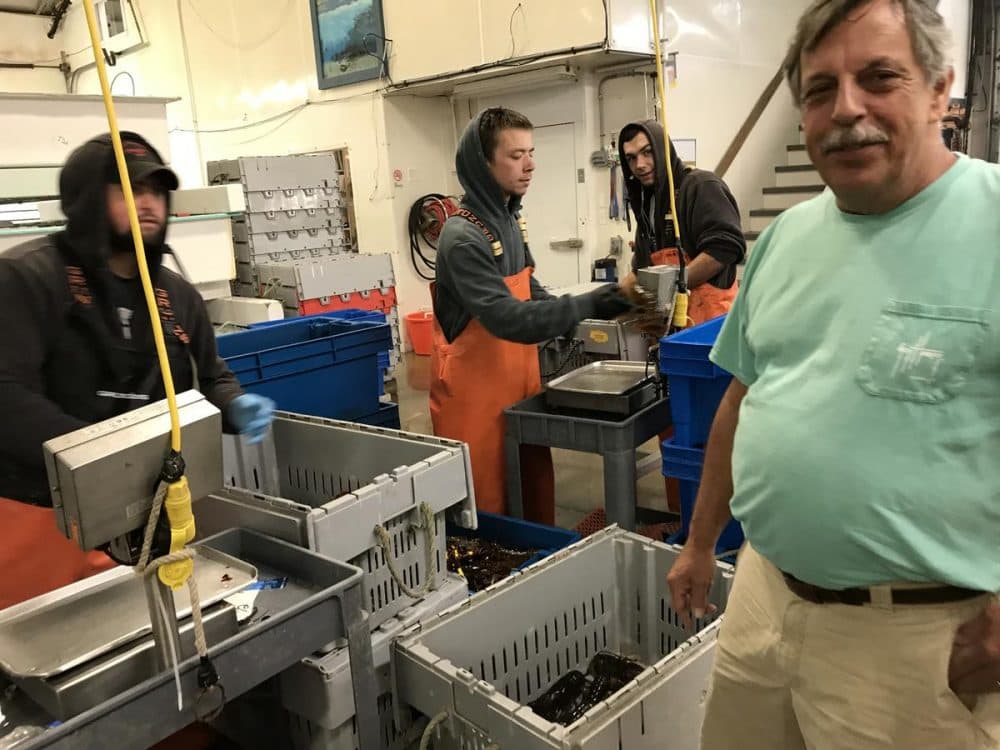 Sales of Maine-harvested lobster to China so far this year were tripling over the same period last year, and a renovation to increase the plant's holding capacity had been under way.
"See that uncompleted section of pipe? Well with that, when it was all done, we'd of been up to a 100,000. But we don't have to finish that now," he says.
That's because China's tariff on live lobster now stands at 40 percent, and at 35 percent on processed lobster. It's a major price barrier for sales to Chinese buyers, who can get the same species from Canadian harvesters with only a 7 percent tariff.
"This is instant pain," says Steph Nadeau, chief salesperson and co-owner of the business and Marceau's wife. "A hand grenade. It's not going to be good."
The Lobster Co. employs about 18 people, while taking product from dozens of lobstermen up and down the coast.
"I sell 50 percent of my lobsters to mainland China," says Nadeau. "The last order I shipped was last Tuesday. ... We might live through this fall. We won't live through this winter."
The situation has Maine's congressional delegation on alert. Sen. Angus King spent some time with lobstermen Downeast just before China announced the tariff.
"What I heard was pretty unsettling ... this is serious business in Maine," King says. "It could significantly impact the price of lobsters which, in turn, will impact lobstermen directly."
But some lobstermen think this is more of a problem for the dozen or so dealers who sell to China, and less so for harvesters on the water.
"It's not one of the bigger issues facing us right now," says Kristan Porter, president of the Maine Lobstermen's Association. Porter says that while the China market has been growing fast this past decade, it's still a relatively small portion of the overall lobster catch, and a dent in sales shouldn't depress prices at the dock.
Lobstermen, Porter says, are more worried about other things, such as whether regulators may force expensive gear changes to protect the endangered North Atlantic right whale.
"Well of course whales, bait, are two of the big things," Porter says. "Just the economics of the industry. But as far as the China thing, I guess we're going to have to wait and see."
Lobstermen and dealers agree that the situation can be balanced somewhat by redoubled efforts to sell more lobster to Americans as well as abroad, outside of China.
But for dealers, one task will be to maintain connections with Chinese partners and with Chinese partners.
Jeff Bennett is an analyst at the Maine International Trade Center, which says Maine sold at least $57 million worth of lobster to China last year, a number some observers say significantly understates the market.
Back at the Lobster Co. in Arundel, Nadeau says her longtime buyer in China is sending her crying-face emojis — while forging new relationships with Canadian dealers. She says dealers will soon be "beating each others' brains in" competing to unload product that would otherwise have gone to China. And she has slim hopes for a political solution.
"If the Democrats don't take over the House and Senate I don't see that there's any impetus that the current government wants to change this," she says. "It's stupid. It's like taking a sledgehammer to world trade."
Nadeau says there will be times in the year when Chinese demand could outweigh the tariffs, but not enough to keep the business as it's been. That, she says, will likely mean layoffs and could force her to buy fewer lobsters from boats that the company's depended on for decades.
This story is a production of the New England News Collaborative and originally aired on Maine Public Radio.
This segment aired on July 18, 2018.