Why Startups In Boston Are Feeling The Squeeze (Partly, It's The Real Estate)
04:23
Play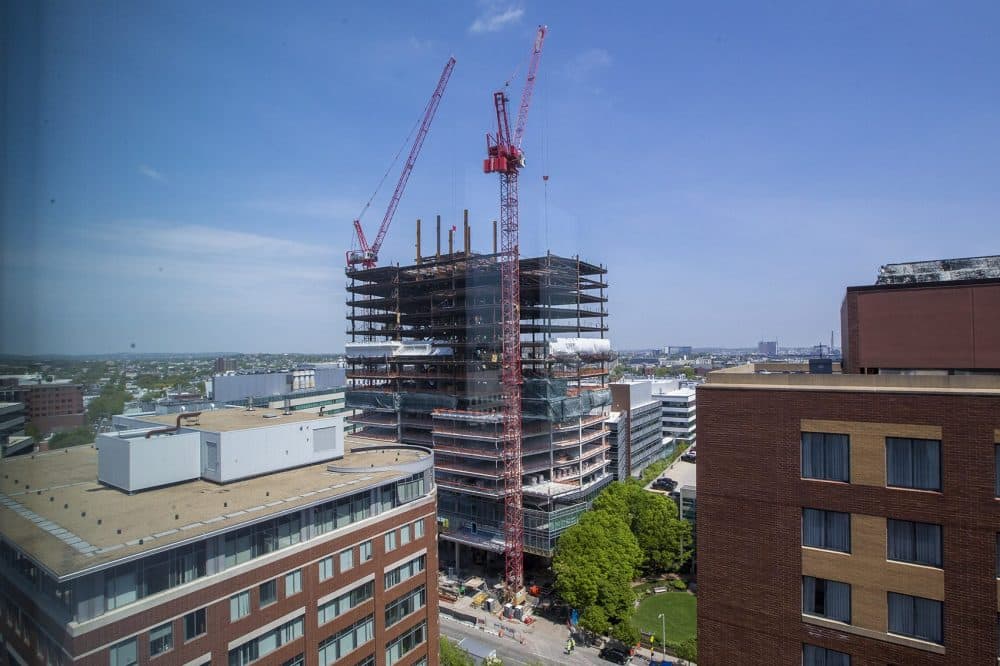 This article is more than 3 years old.
Boston has a well-earned reputation as a hub for high-tech startups. It's where Facebook launched and, more recently, where an MIT hackathon gave birth to a company called PillPack that Amazon purchased last month for almost $1 billion.
The next generation of startups benefits from past successes but also bears some costs: high real estate prices and even higher expectations.
Working To Afford A Space To Work
For years, a lack of amenities made Cambridge's Kendall Square and Boston's Seaport District affordable places for cash-strapped entrepreneurs to get going. But then the neighborhoods got popular, "and it became cost-prohibitive," said Kevin O'Brien, chief executive of cybersecurity startup GreatHorn.
O'Brien has been in the industry for almost 20 years and says it's harder than ever to find affordable real estate in prime locations.
"When I got started, my very first company that I was part of was @stake, back in 2000, and we were in Kendall Square," he said. "And Kendall Square looked like the Seaport did seven years later. There was nothing there."
Four years ago, a single office in the Seaport District WeWork co-working space rented for $550 per month. The same office now goes for $720 — a 31 percent increase. And at WeWork's new Seaport location, the smallest offices are for two people. They cost almost $2,000 per month.
O'Brien set up his company in Waltham, where rent is cheaper.
Needing More Money Now To Get More Money
The soaring price of real estate is just one pressure point where startups are feeling squeezed. The investment market is another big one.
"The bar to get a series A done is way higher than it's been," said Vivjan Myrto, managing partner at Hyperplane Venture Capital in Boston.
Series A used to be the first round of funding for many startups. Other times, there was an even earlier "seed" round. Now, Myrto expects companies to accomplish a lot before Hyperplane writes its first check — even at the seed stage.
Sometimes that means raising money from family and friends. In the case of Cambridge artificial intelligence startup Elucidata, it meant being "fully rolled out" before a $1.7 million seed investment last month, Myrto said.
"The company's already [doing] well in revenue, with actual, paying customers," Myrto said. "Not paying pilots — these are actual customers."
One option for an early-stage startup that can't attract significant investments is to enroll in a business accelerator program such as MassChallenge, where companies receive coaching and free office space.
But getting into the program is harder than ever.
"The water level of entrepreneurs coming in is getting higher and higher," said Kiki Mills Johnston, managing director of MassChallenge Boston. "Many are coming in as second- or third-time or four-time entrepreneurs."
Such experienced founders defy the just-out-of-college stereotype perpetuated in popular culture. MIT professor Pierre Azoulay analyzed Census Bureau data and found the average age of a founder of a venture-backed company in Massachusetts is 42.
... the average age of a founder of a venture-backed company in Massachusetts is 42.
Azoulay has a reality check for all the whiz kids hoping to build successful startups straight out of school: "Their prospects are very dim. Why is that true? Because entrepreneurship is hard. On average, entrepreneurship is not a successful activity. Most startups fail."
A few blocks from Azoulay's MIT office, the Barismo coffee shop is a popular place for entrepreneurs to get some much-needed caffeine — and maybe even strike up a conversation with a prospective investor or a startup veteran with a piece of advice.
Among the regulars is Seth Proctor, founder of a fledgling software company called Tranquil Data, which helps ensure businesses' customer information is not abused.
Proctor checks a lot of boxes: He's 42 — the sweet spot for venture funding. He's an got Ivy League pedigree and 20 years of experience. Still, he runs Tranquil Data from his living room. He says fundraising — and choosing which parts of the company to put his minimal dollars into — have been challenges.
"When do you move from the coffee shop to just having an open space where you can work?" he wondered aloud, over a cold brew. "When do you move from the open space to actually having a dedicated office? It's not the thing that is really expensive in your model. I mean, it's people that we're raising money for — to be able to bring in really good engineers. But every dollar counts when you're a startup."
Those dollars could soon be in greater supply: Proctor is on the brink of closing a $2 million investment round, led by Myrto's Hyperplane Venture Capital firm.
This segment aired on July 25, 2018.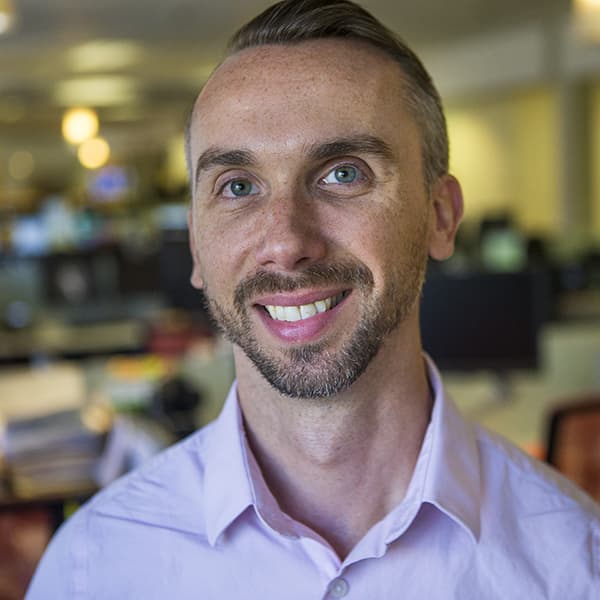 Callum Borchers Reporter
Callum covers the Greater Boston business community for Bostonomix.