Maura Healey Endorses Ayanna Pressley For Congress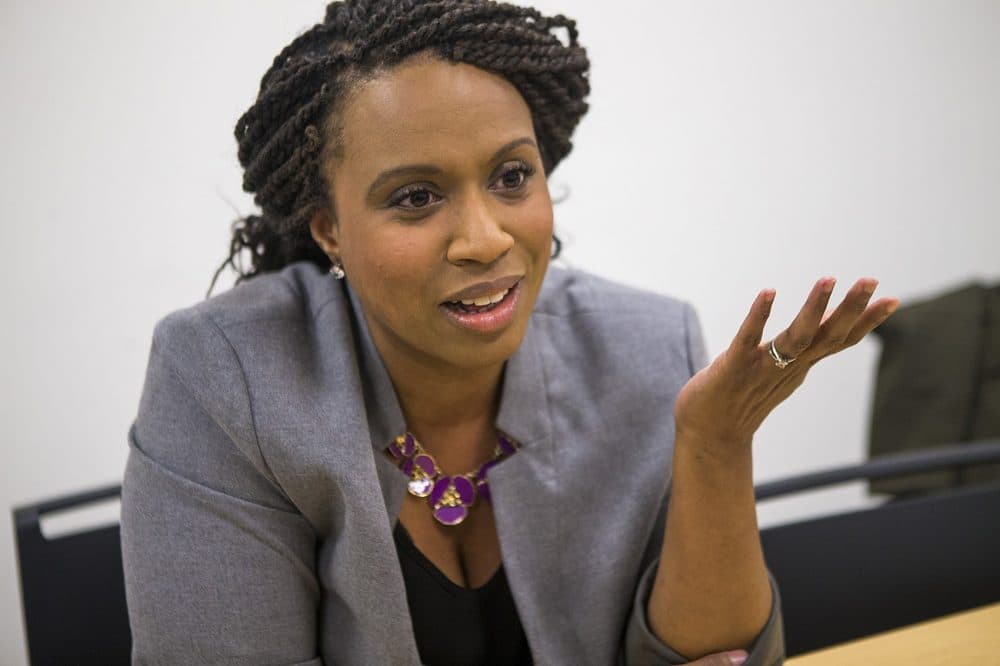 This article is more than 4 years old.
Attorney General Maura Healey has endorsed City Councilor At-Large Ayanna Pressley in the race for the Massachusetts 7th congressional seat.
"For me, this isn't political, it's personal," Healey said in a statement Monday. "Ayanna isn't just my City Councilor. She's not just my partner in government. She's someone who shares our values, and our priorities, who I've depended on for years."
In the statement, Healey praised Pressley's work alongside her to fight profiling and discrimination by Boston nightclubs; protect students from predatory for-profit schools; and help survivors of sexual trauma, domestic violence and human trafficking.
Pressley thanked the attorney general in a subsequent statement, saying she is "deeply honored."
"I am constantly inspired by Maura's steadfast commitment to public service and her bold leadership," Pressley said. She added, "I am humbled by Maura's support, and I look forward to working with her and others to lift up the voices of those too often overlooked and ensure that those closest to the pain are closest to the power - driving and informing the policymaking."
Pressley, elected to the city council in 2009, is looking to beat out longtime incumbent U.S. Rep. Michael Capuano in the Sept. 4 primary for the Democratic nomination. It is the congressman's first contested primary since he took office 20 years ago, and the winner of the primary will effectively take the seat, with no other candidates on the ballot in November.
"As Democrats, we sometimes find ourselves in primaries – I know that from personal experience," Healey said, though she made no mention of Capuano in the statement. "But when the polls close, we unite behind the winner for the final stretch and in the work ahead. And that's just what we will do here on September 4th."
Audrey Coulter, a spokeswoman for the Capuano campaign, said in a statement Monday: "Mike's proud to have the endorsements of nurses, teachers, labor unions and elected officials across the district. Mike's focus is on campaigning door to door, person to person, talking with voters about how important it is to do everything we can to stop Donald Trump and his destructive policies and actions."
Healey's endorsement is the first major establishment voice in Pressley's camp. Mayor Martin Walsh and former Gov. Deval Patrick are backing Capuano, as are the other members of the Massachusetts federal delegation: Reps. Richard Neal, James McGovern, Joseph Kennedy III, Stephen Lynch and William Keating. Both U.S. senators, Elizabeth Warren and Ed Markey, are staying neutral.
This vote of confidence comes from a prominent and popular incumbent. According to a Nov. 2017 poll from the Western New England University Polling Institute, Healey has a 64 percent approval rating overall — 70 percent among Democrats but only 47 percent among Republicans.
Both women have campaigned with each other in the past, including acting as surrogates for Hillary Clinton's 2016 presidential run.
Pressley endorsed Healey in her 2014 race for attorney general against former state lawmaker Warren Tolman. In a Dorchester Reporter article from the time, activists credited ticket-topping Councilor Pressley's backing for some of Healey's strong showing across Dorchester.
"She stood by me and supported me in my first campaign, at a time very few elected leaders were willing to take a chance on an outsider candidate like me," Healey said.
This story was originally published in The Dorchester Reporter.
This article was originally published on July 30, 2018.