Bird Refuses To Back Down, As Somerville Seizes Electric Scooters
This article is more than 4 years old.
Bird Rides, Inc. remained defiant in the face of a Friday deadline to clear out of Cambridge and Somerville, even as the latter city impounded some of the company's rentable, electric scooters.
A Bird spokeswoman said the company had not withdrawn its fleet and that scooters remained available Friday evening, though WBUR could find none in either city through the mobile app that shows their locations.
Somerville had been quietly seizing scooters for several days — even before the deadline — suggesting the city was prepared to play hardball with the startup.
In a cease-and-desist letter on Tuesday, Somerville told Bird that "any scooter found within the City limits on or after" Friday would be impounded. The city says Bird needs a permit to operate there.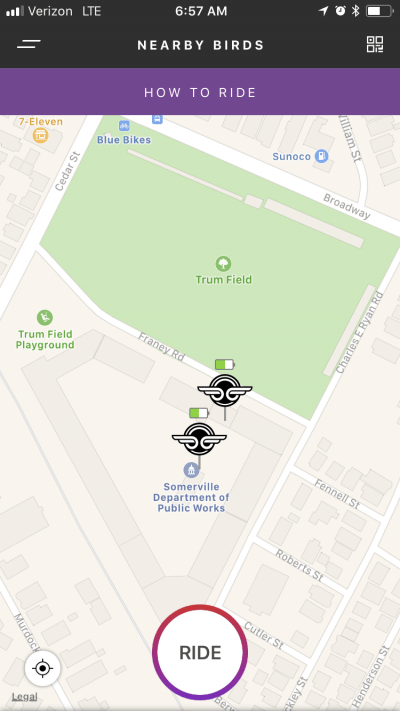 Bird's mobile app indicated Friday morning that two scooters were at the Somerville Department of Public Works. WBUR was unable to spot the scooters in the public works yard, which is monitored by surveillance cameras, before being intercepted by a department official.
The official said DPW workers did not begin rounding up scooters on Friday but had been doing so throughout the week. A Bird representative has been retrieving impounded scooters each morning, at no charge, and returning them to city streets, according to the official. The official was not authorized to speak to the press and requested anonymity.
A city spokeswoman confirmed the pre-deadline seizures, saying in an email that "DPW was already picking up any scooters that were blocking sidewalk or other access, the same as they do for any other piece of equipment."
Neighboring Cambridge set a deadline of 5 p.m. on Friday for Bird to remove its scooters from that city. The Bird app showed a limited number of scooters available for rent in Cambridge throughout much of Friday.
Cambridge officials did not respond to multiple inquiries about whether public works crews were rounding up scooters.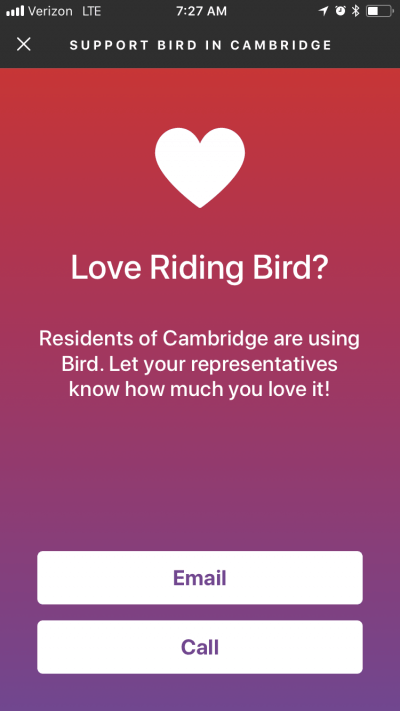 Would-be riders looking for Bird scooters through the app on Friday were greeted by an onscreen invocation: "Let your representatives know how much you love it!"
An "email" button generated a pre-written message that could be sent with one thumb tap to Cambridge Mayor Marc McGovern, City Manager Louis DePasquale and members of the City Council.
This was the text of the form email:
Dear Mayor McGovern, City Manager DePasquale, and Councilmembers,

Thank you for your thoughtful leadership.

I want to let you know I support the recent arrival of shared electric scooters, which has given me an affordable, sustainable, and convenient alternative to driving or using ride-share when I need to get around.

I hope that you will allow them to continue to operate here so I can continue to have access to this sustainable alternative to driving.

I really appreciate having the choice to skip traffic and not have to search for parking, whether I'm running errands or connecting to transit.

Thank you,

A Cambridge Bird rider
The Massachusetts Department of Transportation is conducting a "comprehensive review" of electric scooters such as Bird's, which may violate a state law requiring brake lights and turn signals.
The Boston City Council will hold a hearing on electric scooters in the fall.
This article was originally published on August 03, 2018.