Trump Influence Evident At First Senate GOP Debate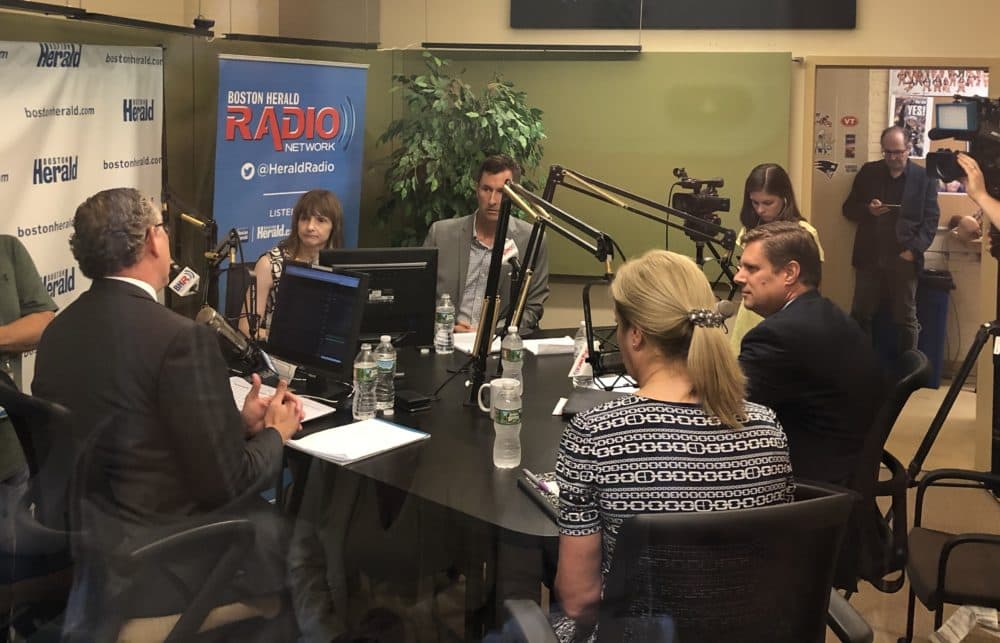 This article is more than 3 years old.
Republicans Geoff Diehl and Beth Lindstrom traded punches during the first GOP primary debate for U.S. Senate on Tuesday where President Trump, his policies and his rhetoric loomed large over the three candidates vying to take on U.S. Sen. Elizabeth Warren in November.
Lindstrom wasted almost no time in the hour-long debate on Boston Herald Radio before she tried to paint Diehl, a state representative from Whitman and the face of the Trump campaign in Massachusetts in 2016, as too "blindly loyal" to the president to win in Massachusetts.
"I think that Geoff needs to look at his math because Donald Trump will have a hard time in the general election. If you are a blind loyalist like Geoff is, I think that's going to be a tough time in Massachusetts," said Lindstrom, who also voted for Trump in 2016 and said she would do so again in 2020.
Diehl, who co-chaired Trump's state campaign operation, responded by going after Lindstrom's record working for Gov. Mitt Romney when he said she raised over 300 fees while head of the Office of Consumer Affairs and Business Regulation.
"Government can do more with less and unfortunately for you, you bought in to the idea that you had to raise fees because government has to get bigger and bigger. We already have Elizabeth Warren who wants bigger government and more taxes. We don't need to have you down in Washington making those type of decisions," Diehl told Lindstrom.
The back-and-forth between Diehl and Lindstrom helped to enliven the first debate of the primary as three Republicans, including Winchester businessman John Kingston, are fighting to distinguish and position themselves as the candidate that would give the GOP the best chance to defeat Warren.
Since winning his party's endorsement at the GOP Convention in May, Diehl has led Lindstrom and Kingston in most polls, but according to a June WBUR survey all three trail Warren by at least 35 points in a head-to-head matchup.
While Diehl and Lindstrom both come from the world of Bay State politics, Kingston is a retired investor who used the tiff between his two opponents to cast himself as the best alternative for Massachusetts.
"The conversation between two insiders about who is more insider is why an outsider businessman is what we need in Washington," Kingston said.
Warren, who is running for her second-term amid widespread speculation that she may be gearing up for a 2020 run for president, didn't escape criticism either as all three painted her as an extreme partisan who is more focused on her White House ambitions than representing Massachusetts.
Diehl went so far as to suggest that Warren and her policies on taxes and health care are more of a threat to the United States than Russia.
"Russia is not the old Soviet Union, so to me the bigger threat is someone like Elizabeth Warren. ... She seems to be the new communist regime," Diehl said.
Diehl would go on to say he was being "facetious" with his comparison of Warren to Russia after Kingston warned about making "false equivalences" between political opponents and foreign adversaries.
On policy, there were few differences showcased between the Republican candidates who fielded questions from Herald moderators Joe Battenfeld and Hillary Chabot on everything from marijuana and Russia to the repeal of the Affordable Care Act and building a border wall.
All three voiced support for building a border wall and said that while they were glad to see the Trump administration enforcing immigration law it was right that Trump ended the policy of separating children from parents at the border.
"I'm not for family separation. I'm for family detention," Lindstrom said.
The Republicans also agreed that despite their personal opposition to legalized recreational marijuana, the federal government should leave decisions about pot up to states and not stand in the way of banks accepting money from businesses that derive revenue from marijuana sales.
Kingston called Warren's bill filed with Colorado Sen. Cory Gardner, a Republican, to protect states' rights with regard to marijuana policy "reasonable."
But with Trump's favorability hovering around 30 percent in Massachusetts, Lindstrom tried to use Diehl's association with the president against him.
"She cannot wait to run against Donald Trump," Lindstrom said, referring to Warren. "So Geoff, with the blind loyalty to Donald Trump, that's what I'm saying. He cannot win against her."
While Diehl initially refrained from going after Lindstrom when she turned the first question of the debate against him, he couldn't help himself when Battenfeld in the last question returned to the topic of electability.
Diehl said his ties to the Trump campaign will give him a "seat at the table" in a Republican-controlled Washington that Massachusetts is currently lacking, and said he's confident that Bay State voters are "pragmatists" who will recognize the good the president has done for the state's economy with his tax plan.
He mentioned the president's proposal to eliminate a tax deduction for state and local taxes as one area where he has disagreed with Trump. But he said he was not surprised to see Lindstrom go negative against him because she "lost the convention overwhelmingly to me," and he bristled at the suggestion that he was an "insider."
"I'm not the one who worked for 30 years for political candidates and ultimately been given six-figure jobs in administrations year after year," Diehl said, accusing Lindstrom of raising fees on plumbers, pipe-fitters and electricians to finance government spending during the Romney administration.
Lindstrom defended the fee increases as necessary to address a budget deficit and cover the cost of delivering services. She said some fees hadn't been adjusted since the 1960s.
"It's doesn't surprise me that you're going after Mitt Romney Back in 2008, while we were trying to elect Mitt Romney, you were voting for Joe Biden," Lindstrom said, referring to the fact the Diehl was a registered Democrat until 2008. Though he has admitted to voting for Biden in the 2008 Democratic primary, he has said he voted for John McCain over Obama.
Diehl and Lindstrom both said they would vote for Trump for a second-term in 2020, while Kingston said it was too early to say.
"In order to win, you need to reach for American solutions. I'm in favor of solutions to the problems of broken Washington. They're not Democratic solutions or Republican solutions," Kingston said.
In response to a question about Supreme Court nominee Brett Kavanaugh and his positions on abortion, Kingston, Diehl and Lindstrom all said that they would not apply any type of litmus test to court nominees.
"We're politicizing the choice of judges in Washington. That's the problem. What we need is to find people who will interpret the law faithfully," Kingston said.
Diehl faulted Warren announcing her opposition to Kavanaugh before even meeting with or hearing from him, and Lindstrom accused Democrats of creating a frenzy around the Supreme Court nominee for political gains.
"I think Elizabeth Warren is creating this hysteria over Roe versus Wade and I don't think it will be overturned," she said.
And on possible repeal of the Affordable Care Act, Lindstrom said she didn't know how she would vote, while Diehl said he backed a full repeal and Kingston, calling for the problems with the law to be fixed, referenced Gov. Charlie Baker warning that a full repeal could hurt Massachusetts.
"In the real world, it's going to be hard to get the whole thing unwound," Kingston said.
Warren has joined with a number of Democrats in Congress calling for the abolition of the Immigration and Customs Enforcement agency, but the Republicans running agreed that would be a mistake.
Pressed on whether any of them thought ICE should be reformed or if they thought sweeping up undocumented immigrants with no criminal record went too far, Diehl said, "There are ways to immigrate to the United States legally that we never seem to talk about."
Kingston said that "any organization can improve," while Lindstrom said managers at ICE should address any "bad actors" within the agency. "Other than that, no," Lindstrom said.
While none of the three would support impeachment of Trump, Diehl echoed the president in calling the investigation into his campaign's ties to Russia a "witch hunt" meant to undermine the White House, while Lindstrom said special prosecutor Robert Mueller's investigation should be allowed to "take its course."
Lindstrom said that Trump's performance in Helsinki opposite Russian President Vladimir Putin "saddened" her, but overall she believes Trump has been harder on Russia with sanctions and other policies than President Obama.
Kingston also said he was glad to see Trump express his support for the American intelligence community's conclusion that Russia meddled in the 2016 election, even if it meant walking back his comments from Finland a day later.
"We have to stay on our toes for those who have been historic adversaries of ours. Russia is not our friend and neither is Putin," said Kingston, who would later admonish Diehl for equating Warren and her politics to the threat posed by Russia.
"I think we have to be careful about the false equivalence of our domestic disagreements with someone like Elizabeth Warren and actually acting as if they're worse than a foreign adversary," Kingston said.
And U.S Rep. Stephen Lynch, a South Boston Democrat, got an endorsement that he might not necessarily have be seeking, lauded by both Kingston and Diehl as someone who voted against the Affordable Care Act and as a Democrat they could work with.
"He's a good congressman and he's working for the people," Kingston said. "Like everyone in the party he's getting dragged left, but he's someone you can do business with."