ACLU: Federal Agencies Collaborated To 'Trap' Immigrants And Arrest Them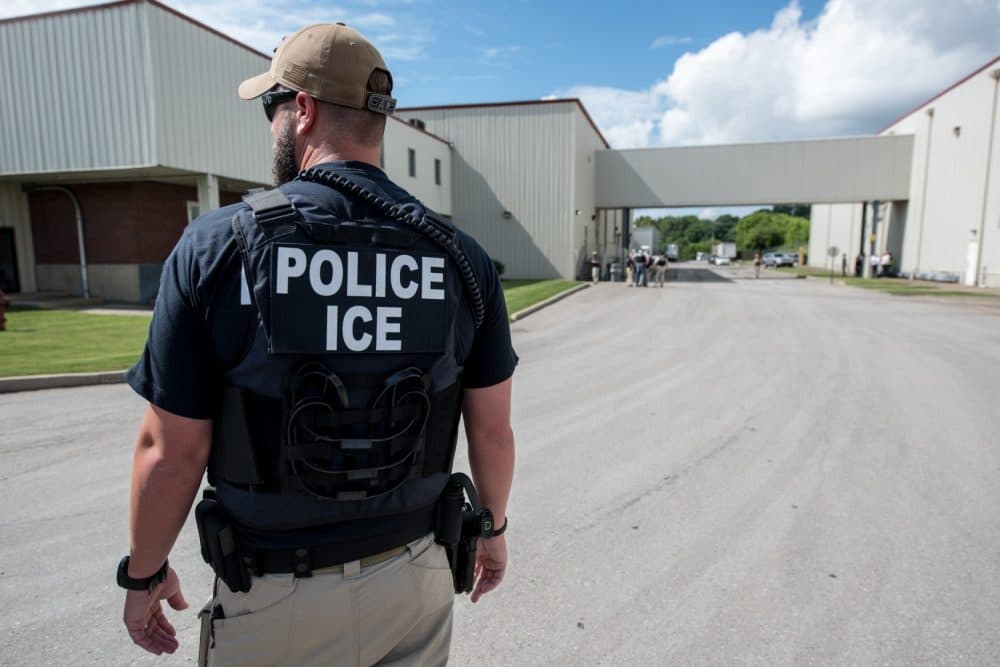 This article is more than 4 years old.
The ACLU of Massachusetts is accusing two federal immigration agencies of coordinating to arrest immigrants married to U.S. citizens when those immigrants show up for interviews to seek legal residency.
The ACLU says it's obtained emails between U.S. Citizenship and Immigration Services (USCIS) in Boston and Immigration and Customs Enforcement (ICE) that show interviews were scheduled when the arrests could be made without public attention.
"In some instances," attorneys for a number of petitioners write in a court filing on Monday, "ICE officers asked CIS to spread out the interviews on different days so that ICE could employ its limited resources to arrest all the people appearing for interviews."
The filing quotes an October 2017 email from ICE's Andrew Graham to an employee with USCIS:
As far as scheduling goes, I would prefer not to do them all at one time as it is [not] only a strain on our ability to transport and process several arrests at once, but it also has the potential to be a trigger for negative media interests, as we have seen in the past. ...
The March 2017 arrest of five people who showed up for scheduled appointments at a USCIS office in Lawrence, first reported by WBUR, triggered broad interest.
ACLU attorney Adriana Lafaille says the collaboration violates a regulation that allows the married non-citizens to follow a process to obtain legal status.
"The interview process itself had been converted into a trap rather than a legitimate step in the adjudication," she told WBUR.
Officials from ICE and USCIS initially said they would not comment on ongoing litigation.
On Tuesday afternoon, however, John Mohan, an ICE spokesperson, said in a statement that "[a]llegations of any inappropriate coordination between U.S. Immigration and Customs Enforcement and U.S. Citizenship and Immigration Services are unfounded."
He added that "this routine coordination ... not unlike the cooperative efforts we maintain with many other federal partners, is lawful and legitimate in the work we do to uphold our nation's immigration laws...."
The filing is part of a class-action lawsuit on behalf of five immigrants and their U.S. citizen spouses. There's a court hearing on Monday, as the federal government seeks to dismiss the lawsuit.
With reporting from WBUR's Newscast Unit
This article was originally published on August 14, 2018.