Bob Massie: Baker Gets An 'F' On Climate Change
Play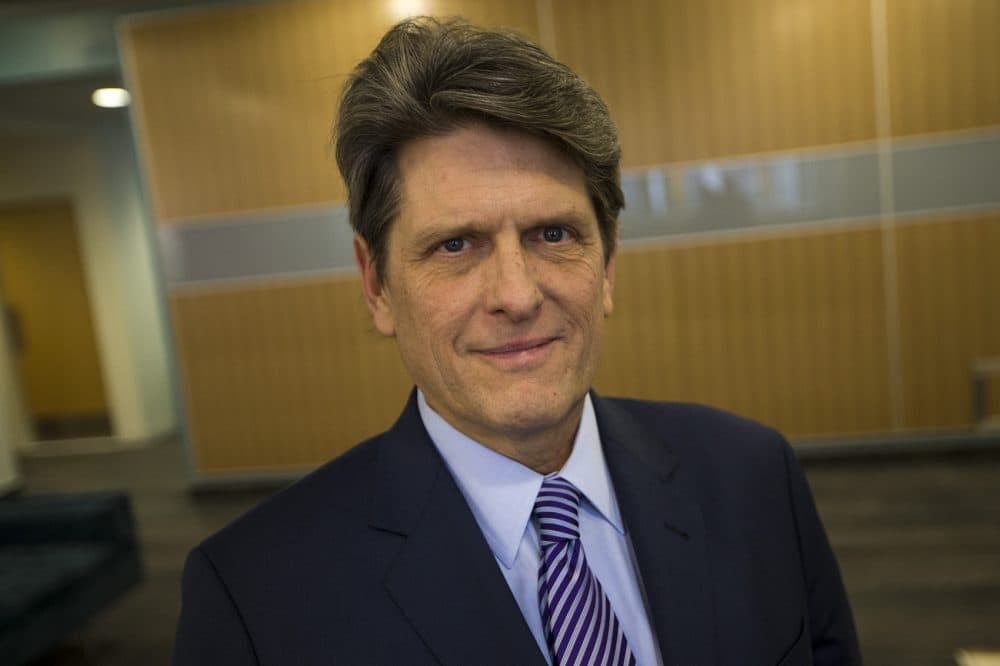 This article is more than 4 years old.
It's less than three weeks until the Massachusetts primaries, with two Democrats facing off in the governor's race.
Morning Edition spoke with Jay Gonzalez, a former Cabinet official in the Patrick administration, and today it's environmentalist Bob Massie.
Interview Highlights:
Massie: It is reckless to simply assume that we can slide into the future without making investments to create future prosperity. Do you really want to stick with the same T? The same commuters? The same rip-offs from our fossil fuel utilities? Is that where we want to keep going over the next 10 years? In addition, it'll make us less competitive as a state. I mean already there are businesses looking at coming to Massachusetts and saying, "Your transportation is so crappy we don't think we want to put our employees there."
Oakes: Transportation. You want to build statewide high speed electrified rail. Give us a thumbnail sketch of this system.
We're 30 years behind. We have zero high speed rail. What I'm calling for is a statewide 10-year transportation plan that's integrated. We absolutely have to fix the T — that's a scandal. But there's other scandals around and we can fix them together if we start step by step. First thing I would do was increase the speeds between our immediate neighbors so that instead of taking 90 minutes to go 45 miles from Worcester to Somerville or Boston, we increase that speed so that we can get in 45 minutes.
Health care currently consumes more than 40 percent of the state budget. Give me one concrete example of how Governor Massie would lower that?
I'm not sure I would lower it. One of the things I want to do is remove the expenses that many small businesses have to pay. Businesses are going way out of their way to avoid those [health care] expenses and that's why we see people being pushed into being subcontractors without benefits, then they have to come onto MassHealth. So I want to go to the Greater Boston Chamber of Commerce and others and say, "This would be to your advantage. Yes, the amount the government may pay would go up but the amount you will pay go will go down. Yes, you may pay somewhat more in taxes but you will eliminate all these other painful, large expenses."
You've talked about your own health struggles, and said it gives you perspective on why having a single-payer health system is the way to go. But initiatives for that have been defeated in several places: Colorado, California, Vermont. What makes you think Massachusetts voters would go along?
Having been in more than 300 communities I can tell you that our system today is not working for people. We have a system that covers everybody over 65 and if you're less than 65, we say it's impossible. We're going to go off the cliff. Many people are unhappy and I believe we are reaching that point when we're ready to do the right thing and catch up again with others around the world who already have put this in place.
Governor Baker recently signed a bill dedicating $1.5 billion to climate preparedness projects, and in 2016 he created a climate change commission. What grade would you give Governor Baker when it comes to climate change policy? And what would you do to change or add to it?
I would give him an F. This is the largest problem that has hit human civilization. He has been in the pocket of the fossil fuel industry and at that very moment when we could be benefiting and tackling these new technologies, he's refused to do that in an election year. He suddenly decides that he's going to come up with a few hundred million to help people study the problem and do something about it later. We need to move rapidly away from the fossil fuel that's making this worse. We need to make sure that people understand the consequences of what's happening and we need to make sure that everything we do has an element of justice in it.
In the primary, you're going up against Jay Gonzalez. Tell potential voters why you're the better Democrat for the nomination.
I think it's time for someone who has led on the outside. I'm not an insider. I'm not someone who knows Beacon Hill. I believe that right now we have a number of deep problems and tremendous opportunities. It's going to require someone with vision, someone with experience creating systemic change.
You used to be an episcopal priest. How did that experience shape your political views?
As a person of faith, I believe that we are called to balance the demand for justice, the need for justice with an understanding of mercy, with an understand that people are flawed. So you need to be a listener but also someone who's willing to speak. You need someone who is compassionate but also who is tough when you need to make change. I've done that all over the world and I believe it's time for exactly that kind of process here in Massachusetts.
This segment aired on August 16, 2018.