MGM Springfield Casino Bets On Big Performers Like Stevie Wonder To Entice Visitors
Play
This article is more than 4 years old.
For the first time ever, the influential and iconic Stevie Wonder will play Springfield, Massachusetts.
The Sept. 1 concert is the beginning of a new kind of entertainment in the city, according to MGM Springfield. The casino opens Aug. 24, and is bringing the legendary musician to town to perform at the MassMutual Center.
While music fans have long been coming to Springfield for jazz, blues and classical concerts, and hip-hop and rock fans regularly find great bands on stages around town, it's been decades since the city was a destination for anyone so big.
Music writer David Sokol saw Bruce Springsteen at the MassMutual Center in 1976 when it was called the Springfield Civic Center.
"[Springsteen] played there early on in his career, the year after Born to Run came out," Sokol said.
As music critic for The Advocate newspapers for 15 years starting in the mid 1970s, Sokol saw hundreds of concerts throughout the Pioneer Valley.
It was the glory days of Springfield's rock scene, he said, and tickets for groups like The Eagles were $5.
So many big names came through, like David Bowie, Santana and Aerosmith. Sokol saw them all.

In the 1980s, major hip-hop tours began making the Springfield Civic Center a stop on their tours.
DJ Mars, otherwise known as Marshall Thomas, was growing up then in Springfield. He said he didn't miss a beat, and saw the Beastie Boys, LL Cool J, Run-DMC and Houdini.
"You didn't need the Boston Garden for the tour to make money," Thomas said, because tours were a lot less expensive back then.
Thomas has played casinos in Atlantic City, Las Vegas and Connecticut. The Stevie Wonder concert is terrific for Springfield residents, he thinks. Now they can now see MGM's big acts, without driving too far, and that includes his own mother, he added.
But Marshall said MGM would do right by Springfield's diverse mix of residents if they can book performers who appeal to everyone's taste.
"There's a certain flavor that we're used to in Springfield, whether you're listening to traditional hip-hop or R&B, listening to Caribbean music, there's a huge Caribbean contingency in the city or Latin music," Marshall said.
When MGM Springfield first announced its entertainment plans, other venues in the region raised the issue of competition.
That's not an issue for Jim Olsen, who runs Signature Sounds and books events like the Green River Festival, as well as bands at The Academy of Music in Northampton, the Shea Theater in Turners Falls and Gateway City Arts in Holyoke.
There's a hunger for live music in the region, Olsen said.
"Certainly in the upper valley, there is such a proliferation of music — and mind you, it's not the big names. There isn't a place to put a band in an arena here," he said.
As for Stevie Wonder's appearance in Springfield, Olsen said there aren't too many figures in American music, or even in the world, who can top him. But up until now, he said, other casinos in the region booking big acts have done so to the detriment of cities like Springfield.
"The other casinos — Foxwoods and even Mohegan Sun — have siphoned off a lot of talent," Olsen said. "They both have arenas of their own, and they're booking things all the time. And because they are active casinos, they can make more attractive offers."
MGM must have paid absolutely top-dollar for Stevie Wonder, Olsen mused. He doubts they're going to make any money on it.
Both things are true, and worth it, said Talia Spera, executive director of entertainment for MGM Springfield.
"That's just kind of MGM's style," Spera said. "We go big or go home."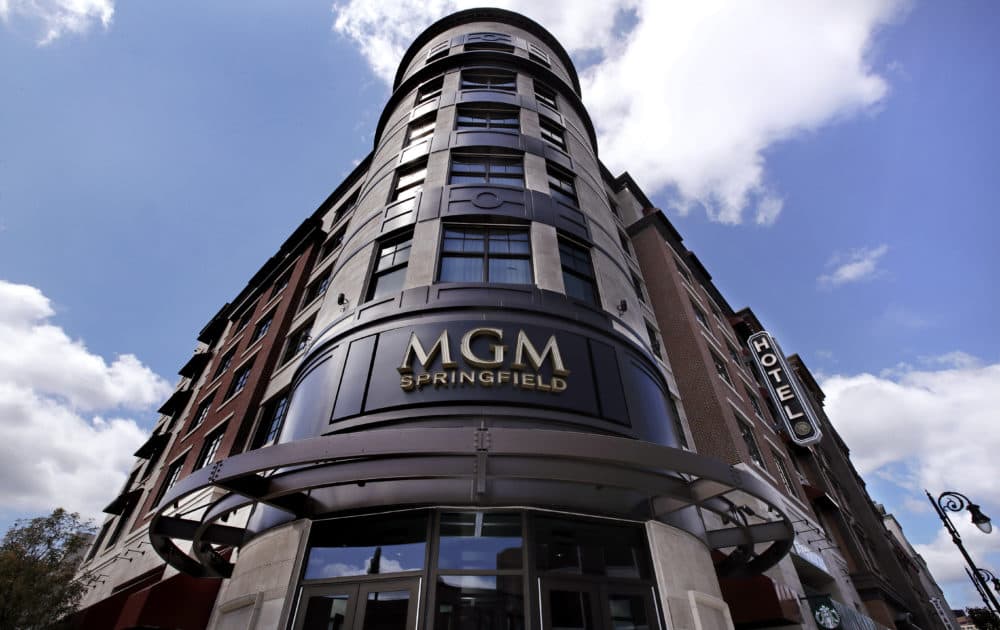 Stevie Wonder is playing exclusively at MGM casinos this 2018 tour: Las Vegas first, then Maryland, then western Massachusetts.
Spera won't disclose how much the company is spending to bring the Stevie Wonder to town. But she said MGM Springfield can afford to lose in the range of $100,000, for now. That will happen even if the show sells out, she said.
The financial loss is factored into the casino's marketing plan.
"We are known as sort of 'the entertainment company,'" Spera said. "We want to make our stamp that MGM Springfield is here, and we're going to be the entertainment hub of western New England."
That's a tall order with big arenas so close by in Hartford and Worcester, and at Foxwoods and Mohegan Sun, where U2 performed in July.
Spera said she keeps all of this in mind.
"Yes, all the other venues within a 100 mile radius are on the radar, partnership or competitor capacity," she said.
That radius, give or take a few miles, is not random. It's contractual. Many venues in the live music industry have musicians agree to a "non-compete" clause, which states that within a certain time frame they can't play at other nearby locations.
MGM is betting if people don't want to come to Springfield to gamble, they'll come for the shows, and maybe check out the casino resort across the way. Whether that means extra customers for other Springfield businesses is still an unknown.
Spera has lined up comedy nights and music shows through 2018, but none on par with Stevie Wonder. She promised more big performers are coming, but wouldn't name them.
But it won't be Janet Jackson anytime soon: She's on stage at Mohegan Sun at the end of September.
---
This story was originally published by New England Public Radio.
Disclosure: MGM has purchased underwriting from New England Public Radio publicizing the company's non-gambling activities. The NEPR newsroom operates independently of the station's development department, and editorial decisions are made without regard to any funding relationships.
This article was originally published on August 22, 2018.
This segment aired on August 22, 2018.