GOP Senate Candidate Lindstrom: It's About Warren Running In 2020 And Leaving Us Behind
Play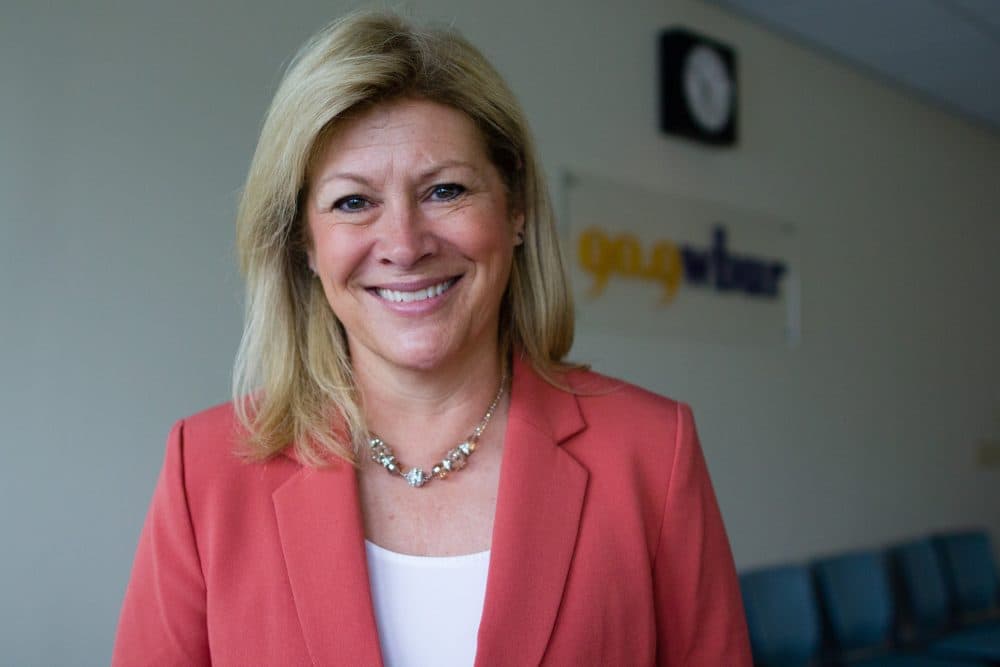 This article is more than 4 years old.
Republican U.S. Senate candidate Beth Lindstrom wants to take on incumbent Elizabeth Warren in the general election, but first she has to win a three-way primary race.
The former Romney administration official says that in spite of the recent convictions of two former Trump confidantes, it's still too early to talk about impeachment hearings for the president.
Listen to an extended interview with Lindstrom, or read interview highlights below:
The following highlights have been lightly edited.
Bob Oakes: While you don't agree with Trump on everything, you've said you'd vote for him in 2020. Do you still feel that way today after the guilty plea from former Trump attorney Michael Cohen and the conviction of former Trump campaign chair Paul Manafort?
Beth Lindstrom: I think there's two issues there and with Manafort and Cohen, I think they should go to jail. They're convicted felons. But with regard to voting for Donald Trump, I believe Elizabeth Warren is going to be the nominee [for the Democratic Party]. Between the two of them, I would vote for Donald Trump because I disagree with many of Elizabeth Warren's policies.
Let's talk about some issues you might have to deal with as senator. Without question, we're increasingly going to hear the word "impeachment" in the coming weeks and months. Based on what we know today, is there enough for a Sen. Lindstrom to move forward to press for impeachment hearings? I'm not saying vote for impeachment, I'm saying, press for hearings.
Let the legal process play out. Let Mueller do his job and let's see what happens down the road. Impeachment is a very divisive process and there needs to be a lot of evidence. I don't think there's enough evidence against the president today.
If the president fires special counsel Robert Mueller or pardons Michael Cohen or Manafort, would that change your mind about impeachment?
I don't think he should take any of those actions. I think the process needs to play out.
You approve of the GOP tax cuts, which skew toward the rich. But what about the deficit caused by these cuts? Treasury Department data shows the budget deficit spiked sharply to $77 billion in July. There's a 21 percent deficit increase in 2018 compared to the same period in 2017. There's been a steep drop in corporate tax payments directly reflecting the GOP tax cuts from earlier this year. Is that fiscally strong government?
The president is trying to stimulate the economy and it is working. I'm a small business owner. I've been involved in four startup companies. I see it in my small business. I see people coming in. Our sales are increasing because people have more money in their pockets. So while I don't want to see the deficit grow I think that we need to acknowledge that that actually good things are happening. Government doesn't create jobs. People do. And to be able to create jobs you need to be able to have money to be able to plant or be able to borrow money to grow your business and to hire people.
But Trump administration spending on the budget has really driven the budget deficit up. So at what point in your career would Sen. Lindstrom say 'it's time to return to traditional Republican values and create more of a balance, so we start chopping away at the debt'?
I think day one we have to stop spending. We need to look at what we need to have and then what's nice to have. And I'll tell you every business that I've been involved in, I've had a business plan or something that lays out what you want to accomplish. Wouldn't that be nice if we could go back to zero-based budgeting and say here's what we want to do and here's how we're going to fund it?
What sets you apart from your GOP primary competition in the big picture sort of way?
I show up to debates. This has been a problem with my two opponents. The big difference between Geoff Diehl and myself is that he's a career politician. You look at Geoff, who was against the pay raise and then when no one was looking, he took it. That sours people on politicians. We don't need to send another politician to D.C.
With John Kingston, his problem is that he funded a third-party candidate in Utah when his nominee didn't win the presidential primary. Now he's trying to run as the pro-Trump candidate and he's just not credible. The biggest difference is my background. I'm a mom. I'm a small business owner. I have a different perspective than these two gentlemen in this race.
If you had to pick one single issue on which you believe Sen. Warren has most failed Massachusetts, what would it be?
It would be on tax reform. She said that these tax cuts were going to be horrible and that people were going to die. That's pretty extreme. She said if the Democrats get control of the Congress, that she would put a lot of the taxes back in and she said she'd want to raise that top rate. I think that's pretty drastic.
Tell me how you think you're going to beat Sen. Warren in November.
I ran Scott Brown's first race and I remember when there was four of us out there. The motive for people going out to vote then was about the Affordable Care Act. This time around, it is about Elizabeth Warren herself. It is about her running for president and leaving us behind. I don't just talk to Republicans. There's only 11 percent of them anyway. I talk to unenrolled [voters], I talk to independents, and I talk to Democrats. [Warren] knows she has problems. That's why she's come back to do these town halls. I think there's an opportunity and when we get there and we can take gender off the table and have debates about issues, I think people will know they have a choice.
This article was originally published on August 23, 2018.
This segment aired on August 23, 2018.