Warren Is Too Divisive, Says GOP Senate Candidate And Trump Supporter Diehl
Play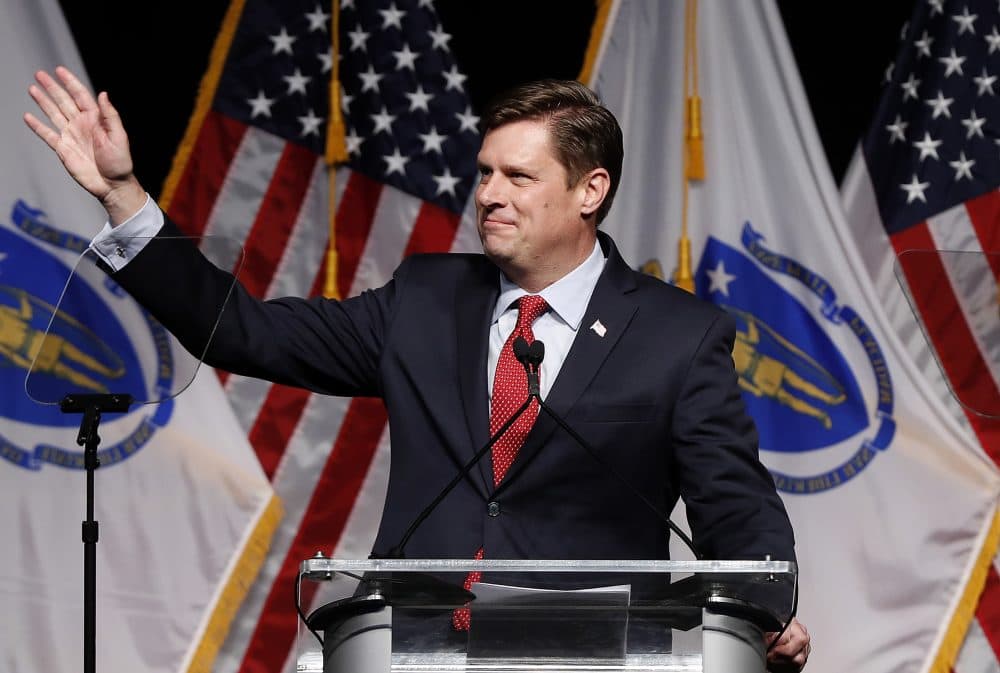 This article is more than 4 years old.
We continue our conversations with the Republicans running for the U.S. Senate and hoping to challenge Sen. Elizabeth Warren in the November election.
State Rep. Geoff Diehl of Whitman, who ran Donald Trump's presidential campaign in Massachusetts in 2016, joins us.
Interview Highlights:
The following highlights have been lightly edited.
Bob Oakes: What would Sen. Diehl do in order to get Congress to agree on immigration reform? It's been on the table for years. 
Congress has been so divided and I think Elizabeth Warren is one of those very dividing voices down there that people have dug in on both sides as to where they're going to be. It seems that Democrats refuse to discuss a wall. It seems that Republicans have their own feeling about DACA. Both sides need to move a little bit on their positions.
You've attacked Warren on her call to abolish Immigration and Customs Enforcement. What should the role of ICE be here in Massachusetts?
We've seen success with the Immigration and Customs Enforcement officers. For example, about six months ago, 61 members of the MS-13 gang were prosecuted. And that's really the goal here is for them to find those here illegally that are committing egregious crimes that need to be prosecuted and deported.
President Trump has called to cut down on family-based immigration. Refugee admissions are at an all-time low in the U.S. right now and he wants to end the lottery system. What's your stance on how many immigrants the U.S. should legally accept every year?

The discussion about how many [immigrants] come into the United States should be handled by Congress. But Congress continues to fumble the ball. I actually filed legislation on Beacon Hill that would try to speed up immigration by going back to a system we used over 100 years ago. People who came to the United States in Massachusetts had up to two years to declare they wanted to be a citizen. They could go to a district court and within a three-year period, if the judge found they met the criteria, he would swear them in on the spot.
The White House tariffs on China, Mexico and on some of our allies — a new survey out this week shows over 90 percent of U.S. business economists believe that long term the tariffs will hurt the U.S. economy. What's your take on the tariffs?

I think the White House would agree with that. Nobody wants to have long-term tariffs. Right now our GDP is at a record growth level, 4.1 percent. Some people are saying we could potentially get to 5 percent. This is the time when American industry is now, you know, coming back, that we should use that power as leverage with foreign countries that have been undercutting our labor force for a long time.
The deficit has ballooned in the time that Trump has been in office because of unchecked spending by Congress and by proposals from the president himself. Do you have a problem with any of that?

As our economy grows, hopefully we do dedicate more towards reducing the debt and trade deficits.
My history on Beacon Hill has been trying to be more accountable with the dollars that are given to government. With the gas tax ballot question in 2014, where we were able to repeal and indexing of the gas tax, I made sure that I proved to the people of Massachusetts that 50 percent of the gas tax that was going to fund the T was being used in an organization that had $6 billion of deferred maintenance. We could have been more efficient before we went to taxpayers to ask for more money.
But does that mean you're willing to buck Trump and some of his spending?

Absolutely. I've been on Beacon Hill for eight years. When I go to Washington, I'm going to make sure that the people of Massachusetts have a voice that's working for them and has a seat at the table with the president and with Congress right now. Clearly, Senator Warren seems to be making a case for running for 2020 as the presidential candidate. That really doesn't help Massachusetts in any way right now.
Make the case why you are the best candidate of the of the three [Republican primary candidates].

I think the case was made at our convention about six months ago [when] I won overwhelmingly. I'm the only candidate in the race who's actually been elected four times in Massachusetts. I'm also the only candidate who has a record of putting money back in people's pockets by reducing taxes. I certainly look forward to continuing to be that strong voice that has learned how to work with constituents to build coalitions to get things done.
This segment aired on August 24, 2018.