GOP Senate Candidate John Kingston: To Fix Washington Gridlock, Warren Must Go
Play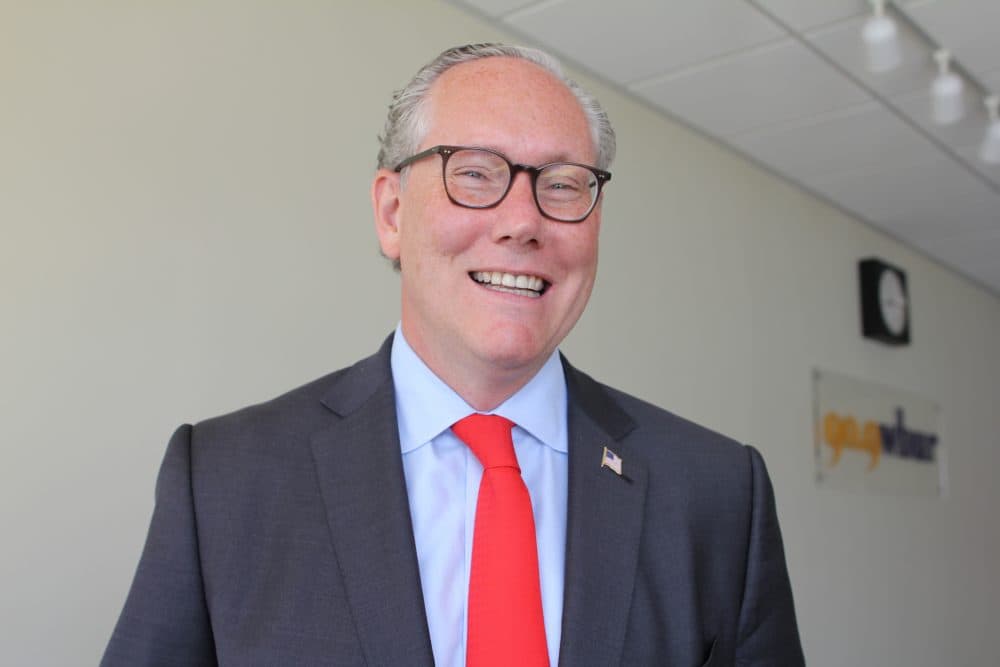 This article is more than 4 years old.
U.S. Senate candidate John Kingston wants to fight party gridlock and Washington's "broken" political culture on behalf of the people of Massachusetts.
But the Boston-based attorney, investor and self-described "independent-minded" Republican is still just one of three GOP candidates vying for a shot to take on Elizabeth Warren in the general election this fall.
Kingston calls Warren the most divisive office-holder in the country, and says she's all talk when it comes to real political reform.
Read some of the highlights of the interview below. Or you can listen to the extended interview.
The following highlights have been lightly edited.
Bob Oakes: You once renounced your Republican Party membership in protest over Donald Trump's 2016 bid for the presidency and poured $1 million into an attempt to fund a third party candidate to challenge him. But you've since changed your tune. How do you explain the switch?
John Kingston: I just thought that there was a better solution for Americans than Hillary Clinton and President Trump. And that was the position I was taking in 2016. But you know, as soon as he became president, he is the president. And when the administration does good things, I'm supportive of it. I think the generals, the defense, justices, regulatory rollback, tax relief; I think those are good things and consistent with the American values that I'm in favor of.
How are you feeling about President Trump now in light of the convictions of the former Trump confidant Paul Manafort and Michael Cohen?
I'm glad that Manafort and Cohen were caught and convicted. What effect it has on the presidency remains to be seen.
I'm wondering then, how you feel about the reports that the president is considering pardoning Manafort and possibly firing Attorney General Jeff Sessions and maybe the special counsel Robert Mueller. How do you feel about that — and would you advise him against it?
I stand with the very strong voices in Washington who say that those are bad ideas. You know the Mueller investigation should be able to run its course. We need the truth. We deserve the truth as Americans.
Unlike your two primary opponents who say that they would vote for Donald Trump in 2020 you've been noncommittal. Are you still undecided about that?
I am still waiting for a lot more to happen. It's very early innings as far as I'm concerned. I know what I'm focusing on, which is beating Elizabeth Warren … I'm in this race to stand against that form of extremism from the left and provide the voters in Massachusetts with a good choice. They want people that can reach across the divides. Show independence of mind and character, and bring people together. They should be looking at me.
You've called for term limits as a way to reform the Washington political culture.
Two terms and I am out of there…we need to bring people to Washington that are cycling through with good ideas, not just getting themselves positioned for the next election. But that doesn't go far enough. Fixing broken Washington requires additional measures like no budget, no work, no pay. I propose that if people don't do their jobs they don't get paid, just like you and I wouldn't get paid if we didn't do our jobs. And I'm all for bringing people together across divides: Create a problem solvers caucus with people from the Democratic Party and people from the Republican Party — sensible-minded people who could really change the balance of power in Washington.
Correction: An earlier version of this story used an incorrect first name for former Trump attorney Michael Cohen. We regret the error.
This article was originally published on August 27, 2018.
This segment aired on August 27, 2018.