Kara Elliott-Ortega Named Boston's New Chief Of Arts And Culture
This article is more than 4 years old.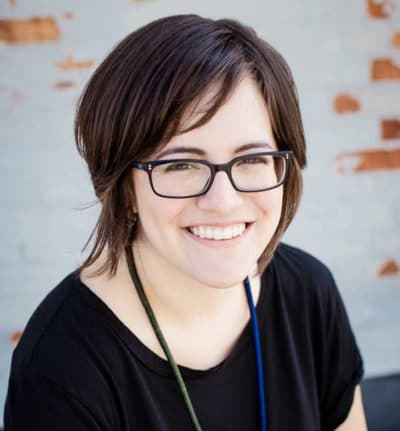 Boston has a new arts czar. Kara Elliott-Ortega has been named the chief of arts and culture for the city of Boston by Mayor Marty Walsh. She has been serving as interim chief since the departure of Julie Burros on June 29.
Prior to serving as interim chief, Elliott-Ortega acted as the director of planning and policy in the city's arts cabinet for three years. She played a key role in developing Boston Creates, the city's first major cultural plan. As chief, Elliott-Ortega will oversee the staff of the Mayor's Office of Arts and Culture, the Boston Art Commission, Boston Cultural Council and the Strand Theatre.
She's also tasked with implementing the action items of Boston Creates, which calls for a rolling grant program for artists and an allocation of 1 percent of the city's total borrowing for public art, called the Percent for Art Program. A city statement said she will also work to "increase diversity and inclusion in the arts" and secure funding for Boston's arts community.
In a phone interview, Elliott-Ortega said her vision for the future of Boston Creates is based on three main priorities: Racial and cultural equity, supporting the creative economy, and finding creative ways to increase access to space for cultural organizations and artists.
"There are so many big institutions and small institutions who are trying to think through what it means to apply an equity lens to their work and to diversify their audiences. And I think we can play a big role there," she said.
Elliott-Ortega said her office is working on ensuring the city's process for applying for arts grants is more inclusive, by translating applications and marketing material to different languages, offering technical workshops around the city to applicants who may not have advanced computer skills, and asking cultural organizations applying for grants how they address diversity and equity issues within their organizations.
The city's arts and culture department will be working more closely with the office of economic development to find ways to boost the creative economy, Elliott-Ortega added. "A lot of times people think the arts are just nonprofits or maybe arts education and we know from doing a lot of grants for individual artists over the last year and a half, there's a whole spectrum of art and creative work and cultural work that's happening across the city. So we want to know, how can we support proprietors, artists collectives and even creative for profit [companies]." Elliott-Ortega said her office is working on a joint study with the city's office of workforce development on a study that explores the pathways for creative industries and how the city can support them.
As a planner by training, Elliott-Ortega said she's especially interested in finding ways to increase accessible rehearsal and performance space for cultural organizations. A recent study confirmed what many arts groups had been saying for years: That Boston lacks usable, affordable space for artists to create work. "We know that there's a huge need for affordable live/work spaces for artists, affordable makers' spaces,  industrial space where people can be loud" she said. "We're really trying to understand what the opportunities are and where we can advocate for those spaces."
Boston Creates, a major milestone for the city which launched in the summer of 2016, seeks to weave arts and culture into public life and city government. The plan includes initiatives to improve access to artist housing, an artist resource desk at city hall, an artist residency program and an alternative space pilot program that pairs underutilized private spaces with arts organizations.
Elliott-Ortega takes the position at a time when some arts advocates have said they will nudge the city more intently to create a steady revenue source for the arts. When Burros left the post, Matt Wilson — the executive director of the arts advocacy organization MASSCreative — had said it was time for the city to take Boston Creates to the next level by finding creative ways to better fund the more ambitious parts of the plan.
Elliott-Ortega's predecessor, Julie Burros, had said Walsh would explore revenue sources in his second term, but when asked about it in her last interview with WBUR, she said the mayor was focused on the Percent for Art Program.
Elliott-Ortega has been hailed by arts leaders as a city planner with the know-how to move the plan into the future. "In Kara Elliott-Ortega, Mayor Walsh has made a great choice for Boston's Arts + Culture Chief. She has both the vision and the on-the-ground experience to engage with the cultural community and navigate the pathways of City Hall," said Catherine Peterson, executive director of ArtsBoston, in a statement released by the city.
"Kara is a great ally of Boston's Latin Quarter as she has provided guidance and support at every stage in the development of this cultural district," said Celina Miranda, executive director of the Hyde Square Task Force, in the city's statement. "Her keen awareness of the intersection of arts, culture and community make her uniquely qualified to be the Chief of Arts and Culture."
Elliott-Ortega starts the new job immediately.