What's Waiting For Deported Salvadorans Inside 'La Chacra'
Play
This article is more than 4 years old.
More than 6,000 Salvadorans living in Massachusetts with temporary immigration status face potential deportation next year, when the humanitarian program allowing them to live in the U.S. expires.
We recently visited the government center in San Salvador where many recently deported Salvadorans re-enter the country — a country some of them haven't called home in years.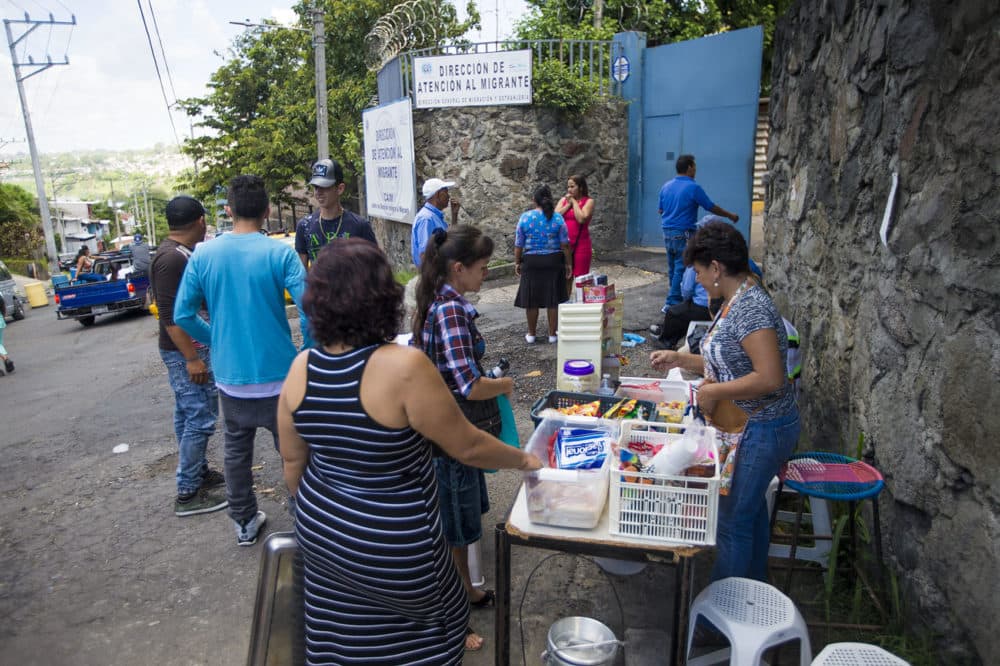 Family members start arriving around noon, walking up to the blue steel gate and explaining to the guard that they're here to meet their son or daughter, their brother or sister.
This is "La Chacra," which translates roughly to "the farm" or "the grange." It's the government-run center in San Salvador where people deported from U.S. federal immigration detention are processed back into El Salvador. Up to three flights from the U.S. arrive in San Salvador each week, with as many as 135 people on each flight. They will all file through this center.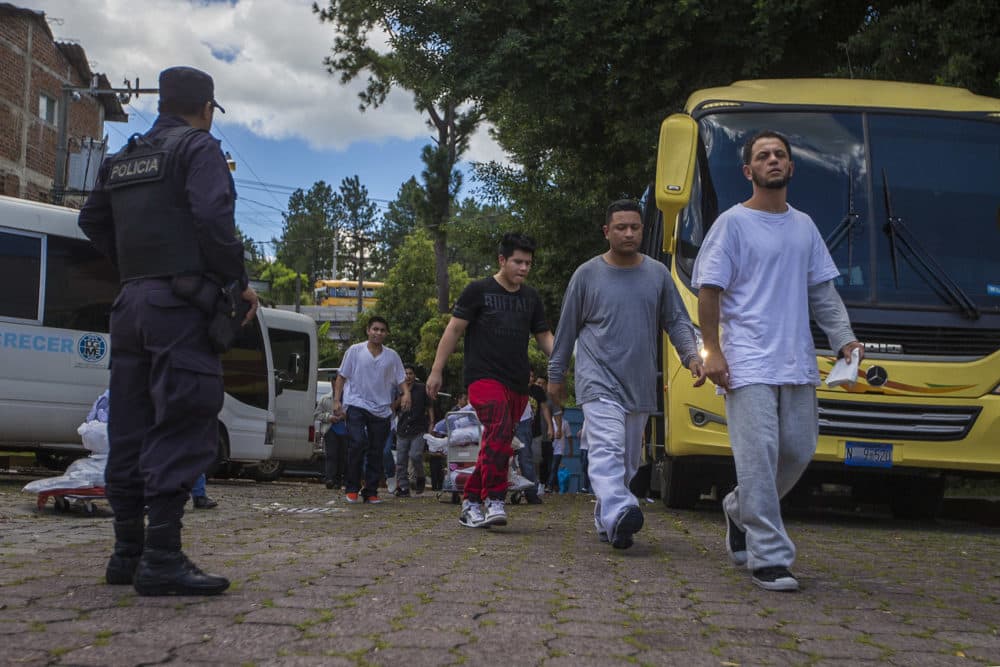 The day we visit, there are 50 deportees arriving — most of them men between the ages of 20 and 30. During the flight from the U.S., they've been shackled at the hands, waist and feet. They're unshackled when they land in El Salvador, and taken by bus to La Chacra.
They file off the buses one-by-one and head inside the bright yellow building and down a narrow hallway where there are a few sinks. Some of the men wash their hands and their faces. They're ushered into a large waiting room that smells of soap and they're seated in bright orange plastic chairs.
A government official stands up in front of the group and speaks into a microphone: "Good afternoon, and welcome from the government of El Salvador. "
Everyone is assigned a number, like you'd get at the DMV or the deli, and waits their turn for an interview with an immigration agent.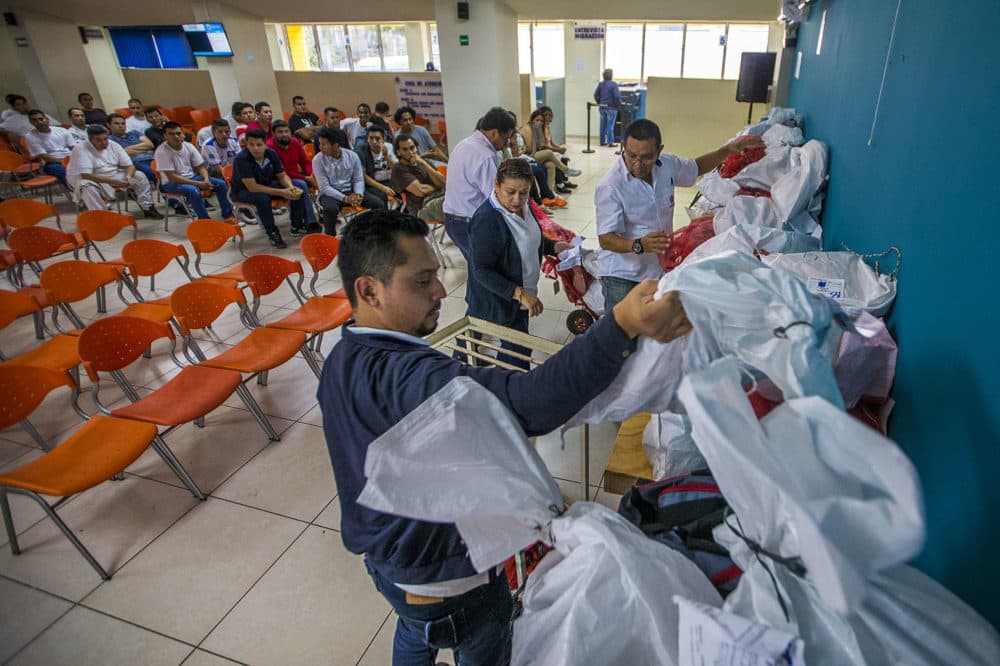 The names of the recently arrived deportees are shouted out loud while they wait for their intake interview. They raise their hand and they're given a bag full of the items they had when they were detained by U.S. Immigration and Customs Enforcement (ICE) in the U.S. Some of them receive paper bags; some of them have mesh bags holding flip flops, toilet paper and deodorant. Many of the young men stand up and put on their belts, which would have been taken away from them while in ICE detention.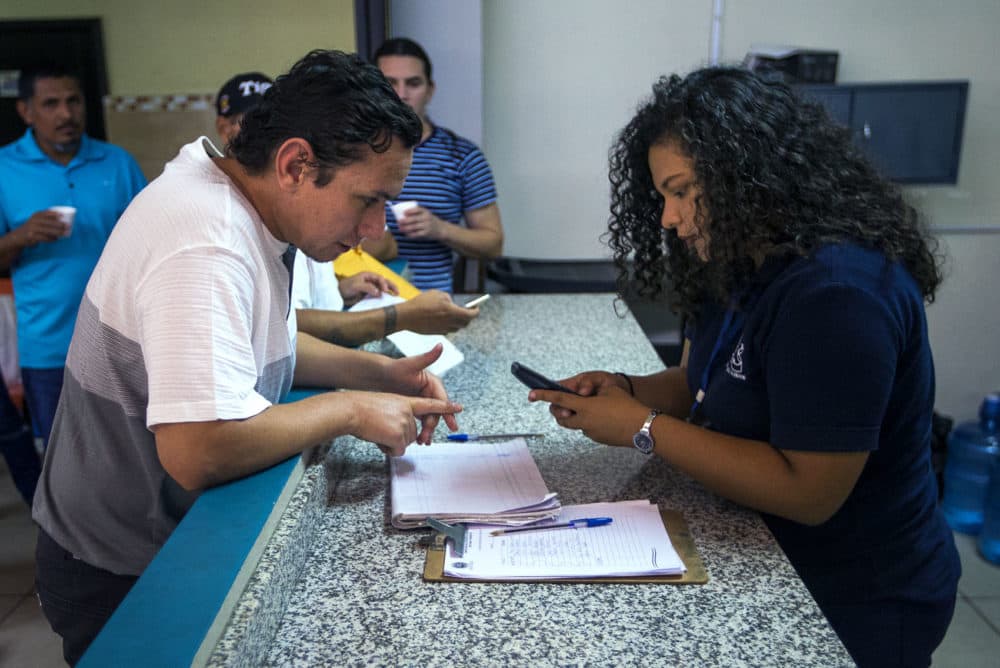 In the back corner of the waiting room there's a counter with a few cell phones available for people to call their family or anyone who might be able pick them up. One young man, Jose Fuentes, is on the phone with his uncle, telling him that he's back in El Salvador. Fuentes pauses to ask an employee standing at the counter exactly where he's standing: "Where am I? What's this place called?" He relays the address to his uncle.
Fuentes, 20, is back in El Salvador for the first time in six years after being deported from Las Vegas. He says everything feels strange here. He left when he was 14 years old because it's dangerous, he says, and he was being pressured to join a gang.
The family waiting room is in a separate building behind tinted glass. We walk by and see a young man waiting outside wearing a blue and white El Salvador soccer jersey. He says he was living in Boston before he was deported.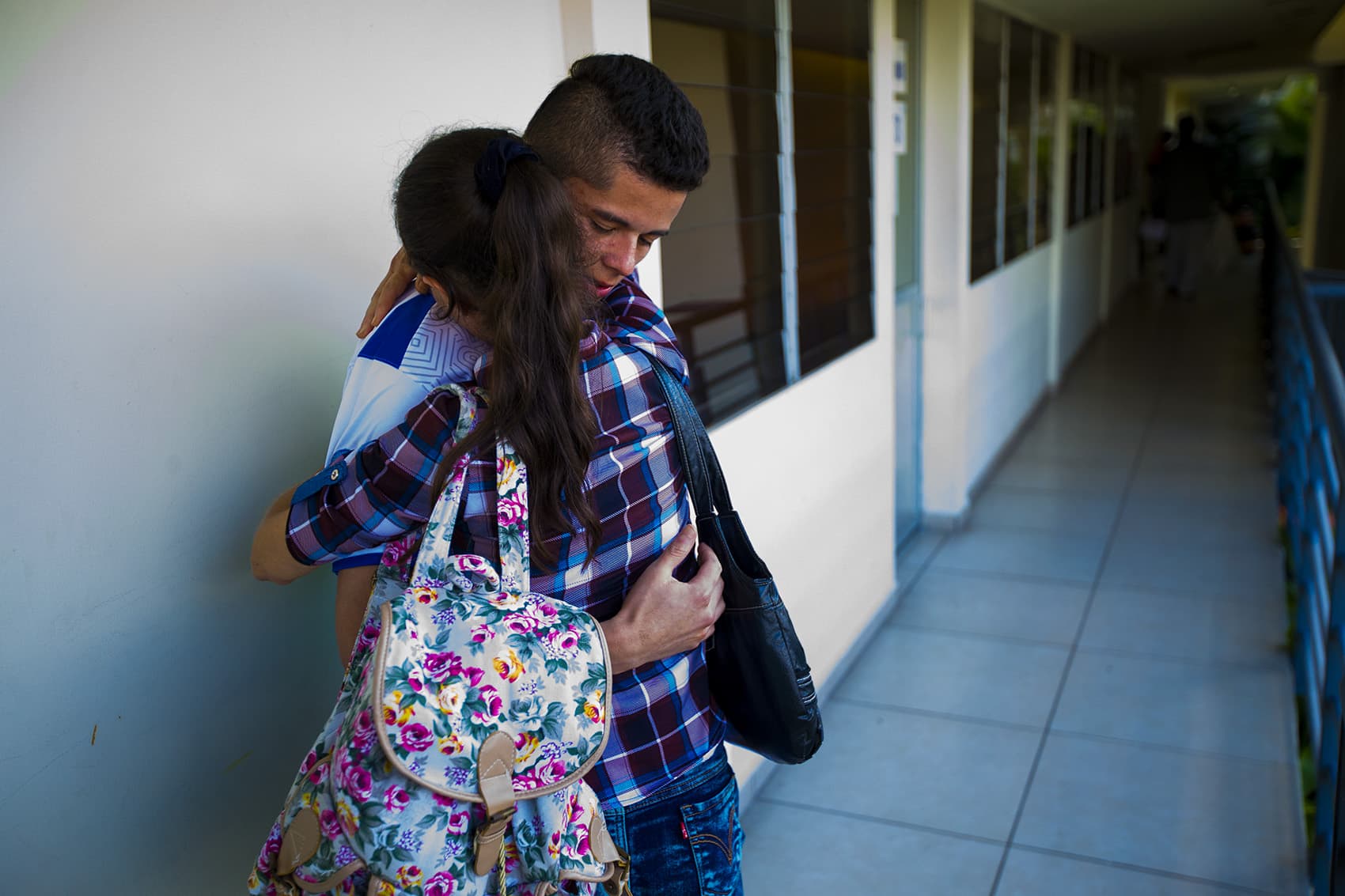 His mother steps out of the waiting room and they share a hug. The 21-year-old places his hand on his mother's back while she cries with her head buried in his shoulder. They walk out through the blue steel gate together and start the four hour drive back home.
This segment aired on August 30, 2018.