The A.R.T. Brings Langston Hughes To Life In 'The Black Clown'
"Determined to laugh," writes Langston Hughes grimly in his 1931 poem "The Black Clown." And in another section, "No place to go. Black in a white world."
If "Black in a white world" sounds like a lament, it is. It's also a declaration of self, an ancestral celebration. It's a call to defiance, and a remembrance of troubles. The black clown entertains — he remembers. And he goes on to shed his costume and assert his humanity.
Hughes' work is composed in two parts, Mood, and Poem, and they create a powerful sense of what life in America feels like from inside the black experience. "The Black Clown" also offers possibilities for the stage, and for years those possibilities have engaged the imagination of bass/baritone Davóne Tines.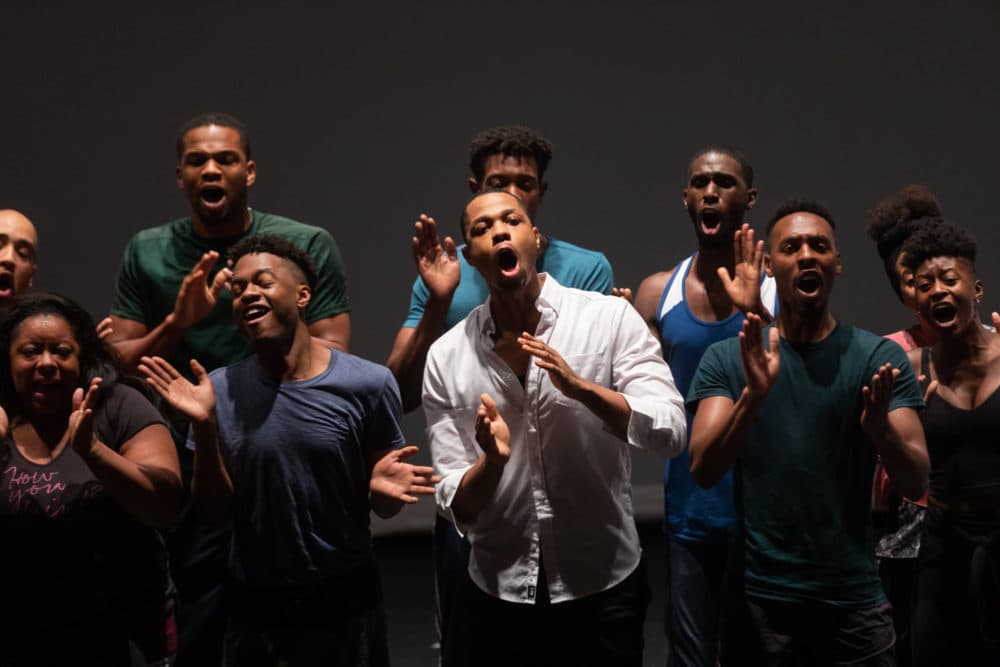 Tines, along with composer Michael Schachter, transformed Hughes' dramatic monologue first into a song cycle, then an oratorio, and eventually into a staged musical presentation opening the American Repertory Theater's season this week. The world-premiere production is directed by Zack Winokur, and choreographed by Chanel DaSilva. Tines sings the lead role, backed by a chorus of 12 and a chamber orchestra in support.
"The hard thing in viewing art is that it tends to exist in elite spaces, where a predominantly white audience might be," DaSilva says. "When I think — 'Why do we do our art?' — we do it so we can move forward. Let questions arise. Let people feel uncomfortable. That audience, unbeknownst to them, they will be transformed."
Hughes' "The Black Clown" does confront — but it also emboldens, and reflects. Its two parallel sections — "Mood," which almost serves as stage directions, giving poetic indications about action, music, movement, and "Poem," a personal narrative that sets the black clown in both historic and contemporary contexts — are equal parts loving and defiant.
"The point of the show is the point of the poem," Winokur says. "If you want to look at someone's existence, you have to look at their history. You can't uncouple one's history from one's life."
Hughes's poem makes no attempt to uncouple history from life — or sadness from happiness, humor from anger, or any other conflicting emotions. "One little moment to dance with glee. Then sadness again," he writes. It's a central premise in "The Black Clown," one that results in the protagonist finally declaring, "I am a man."
"The libretto is the poem," Winokur continues, "nothing else. We did not change any of Langston's words, and we didn't add to it. Our job was to make a two-dimensional poem into three dimensions. In the end, a page-and-a-half turned into 75 minutes."
That process took seven years, beginning with Tines and Schachter at the piano, and culminating in the A.R.T. team with singers, dancers, an orchestra, choreography and staging.
"I looked at it and said, 'What are the images?' I wanted them to speak, to bring them to life," Winokur says. "When you enter the space, it's a fabulous marquee, with lightbulbs and a black curtain. When the curtain is drawn back, you're in a white space. Then Davóne enters, and as he starts to sing, the poem starts to come to life. It feels a little like Alice in Wonderland."
For all the talent that has become involved in taking a simple poem to the stage, the production still pivots around the superior abilities of Tines. His rise as an interpreter of music from many genres and eras — from Handel to Saariaho to Schumann to "Amazing Grace" — has been complemented by his own artistic innovations. He has sung traditional repertory on stages in Europe and America, but also created his own productions. His "Were You There" (with Schachter at the piano), first presented at the A.R.T.'s Loeb Drama Center last December, was a fiercely conceived amalgam of spirituals, new music and spoken word, staged to remember black lives lost to police violence.
For composer Matthew Aucoin, who created the role of Freddie in his opera "Crossing" for Tines, and who wrote some of the original music for "Were You There," the singer's range is a huge slate on which to compose.
"I was able to write both at the very bottom of the bass range, and way up in the falsetto range — countertenor," Aucoin says. "But when Davóne sings at these extremes, it's not grotesque. The bottom is rich and resonant, with its own beauty."
Tines connection to Hughes' poem has grown to the point where he says, "this is the most personal thing I can think of. Over the past seven years we've been working out the materials. It first began as a song cycle: like 'Dichterliebe,' or 'Winterreise.' Our work at the beginning was simple — what would be the best way to realize the work?"
With Winokur's staging, and DaSilva's choreography, a chorus supporting in voice and in movement — and a chamber orchestra — the original ideas have become layered and complex.
DaSilva's movement language for "The Black Clown" references earlier styles, and incorporates her own. "Langston said you must use every resource," DaSilva says. "From age 3 to 18, I trained in a plethora of techniques. This is a Venn diagram of styles. Lots of samba, Broadway, old school numbers, ragtime — and Chanel choreography," making sure her own movement vocabulary is part of the mix.
"I was trying to give it a time stamp," DaSilva says. "My own work is naturally grounded and quirky, fast and earthy and round. I added on top of that some sophisticated Josephine Baker things — really Chanel choreography meets Josephine Baker."
That choreography deeply involves Tines. "Davone's character is taken on a journey through time, and is dropped directly into the scenes he is watching and experiencing. So I had him learn all of the movement vocabulary that I made for the ensemble. Davone is fully immersed in the movement language."
The movement, the words and the music — and the venue — are part of a larger ambition for "The Black Clown" team. "The only way we are moving forward is to have conversations," DaSilva says, "I find myself saying that a lot these days. We become insular. We talk to ourselves. Art is naturally disarming for people.
"It does forcibly ask questions," DaSilva says about art. "It is a beautifully open door. That's OK. It's a beautiful way to confront, as evolution."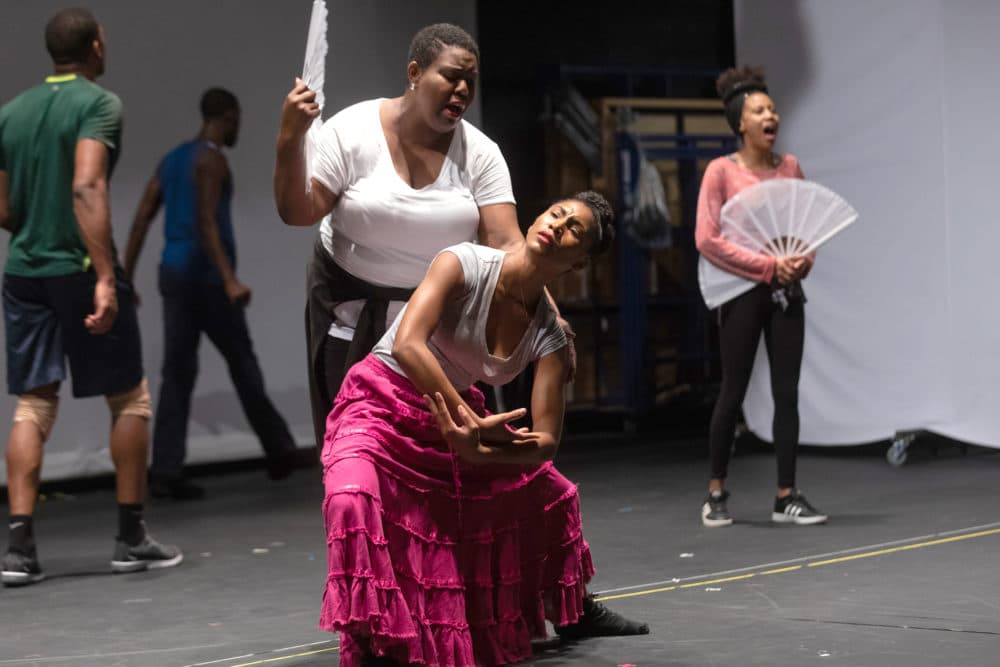 ---
"The Black Clown" runs through Sept. 23 at the Loeb Drama Center in Cambridge.