In A Boston Storefront, This Living, Breathing Fashion Mannequin Asks 'Are You Buying?'
05:30
Play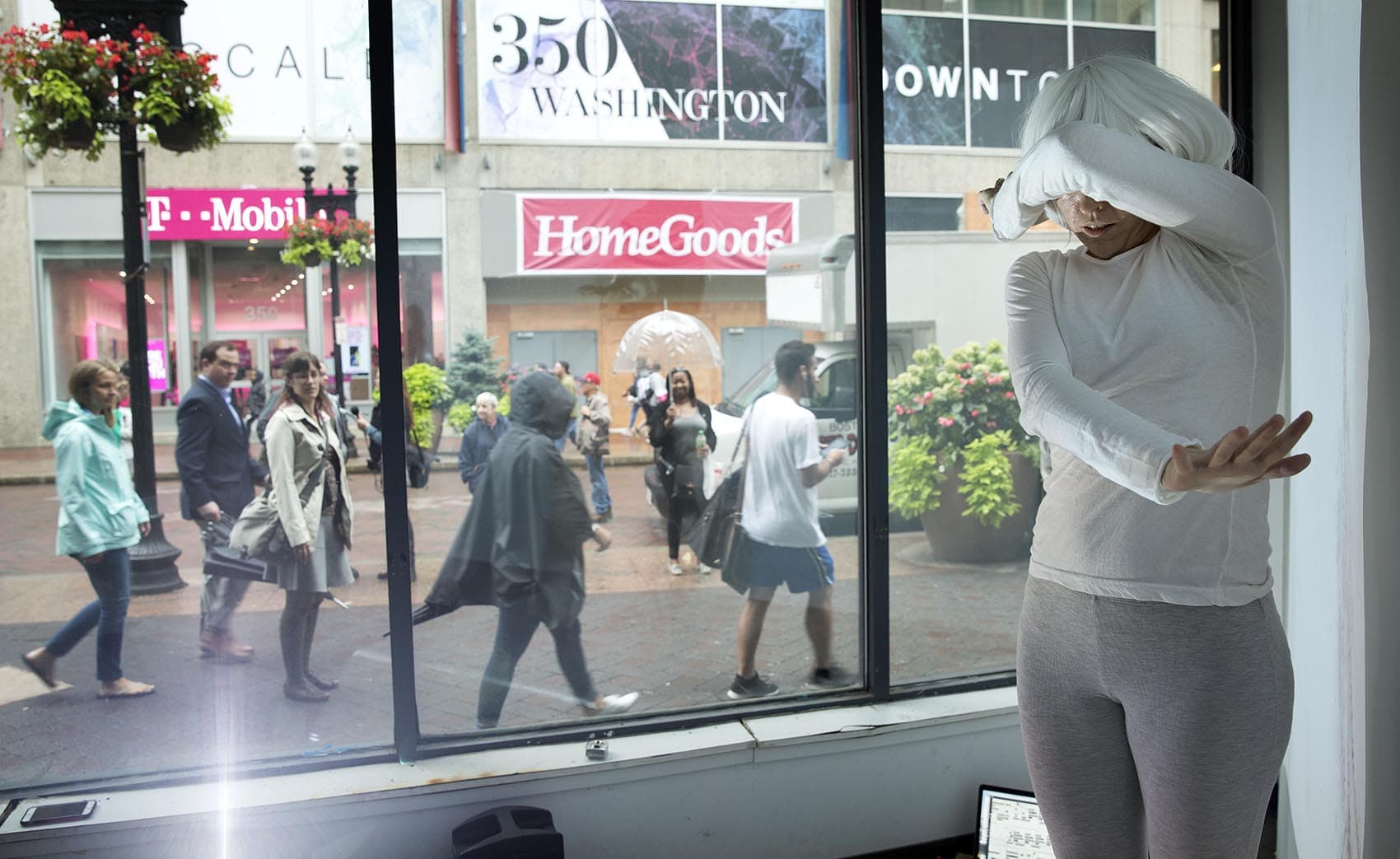 This article is more than 3 years old.
We live in a time when we're bombarded by images of physical perfection — via social media, TV, billboards, magazines. In the heart of Boston's Downtown Crossing — a bustling epicenter of shopping — a new public art installation is confronting fashion, femininity and materialism.
Across the street from T.J. Maxx and HomeGoods, dancer and multimedia artist Catherine Siller rehearses a performance she's staging this week inside the decrepit-looking facade of 349 Washington St.
The installation, called "Are You Buying," is already inciting some head-scratching.
Sherwood Gustave stops outside and tries to figure out what's happening on the other side of the window.
"I don't know exactly what to say about it — kind of like a modeling thing?" he asks. "Hold on, let me see the next pose."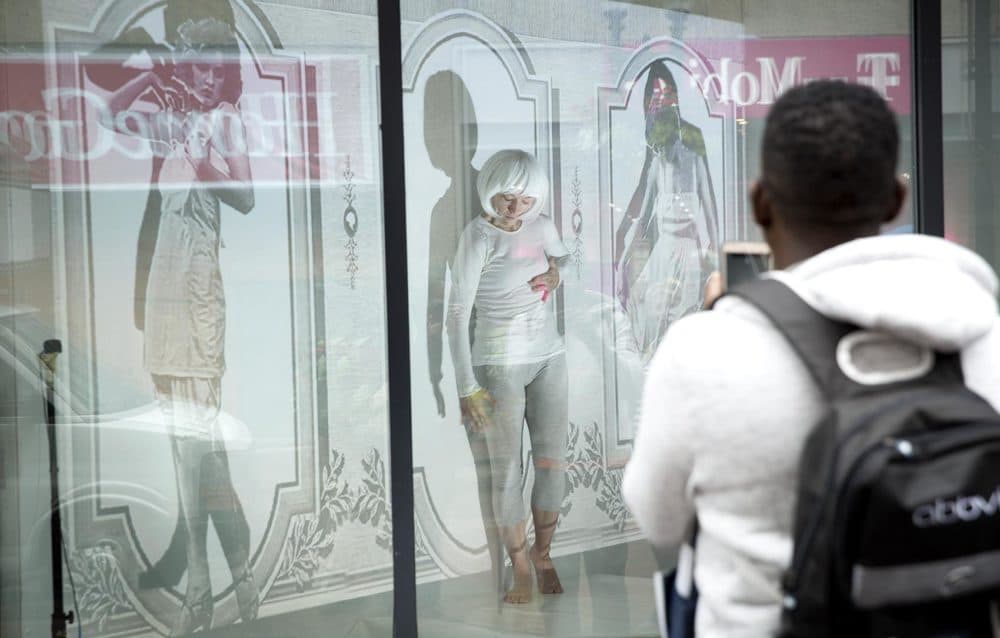 There's a soundtrack that you can hear from the street. It's a mashup of audio from radio and TV commercials, beauty tutorials and patronizing verbiage from print ads.
"If you're approaching the space, you'll hear the sound track," she explains, "and hopefully that will encourage you to look in if it hasn't already caught your eye."
There's music, too — everything from a Britney Spears tune to the old-timey Irving Berlin tune, "Puttin' On The Ritz."
At one point a smooth, male announcer offers this advice to the women in his audience: "Remember the important things are said with your eyes. Maybelline makes even ordinary eyes important. What will your eyes say to him tonight ... with Maybelline?"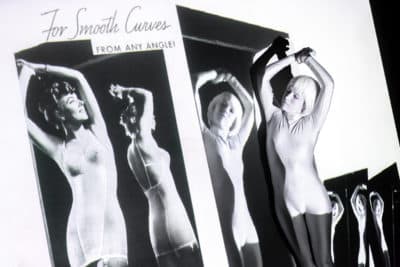 Somerville-based Siller plays the part of a nondescript fashion mannequin — "all in white, with face paint on and a wig and everything," she explains.
On a small platform, the 34-year-old RISD graduate mimics the gestures a model would make — popping her hips, batting her eyes, looking haughty — as she engages, through movement, with cleverly-crafted, large-scale, animated video projections.
"The video is all collaged from advertisements — primarily from Vogue magazine ads — from the 1920s to today," she says. "So it really goes through the full history of fashion and beauty ads and creates this kind of dreamlike space."
Another man intones: "Correctness of dress for an occasion includes not only the choice of gown and slippers, but the hairdo, the accessories, the jewelry and — yes — the face makeup. The rules are simple, logical and easy to remember. And they are very important."
"The kind of main premise of the piece is to get people to think about the messaging behind fashion and beauty advertising," Siller tells me, "and to kind of encourage us to think more critically about whether we want to buy into that message."
One bit of audio speaks to the artist's personal experiences with beauty products.
A perky woman delivers these words: "Snow peach, a soft, rosy peach, with no more yellow in it than the sun provides, terrific with your summer tan, makes your pale complexion look like peaches and cream." Then a chorus chimes in and repeats, "Snow peach, snow peach, snow peach..."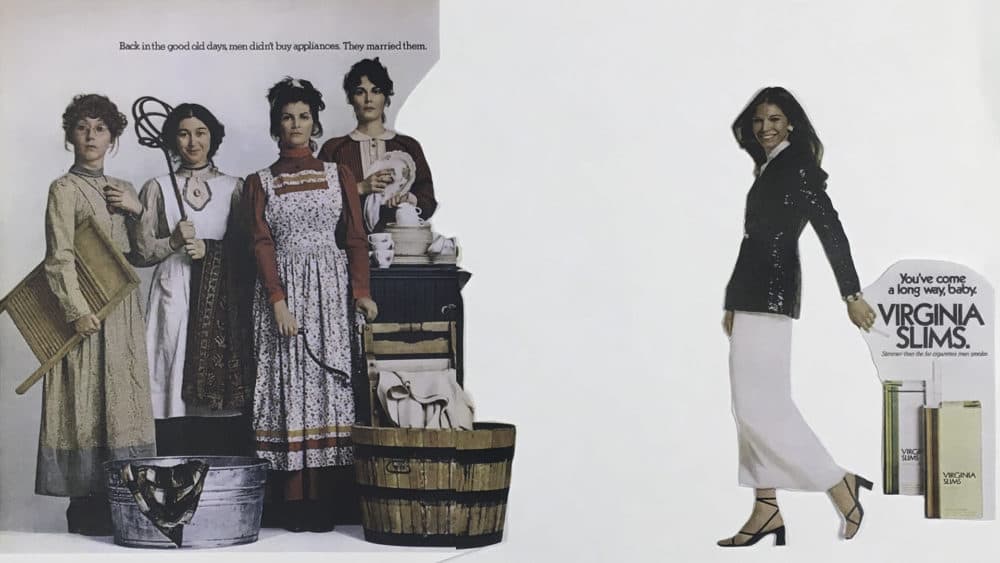 The artist says she started critiquing and skewering advertising, fashion and beauty tropes three years ago after reflecting on why she felt self-conscious about her own appearance.
"I have really, really pale skin and growing up I would blush really easily — and I would get breakouts — and it was always really embarrassing," she says. "So I got really caught up in, you know, what can I do to get this beautiful flawless complexion and what products do I need?"
Some of the more contemporary advertisement audio touches on her frustrations. They make promises and offer some dire news, including, "You do everything you can to look and feel your best — the sad truth is sometimes that just isn't enough." Another promises, "100 percent poreless perfection," which is followed by, "Look years younger in seconds — instantly," and, "Perfect those little fine lines, the dark spots, the uneven skin tone."
Siller recalls wondering if a pimple was really a problem. "Or is it only a problem because some ad is telling me that it's a problem and I need to do something about it?"
Now the artist hopes folks walking through this advertisement-laced shopping district will relate to her work in their own ways.
Stefan Rhys is captivated as he stops to watch "Are You Buying?" and shares his thoughts.
"I think it's brilliant idea to have active art in a place of overall consumption," says Rhys, who is a filmmaker based in Portland, Maine. "Anything that challenges people's attitudes towards things they buy and sell and it's an interesting idea."
Siller's performance reminds Sophie Santillon of the dawn of window shopping.
"It looks like she is somewhat of a live mannequin — or just realizing that she's alive," she says. "It almost seems like she is also maybe a commentary on the subjection of women's fashion, perhaps? I don't know, it's a very interesting piece."
Santillon, a recent New York transplant, adds she's happy this window display is art — not advertising. "I mean it's sort of like a pop-up shop, but with art. It's pop art," she says.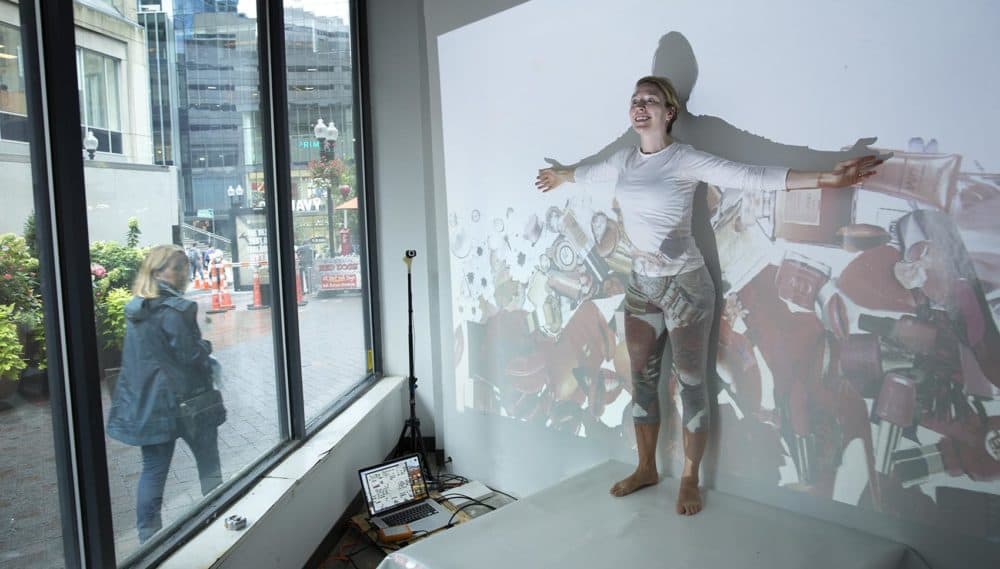 Responses like these satisfy the artist. "I had a couple of people who tapped on the glass and wanted to wave or give me high fives," she says, smiling.
But of course Catherine Siller can't high five back. That's because her character is stuck in a 20-minute loop of dissatisfaction and desire for an elusive ideal.
---
"Are You Buying?" will be performed at 349 Washington St. Wednesday through Saturday night from 6 to 8:30 p.m.
This segment aired on September 12, 2018.