Forecast: One More Damp Day
We have one more day of clouds and showers and then a beautiful weekend. Today showers could be accompanied by a heavier downpour or perhaps a rumble of thunder as a weather system crosses the region. There might even be some street flooding in any of these heavier downpours, but the majority of us won't see anything that's significant.
High pressure will build into New England this weekend. Starting Friday, the sunshine will return. Humidity levels will not be low but it won't be very oppressive the next couple of days. As we head for Sunday, the humidity does creep up a bit and may remain there early next week before the remnants of Florence move through. I do think eventually late next week a weather system will finally usher in a longer period of cooler, drier air.
Florence continues to approach the Southeast coast and hurricane warnings are in effect for much of that region. The big story over the next couple of days is going to be the the prolonged amount of time this storm hammers that part of the country. Freshwater rainfall, a storm surge and perhaps hurricane-force winds will all combine to create widespread damage.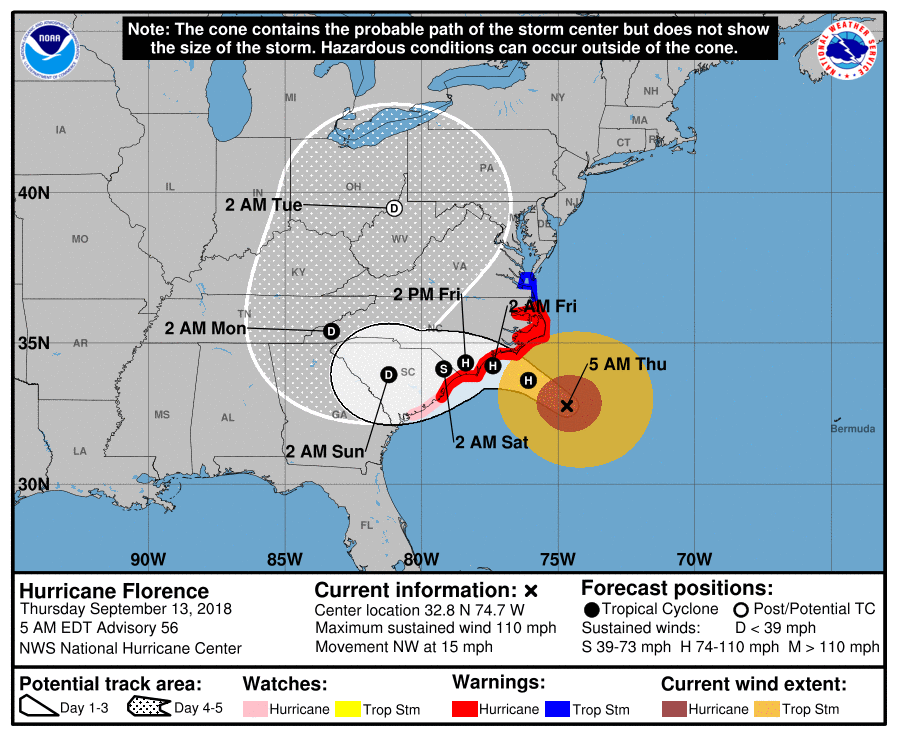 These storms do have several surprises and I expect us to not know the full extent of its impact until sometime early next week. The amount of rainfall predicted with this particular storm is Biblical when compared to what we've seen in the past. Next week New England may receive some rain from what's left of Florence, but it won't be anything close to major.
You can follow my updates here and on Twitter @growingwisdom.
---
Thursday: A few lingering showers, but generally just cloudy and damp. Some brightening later in the day. Highs 72-76.
Thursday Night: Early shower, clearing. Lows 64-68.
Friday: Sunshine and clouds. Still muggy. Highs 75-80.
Saturday: Sun and clouds. Quite warm. Highs 75-81.
Sunday: Sunshine and a few clouds. Warm. Highs 78-83.
Monday: Sunny and warm. Highs 78-83