What We Know (And Don't Know) About The Gas Explosions In Merrimack Valley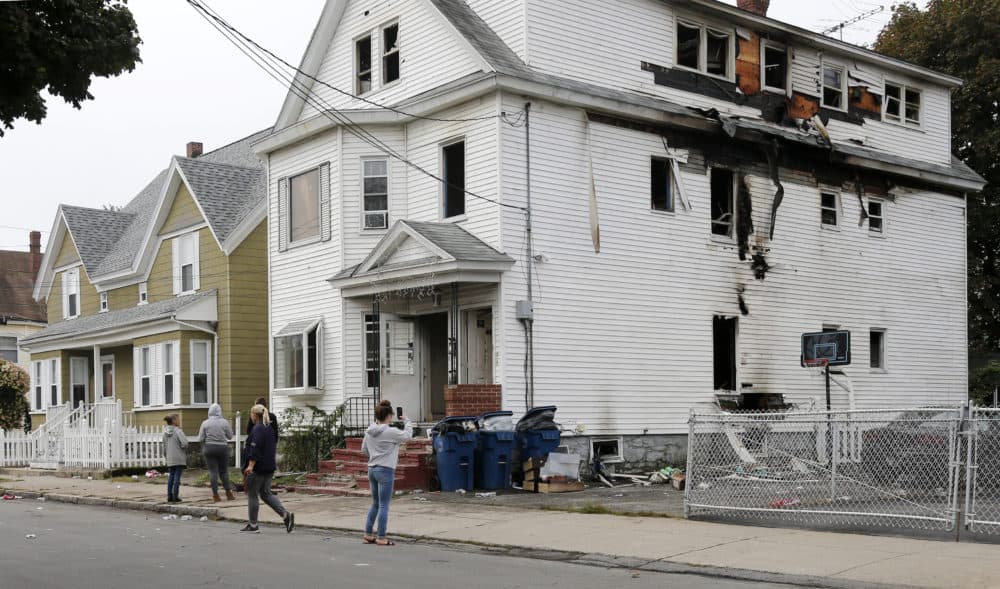 This article is more than 4 years old.
Editor's Note: After 5 p.m. Friday, we're no longer updating this post. Our Friday evening news is here.
---
A series of gas explosions an official described as "Armageddon" killed a teen, injured at least 20 other people, and ignited fires in dozens of homes in Lawrence, Andover and North Andover Thursday, forcing entire neighborhoods to evacuate as crews scrambled to fight the flames and shut off the gas.
Authorities said Leonel Rondon, 18, of Lawrence, was killed after a chimney toppled by an exploding house crashed into his car.
Here's a rundown of this developing story:
What We Know
Gov. Charlie Baker has declared a state of emergency, and put the utility Eversource in charge of the recovery, after expressing frustration with Columbia Gas, which services the area.
More than 8,500 gas customers were affected, according to Columbia Gas.
There were 60 to 80 structure fires across the three communities, and three explosions.
Residents in Andover and North Andover may be able to return home. Check the list of cleared streets for Andover and North Andover.
North Lawrence residents should be able to return to their homes. South Lawrence residents should wait until notified, Mayor Dan Rivera said.
Officials have asked any and all returning residents not to turn gas back on themselves.
Even if you are able to return home, you may not have power.
Shelters in all three municipalities will remain open until everyone is back home, said authorities. The shelters are: the senior center in Lawrence at 155 Haverhill St.; Andover: Senior Center and Youth Center, 30 Whittier Court; North Andover: at the high school, 430 Osgood St.
Schools were closed Friday for all three municipalities, as were any state offices located there.
The MBTA says Haverhill Line service will only operate between Reading and North Station Friday. There will be buses from Haverhill and Bradford to Anderson/Woburn for inbound service on the Lowell Line.
There are a few highway closures: Exits 41-44 on I-495 are closed and on Route 93, exit 45 is closed.
What We Don't Know
What caused the explosions, and when we'll find out. The National Transportation Safety Board, local and state authorities are investigating.
The extent of the damage or how many people will eventually be affected.
When the electricity will be back on.
How To Help — And Get Help
If you live in the affected areas, you can dial 211 from any phone to get updates. Translation is available.
If you need help with a pet, MSPCA-Angell's Nevins Farm is accepting pets. You can drop off a pet at 400 Broadway, Methuen. Call 978-687-7453 ext 6101.
North Andover Town Manager Andrew Maylor said the high school shelter would accept food donations for the displaced.
The Lawrence Senior Center is accepting donations and volunteers. They're at 155 Haverhill St.
The Red Cross is accepting volunteers and donations.
The Essex County Community Foundation has put together the Lawrence Emergency Fund, which is available at http://www.eccf.org/lawrenceemergencyfund.
Also suggested on social media for places that could use donations:


Material from WBUR's Newscast Unit was used in this report.
This article was originally published on September 14, 2018.